Skincare
6 Must-Have Drugstore Skin Care Products
posted on October 28, 2013 | by Amanda Holstein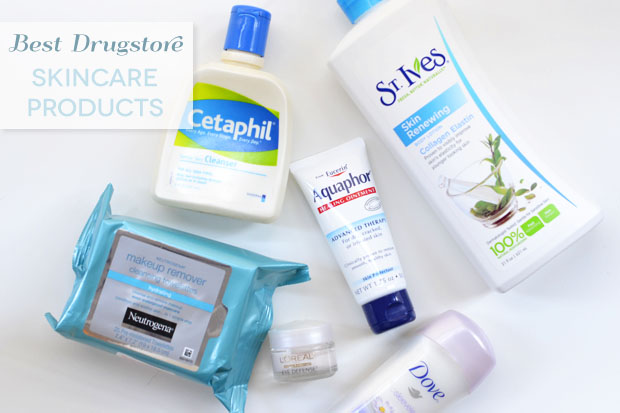 Now that Fall has officially hit (it's freakin' cold, no?), it's time to revisit your skin care routine and make sure you're staying moisturized. Some of my favorite skin care products come straight from my local drugstore. While I definitely choose to spend more on certain products, like masks and face moisturizers, most of the products I use in my daily routine are super affordable.
Aquaphor is one of my go-to moisturizers. I always keep a tube in my bag for moisturizing my lips, or even my nose when it gets raw from a cold. It's a super versatile product that comes in many forms. Want to try it out? Enter to win a whole bunch of Aquaphor products just by liking them on Facebook here!
Now let's review my top picks:
1. Aquaphor Healing Ointment
A must-have for the dry, cold months of fall & winter, Aquaphor Healing Ointment literally fixes everything. Cracked lips, dry patches, whatever your skin is going through, Aquaphor products are insanely moisturizing. Don't forget to enter to win a whole pack of Aquaphor products just by liking their Facebook page here.
2. Cetaphil Facial Cleanser
If you need a simple, reliable face wash to fall back, Cetaphil Facial Cleanser is it. It's a moisturizing face wash that's perfect for this times when your skin is just freaking out and needs something gentle to calm it down. I always have this in my bathroom cabinet!
3. St. Ives Body Lotion
I am super picky about my body lotions. I like them creamy, but not too thick, and they need to soak into my skin quickly. Plus, I like a good smelling lotion too. St. Ives is my go-to for body lotion. They have tons of scents and options, so I often mix it up, but this stuff consistently works.
4. Neutrogena Hydrating Makeup Remover
An eye-makeup remover that doesn't dry out your skin is hard to find, but these Neutrogena Hydrating Makeup Remover towelettes are pretty great. They remove makeup really well, including water-proof mascara, and don't feel like they are drying at my skin at all.
5. L'Oreal Eye Defense Cream
As a twenty something, I'm just getting into the eye cream game so I wanted to try something affordable. I've been using this L'oreal Eye Defense Cream for a few months and I really like it. It's not too thick so it's great for wearing under your makeup. Plus the pale pink color is just really pretty :).
6. Dove Go Sleeveless Deodorant
Dove has always been my go-to for moisturizing deodorant. They have the best smelling deodorant, more like a perfume than anything else. And the part is it goes on really smooth and doesn't leave white marks on your clothes!
Check out other must-have drugstore beauty buys in my previous posts on makeup and hair.
 // This post is sponsored by Aquaphor. All opinions are my own.