Styling Advice
5 Tips For Styling a Simple Summer Dress
posted on September 12, 2018 | by Maddie Broderick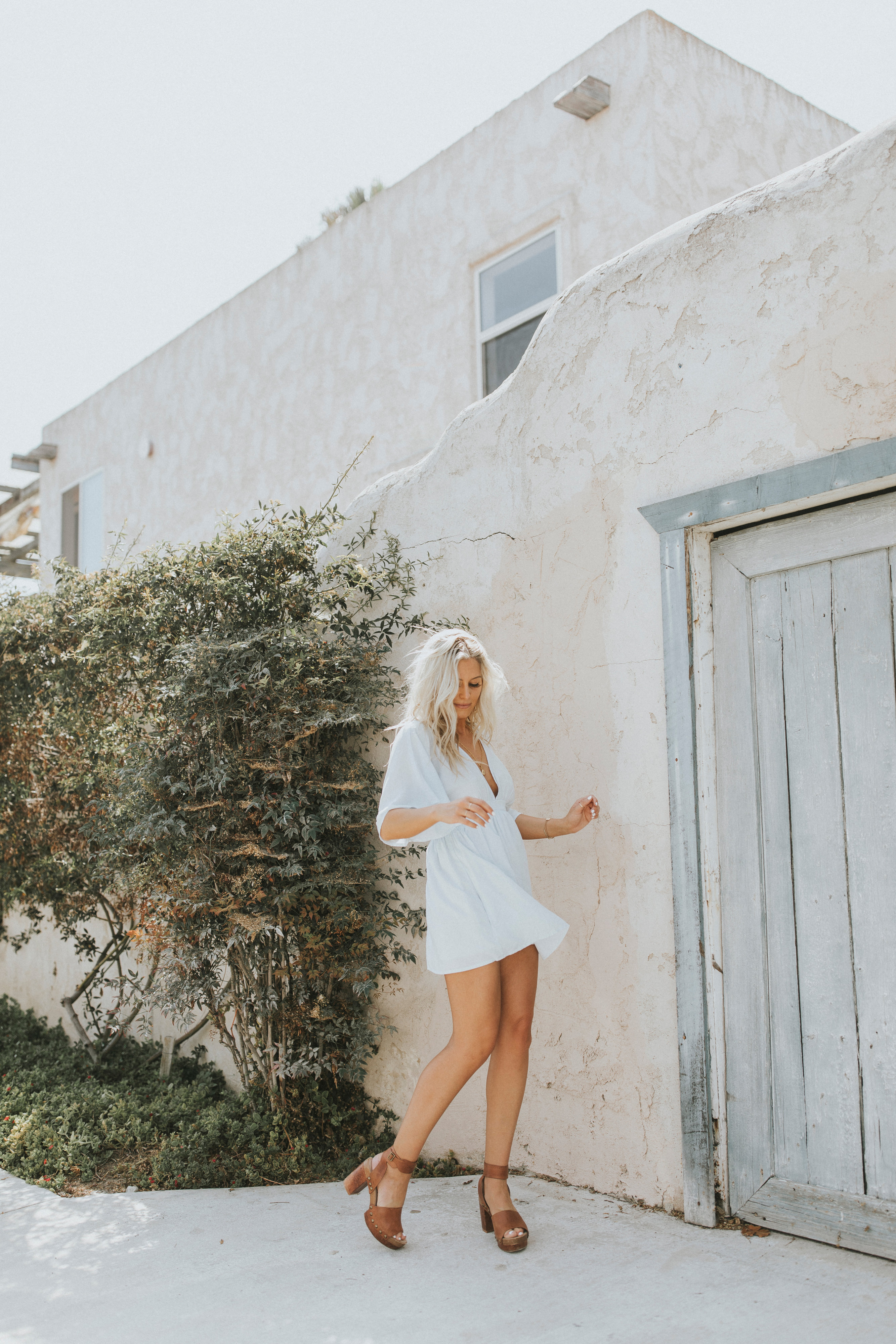 I don't know about you, but there's something about a flouncy dress that just screams summer to me! I'll admit, I love a good white dress – or anything in white… but this summer I stepped out in the perfect blue dress, and well, there's no turning back now! This baby blue number could stand alone, but I added a few elements that really made this dress an outfit to repeat! Here's how to elevate a basic summer dress, because let's be real, it's not feeling like fall quite yet.
A Simple Summer Dress
The very best place to start! I'm only a little bit obsessed with this dress. It's called the Harlow Mini Dress, and they weren't kidding about the mini! If you're a tall gal, I'd recommend sizing up. Or if you've got those long legs, rock it and don't look back! My favorite part about this dress is the deep neckline and flowy sleeves! It has plenty of fabric for coverage across the chest, but juuuust enough to make it a little flirty and fun. Basically this dress is everything you need for the summer! I also found a few other similar dresses for different budgets and body types which I'll link below.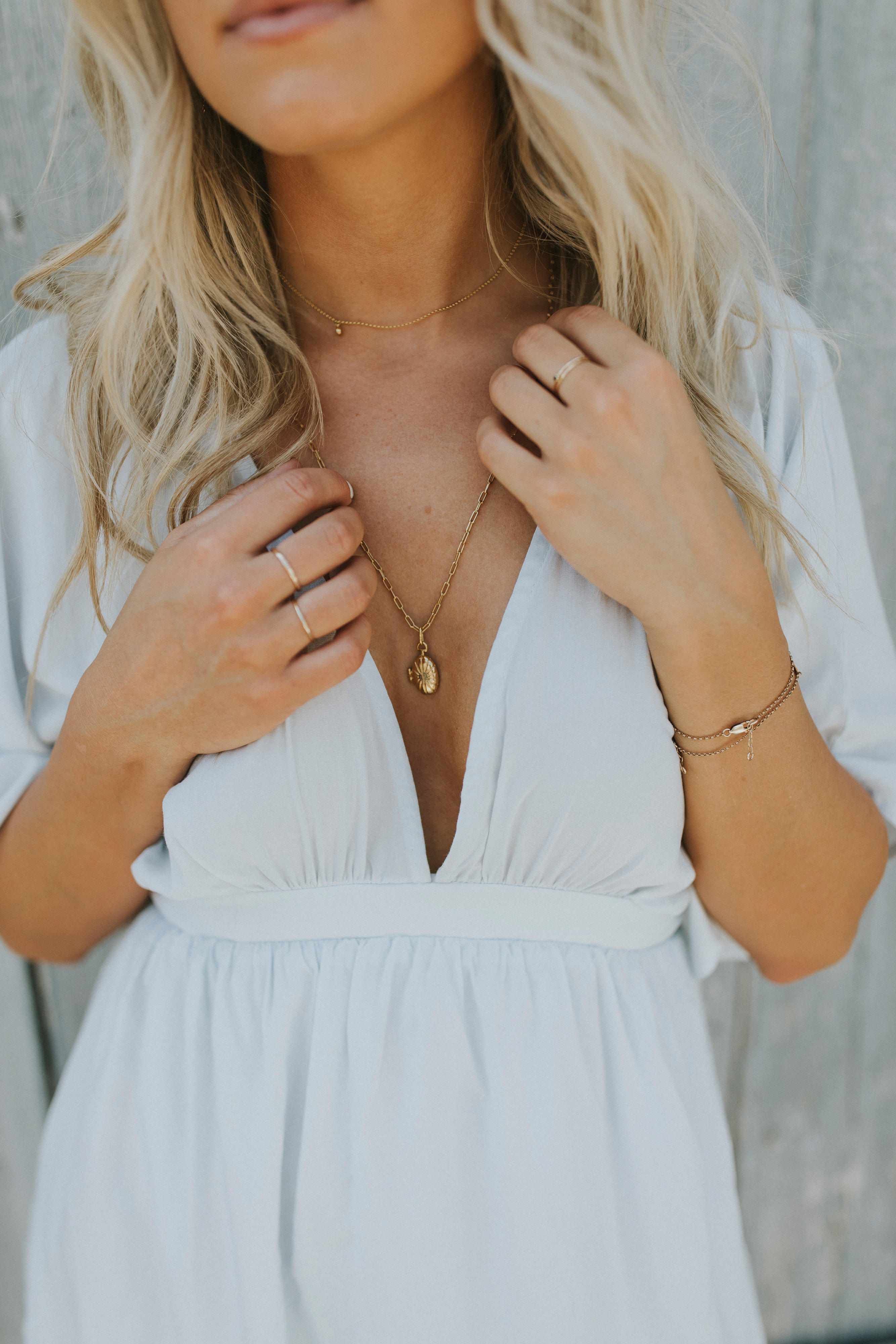 Accessorize
…but don't go crazy. There's something really beautiful about taking a minimalistic approach to jewelry. To me, the whole point in accessorizing is to add to the beauty, not take away from it, or distract. For this dress, I decided to accentuate the deep v-neckline and go for a long, gold chain necklace from one of my favorite brands, Mejuri. It's dainty and simple, ending with a little locket, which I had engraved inside. I love that this necklace is a classic, yet custom piece of jewelry, aaaand that you can get free shipping here. I paired mine with this beautiful white sapphire choker.
If you're anything like me, you feel totally naked without rings or bracelets. I have a few ring and bracelet combos that I wear day and night, and never take off. Best part about them? They are affordable and stand the test of time! I've found my best pieces through Mejuri, Gldn, and Made By Mary. Affordable, and for the pricier pieces, totally worth the investment!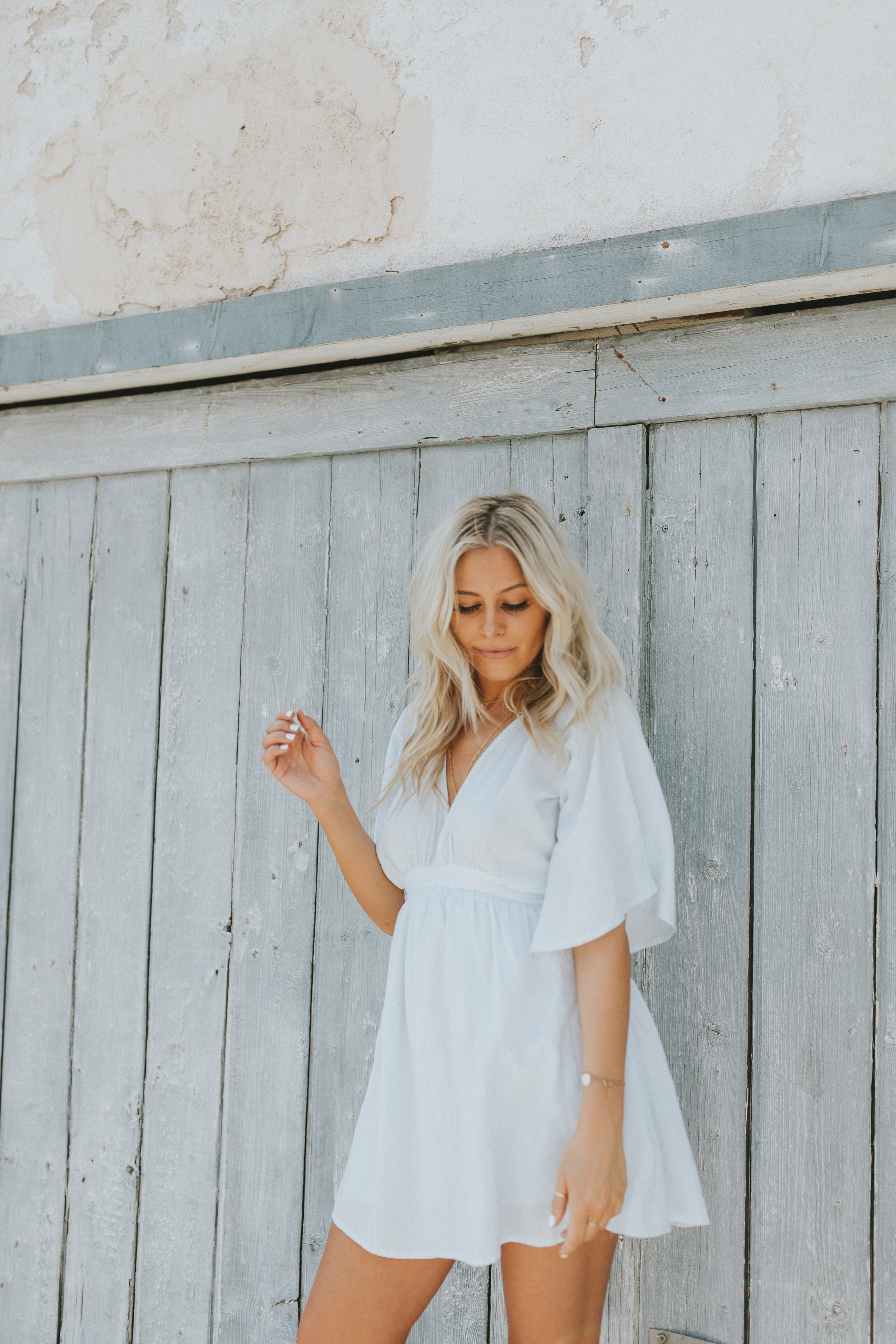 Statement Shoes
Okay, so I know I said that minimalistic accessorizing is key…but shoes are a different story! I am a shoe girl through and through, and LOVE finding pairs of shoes that are unique, but still transitional throughout the seasons and trends. For a 5'4" girl like me, these platform sandals are a dream come true. They're cute, comfy, AND give me that little bit of extra height. Unfortunately, they do not make this color and style on their website anymore, but I did find a black version here, that would be perfect for extending wear-time into fall. Don't be afraid to try something new! Shoes are the easiest thing to change in an outfit – or kick off when your feet are getting tired.
Sunless Tanner
As tempting as a tanning bed can sound, we all know the harmful effects of tanning under UV lights. I have searched high and low for the perfect sunless tanner that is safe and actually looks good. Luna Bronze is a certified organic, naturally-derived, vegan sunless tanner. It is made with aloe, coconut oil, and other moisturizing ingredients, so basically it leaves your skin super soft. It smells like a lemon and orange dream, and doesn't make you look like an oompah-loompah, so that's a win in my book! Guess my Cali girl secret's out! And maybe yours now, too. ;)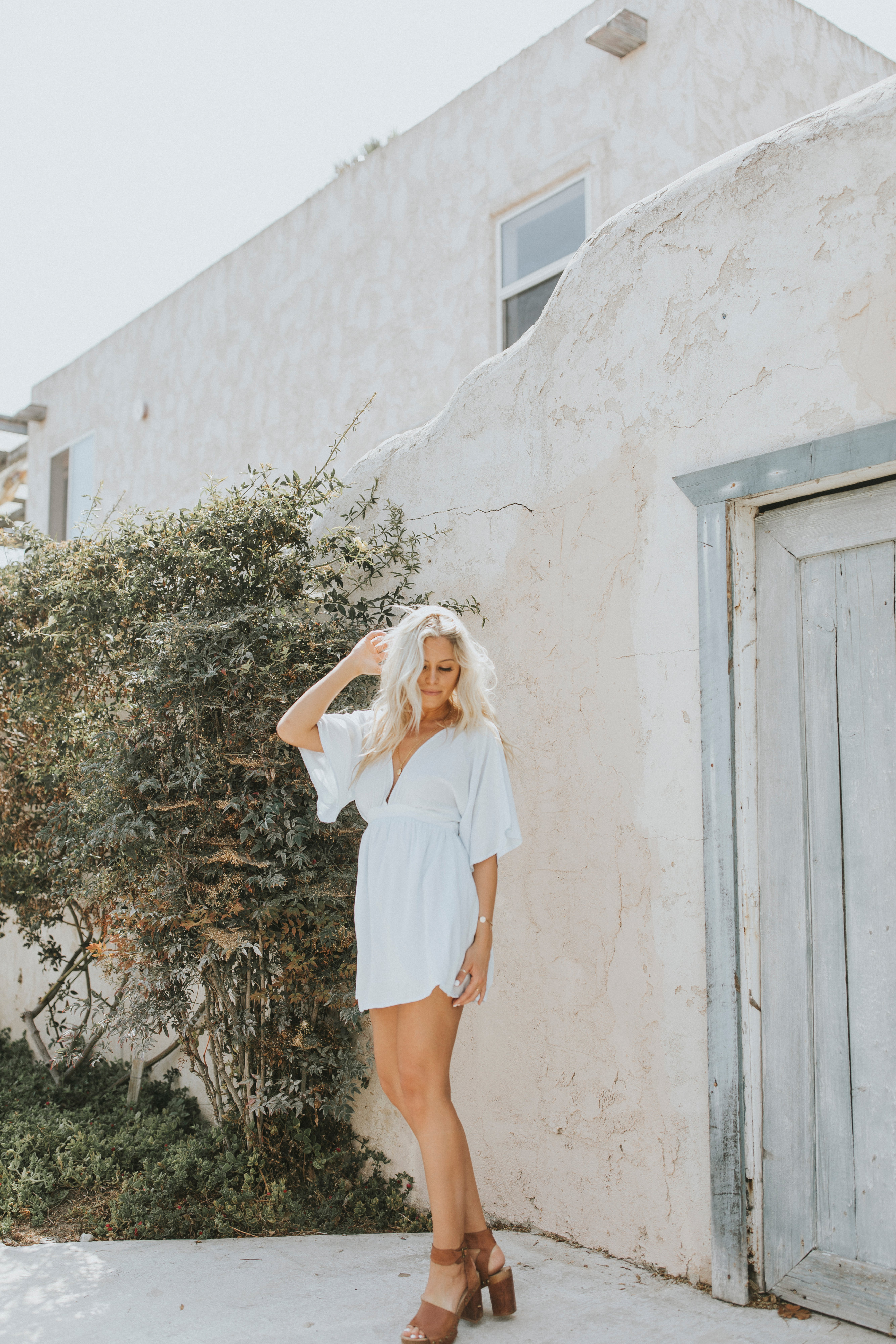 My Little Steamer
This is one of my secret weapons. I've had this steamer for years, and it still works like a charm. While I love the natural linen look, no one wants wrinkles that make you question if you just rolled out of bed. I packed the steamer on my last trip and it fits perfectly in my suitcase. Plus, it's a total lifesaver when it comes to getting out stubborn wrinkles on the go. I think taking care of your pieces, from gentle washing and hanging to dry, all the way to steaming, is KEY for extending the life and look of your pieces! Trust me, it's worth the extra seven minutes.
And just like that, you're ready! 5 easy tips to making your simple summer dress one to remember – and wear again!
Shop The Post