Dating & Relationships
Outfits
How to Style Your Man
posted on February 13, 2013 | by Amanda Holstein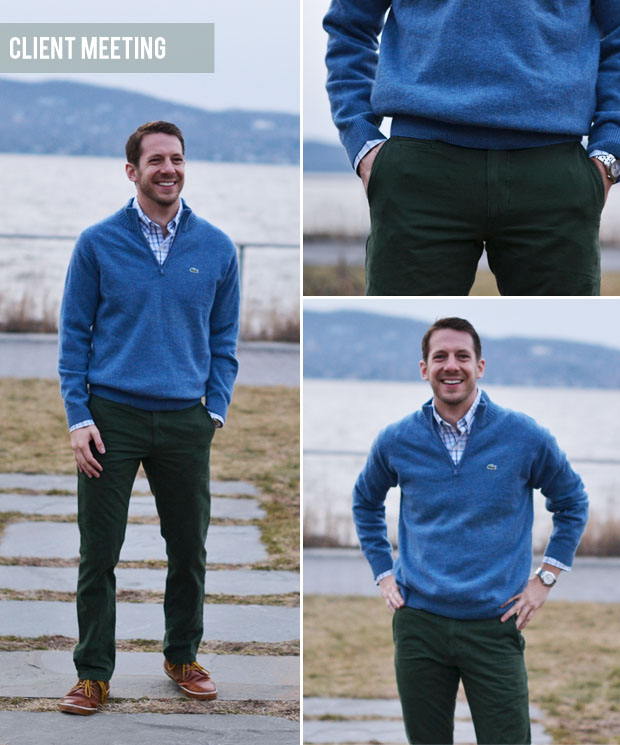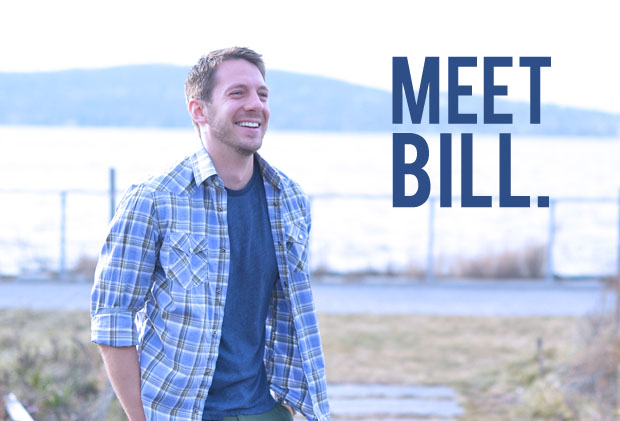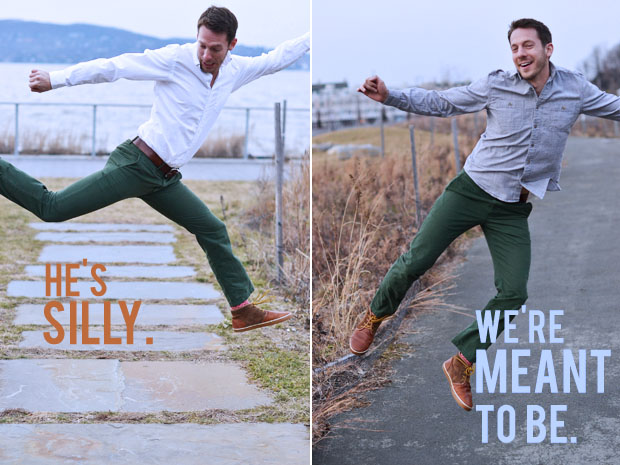 Here he is, folks. My boyfriend making his blog debut. While I don't talk about men's fashion all that much, I think it's something we all should discuss. I have to say, I'm pretty impressed with my guy's natural style. He has good instincts, he likes prints, and he knows how to pick out a great shoe. But getting him to steer away from his everyday uniform of blue jeans and a plaid shirt is what a good girlfriend should do, right?
My goal with this post was get him to try something he would never have tried on his own – colored pants. Specifically ones with a slimmer fit. I wanted to prove to him that he could still wear all of his normal wardrobe staples with these Gap Lived-in Slim Khakis in "Pine Needle" (a.k.a. green) and not look too styled. And can I just say? Mission accomplished. He even wanted to buy them in "Raw Sienna"!
So if you're working to convince your man to branch out a bit in the style arena, have him try the Gap Lived-in Slim Khaki or the new 1969 Slim Canvas Jean. Gap is a great place to try new things. The brand is already in his comfort zone, the pricing is right on track (these jeans are only $59.95), and if you have him try them on in-store, you can show him how they'll work with the rest of his wardrobe. Plus, he can't question their versatility if you show him these 5 looks:
Outfit #1: The Guy Uniform
Every guy has his day-to-day uniform. His go-to look that he can just throw on without putting any thought into it. For Bill, it's usually a pair of blue jeans, a button-down, and a fun pair of sneakers. And there's nothing wrong with this uniform. In fact, I love it. But I wanted to show him that just by swapping out those jeans with these green pants, he could pull off a whole new look (and not have to wear the same thing everyday).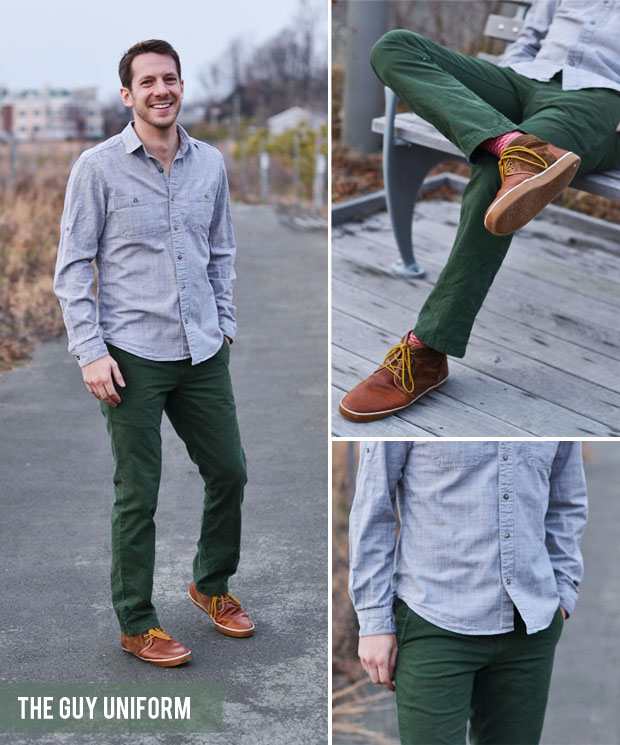 Outfit #2: Weekend Casual
When he's just hanging around the house or being dragged to brunch with friends (by me), he can throw on this casual look. Since most of his wardrobe consists of the color blue, these colored pants allow him to break up his usual all blue outfit. Seriously, what would he do without me?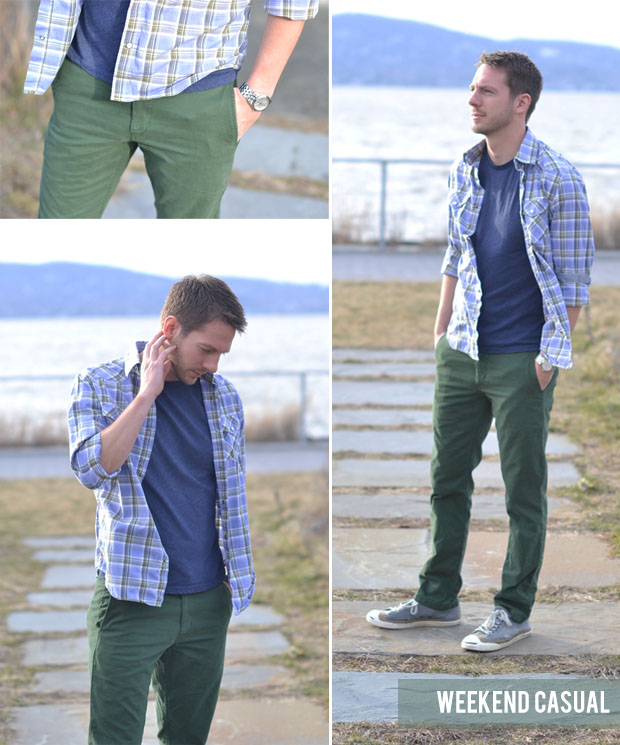 Outfit #3: At the Park with Friends
These Gap pants are perfect for casual days at the park with friends, too. He can still wear his fun graphic tee and Converses, but these pants make him look just a tad more pulled together, without trying too hard. And you know he doesn't want his friends to ever think he actually put effort into his outfit. That would just be crazy.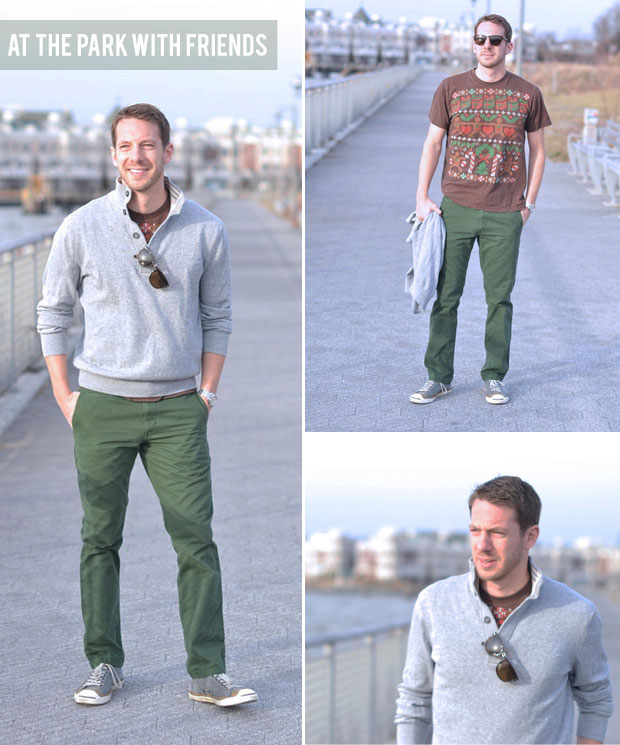 Outfit #4: Date Night
My favorite look on any guy is a simple white button-down and well-fitting pants. I don't know if it's the fact that it reminds me of every music video by The Backstreet Boys (specifically this one), or if I just love a simple, classic look. But either way, I'm all for a sleek white shirt. And if I can convince him to wear a scarf? Well then I've really done my job.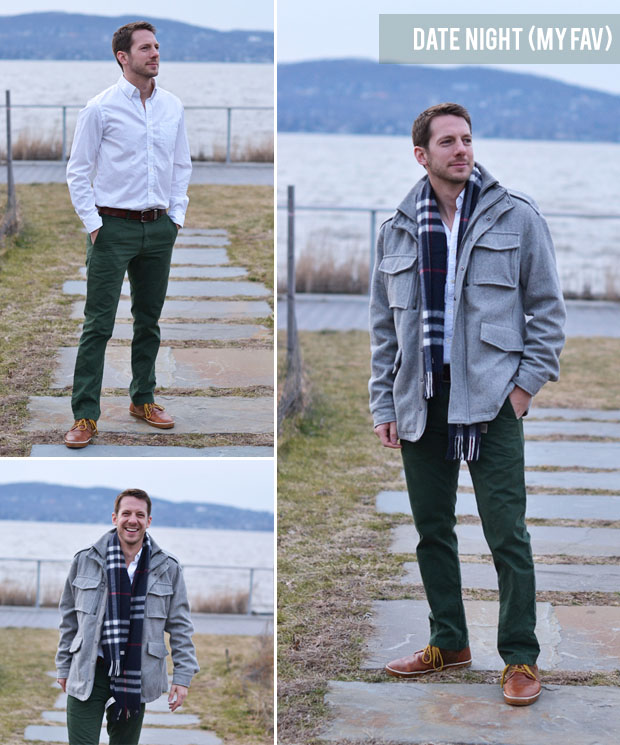 Outfit #5:
Last but not least, he can wear these pants to work. Luckily, he doesn't work at your typical suit and tie job, but he still needs to look nice for client meetings, etc. So these pants are perfect with a nice button-down shirt and pullover sweater. He could even add a tie if he needed to.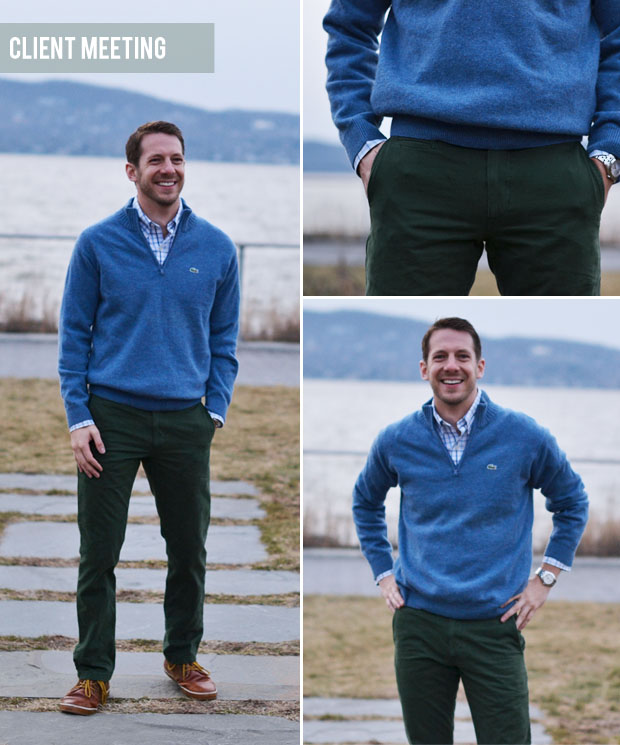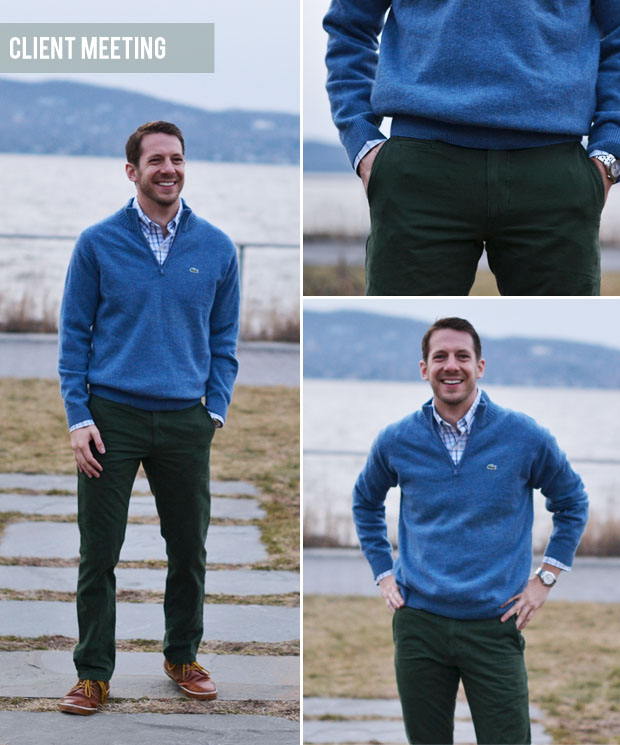 This post is brought to you by Gap.