Outfits
How to Make the Most Out of Your Spring Dresses
posted on March 25, 2015 | by Amanda Holstein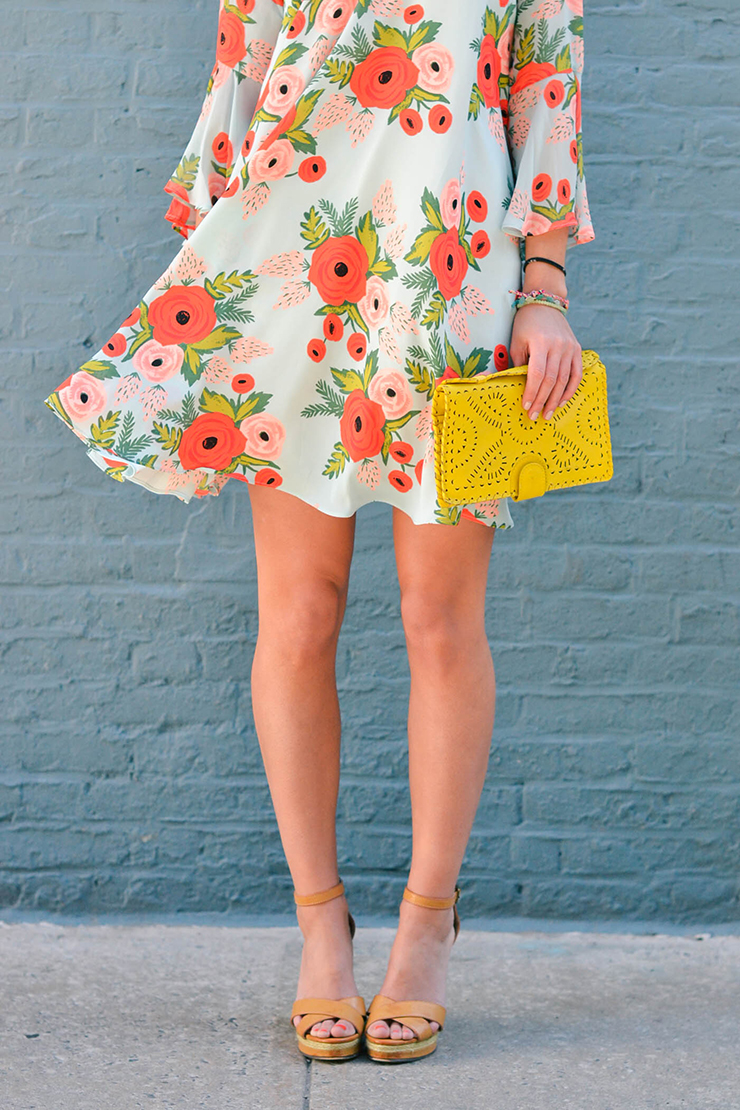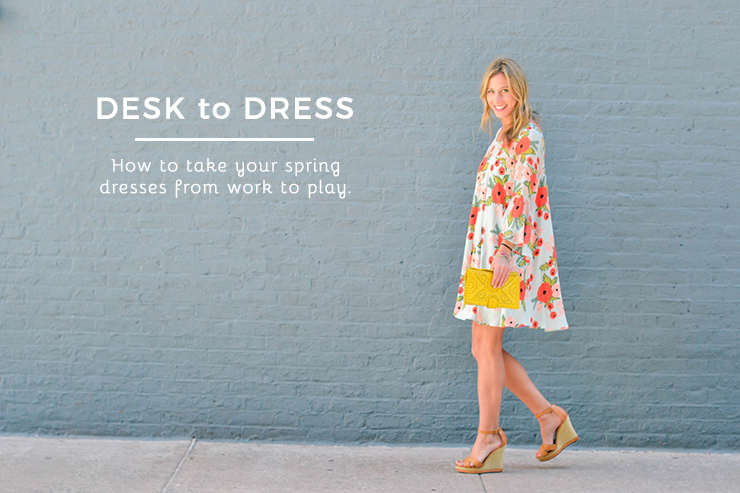 Hello spring!!! You're finally here and I'm so so happy. You have no idea how long I've been waiting for you to come, and now that you're here, all I want to do is celebrate by wearing tons of pretty dresses. Every year, by the time spring rolls around, I've started filling my closet again with new dresses (it's an addition, really). The thing is, they are ideal for us lazy girls who just want to throw something on and go. They're also the perfect starting point for transitioning a look from day to night. So today I've teamed with up Anthropologie, (we all know they have the best dresses), to show you how to get the most out of your spring frocks!
While there are plenty of day-to-night tutorials out there, today we're talking specifically about going from the office to a night out. And since I know you all work in a variety of settings with all different dress codes, I thought I'd tackle the two most common work environments and how to wear your dresses from work to play.
If you work in a corporate environment…
If you're office attire needs to be a bit more polished and conservative, you can still find ways to wear your spring dresses for both work and play. The key is to start with a simpler dress and then add professional accessories. Look for one with neutral palette or a subtle print – Anthropologie  has tons of great Cocktail Dresses perfect for this! Then top it off with the extras, like flats and nice jewelry, and a cardigan or blazer. Take a look at how I take this gorgeous white dress from work to play: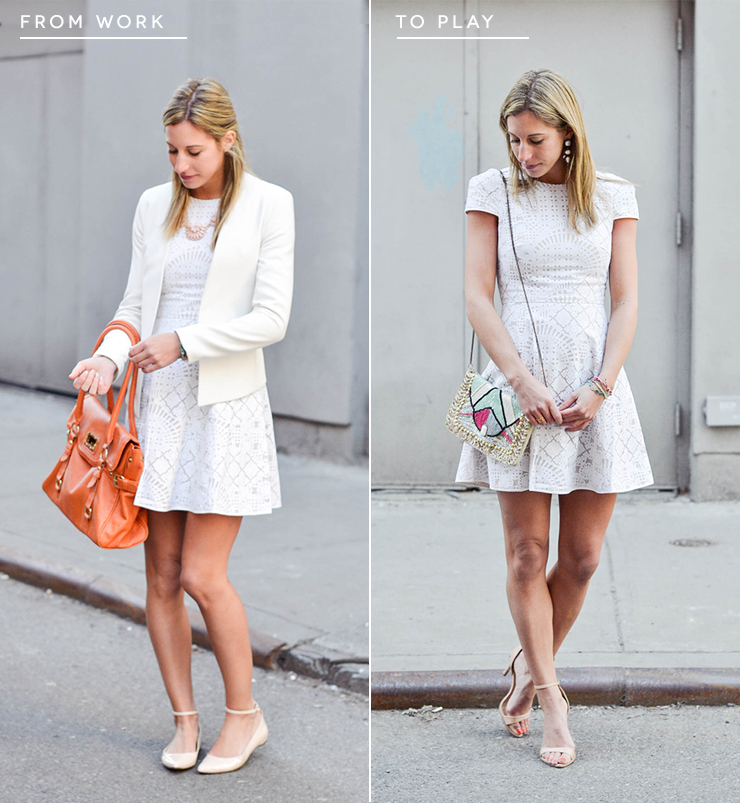 For the office, keep the look professional with a sleek blazer. Since the dress is a bit flirty, I also recommend wearing flats so it doesn't get any shorter. Finish with a statement necklace (that's not too bold) to really bring the look together.
When it's time to head out for date night or drinks with friends, leave the blazer at work. Swap out your flats for some strappy heels, throw on some statement earrings, and let your hair down…literally.
If you work in a creative environment…
For those of you at ad agencies, start-ups, or other creative environments, you have a bit more flexibility with your attire. Looking professional is still important, just in a different way. You can get away with bolder prints, like this pretty floral frock, and even denim. Try taking your spring dress from work to play like this: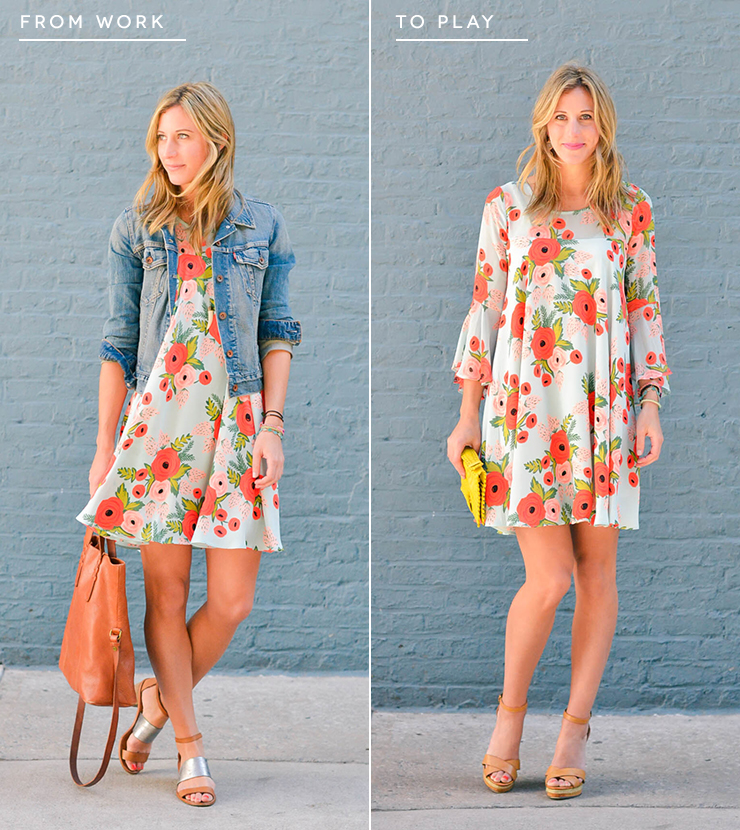 In more creative industries, you want to show off your personal style while still looking polished & casual. A bold spring dress is perfect for just that. Take it down a notch with a denim jacket, leather sandals, and a long pendant necklace.
Swap your sandals for some chunky wedges and leave your denim jacket at the office. Change out your work bag for a fun clutch, and finish off the look with earrings and bright lips. Now you're ready for a night out and you didn't need to run all the way home to change.
// A big thank you to Anthropologie for sponsoring this post!

Shop the post: