Editor's Picks
Travel
Airport Style + Giveaway!
posted on April 17, 2014 | by Amanda Holstein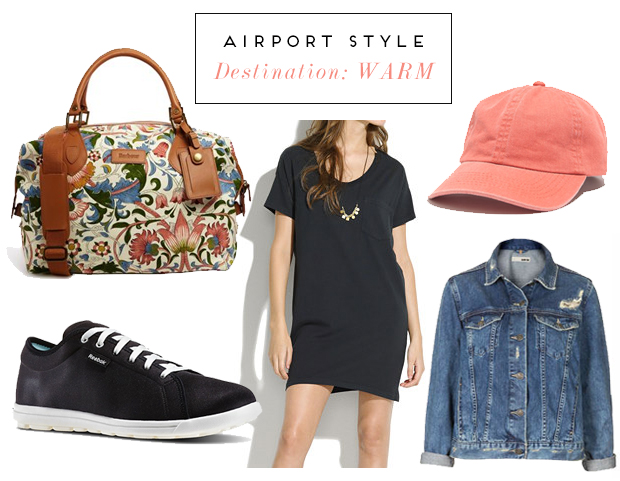 When it comes to travel, I'm pretty well versed. Quick weekends back home to New York or to visit my best friend in Austin are common for me, so I've gotten pretty good at packing and dressing for the airport. And to be honest, I actually love airport style – it's casual, comfortable, yet pulled together. There are tons of comfortable options (that aren't pajamas!) that are still stylish and will make you look chic and polished when you arrive at your destination.
First and foremost, you need comfortable shoes. We can thank the fashion sneaker trend for that. There are tons of stylish sneakers out there right now that can be incorporated into your regular wardrobe seamlessly. These Reebok Skysapes are perfect for traveling. They're stylish, lightweight, and will support your feet during all that walking. Scroll down the bottom of this post for information on how to enter to win a pair of your own!
Now that you've got the right foot gear, I'd say the most difficult part of choosing what to wear to the airport is when you're going somewhere with completely different weather. The key to choosing an outfit that works in both locations is layering. Find out how to master your airport style below.
Giveaway:
Enter to win a pair of Reebok Skyscapes of your choice! The winner will get a YourReebok Custom card to design a pair of their own here (a $120 value!). Simply complete these steps to enter:
1. Leave a comment
2. Follow me on Facebook, Twitter, Pinterest, & Instagram!
Sweepstakes:
Also be sure to enter Reebok's Skyscapes Sweepstakes where you could win
an all-inclusive spa weekend for two! Enter here.
// This post is sponsored by Reebok. All opinions are my own