Outfits
How to Wear: Flared Jeans
posted on February 4, 2014 | by Amanda Holstein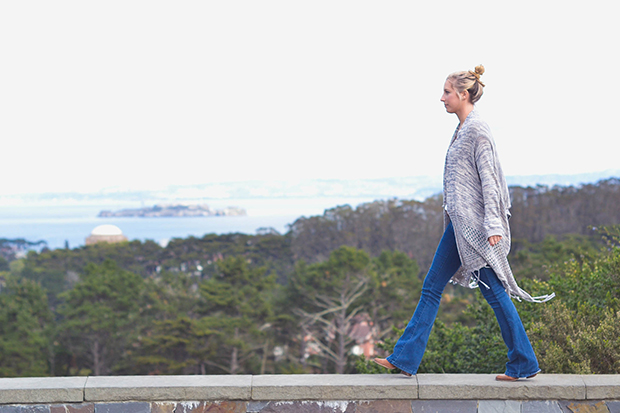 Maybe it's my affinity for all things 70's, but flared denim has always been an obsession of mine. Wear it any season: in the winter with a chic turtleneck or in the summer with a light blouse. I just love the long, lean shape a good pair of flared jeans creates. The only problem is, they can easily resemble that old pair of jeans you wore in high school with flip flops and a T-shirt, so you have to be careful with how you style this trend. Keep it modern and chic with heels and other "grown-up" pieces. Here are my styling tips for mastering the flared denim trend:
1. Heels are a must
When wearing flared jeans, your shoes must have some sort of heel. Go for classic pumps, wedges, booties – it's up to you, but the heel is important because it helps elongate the leg and keeps the trend sophisticated. It basically avoids looking like a throwback to high school. Flats like sneakers, toms, or flip flops can make the trend seem too young and unsophisticated.
2. Think 70's
Whether it's a bohemian sweater like the one I'm wearing, a classic striped tee, or a silk blouse, the look should keep that 7o's vibe of the jeans. Now don't go too far by adding a headscarf and a peace sign – we don't want to look like we're wearing a costume – but little hints of hippie chic are never a bad thing.
3. Proportions are key
Whatever top you decide to wear, make sure the hemline doesn't go past the waistline of the pants. If your top is too long, it will throw off the proportions. So either tuck your shirt in or wear one that falls at just the right place. Belts are a great way to define your waste when wearing flared jeans too. Plus, they add to that 70's feel. This rule also applies to the jeans themselves. You don't want your pants to be too long that they are dragging on the floor or too short that you can see too much of your shoe. They should fall just an inch or two from the front of your shoe so you can see just a peek of your shoe.