Fun Things To Do
The Summer Book For You, Based On Your Favorite Rom Com
posted on August 17, 2020 | by Nicci Carrasco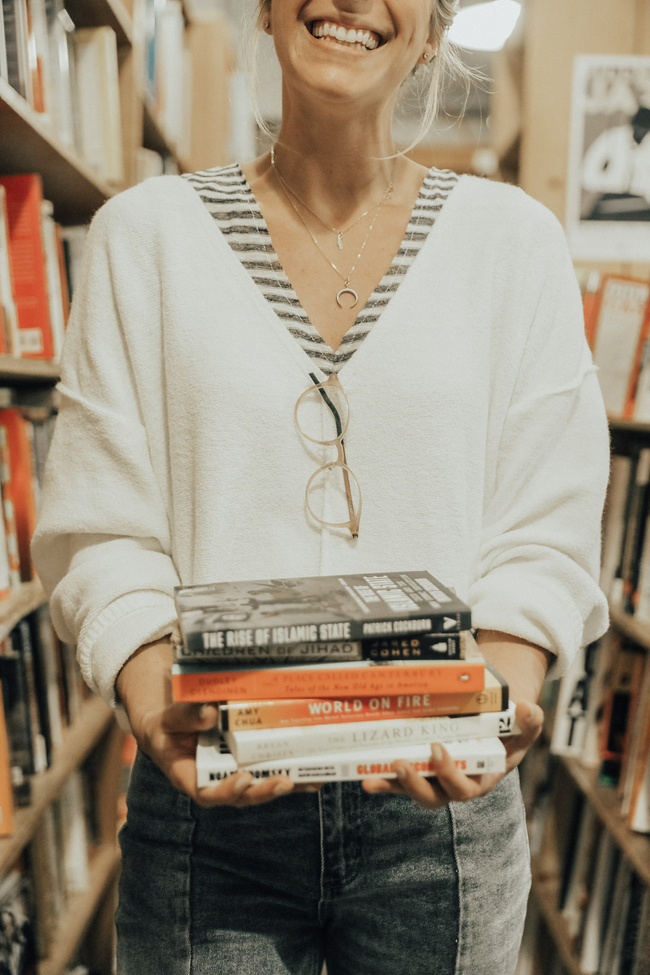 The end of summer is near, and depending on where you live, you may be able to actually sit on the beach to transform an ordinary book into a literal beach read before fall weather consumes us all. I have a momentary freak out every time I think about how quick the last few months have felt. It feels like April ended just last week and we all waited in anticipation for the "It's Gonna be May" memes.
I live in San Francisco and as much as I love the cold *insert Elsa gif here* I miss the ease of summers in Santa Barbara. Mark Twain once dramatically said, "The coldest winter I ever spent was a summer in San Francisco." Settle down, Mark. 
Regardless, San Francisco is still under shelter-in-place, so I'll be doing all my beach reading indoors, and I'm here to recommend some great reads that will amplify your vacation or staycation vibes. Whether you're cooped up inside like me or lying out on the beach, I'm here to recommend some vacation reads—and they all correspond to movies you may like with similar feels.
If you liked Julie & Julia, check out Save Me the Plums by Ruth Reichl. 
Listen up foodies, if you enjoyed the touching movie starring Amy Adams as an up and coming food blogger and Meryl Streep as Julia Child, trust me on this recommendation. Ruth Reichl, the former editor-in-chief of the now-defunct Gourmet Magazine recounts how she stumbled into her role at Condé Nast after being a well-known food critic. She was the last person to serve as editor-in-chief at Gourmet before the media conglomerate decided to terminate the magazine. This memoir is filled with great wisdom with some recipes sprinkled throughout!
If you felt personally victimized by 500 Days of Summer, you should read Normal People by Sally Rooney.
2009 was a weird time for all of us, and 500 Days of Summer caught the attention of every American teenager when it was released, probably because it fulfilled the strange need for a more modern romantic comedy with a side of masochism. Honestly, the film still holds up. If you're into that sort of will-they-won't-they dynamic, do yourself a favor and read Sally Rooney's melancholy literary romance, Normal People. P.S. When you're done, head over to Hulu to watch the series!
If you liked She's the Man, you'll enjoy My Friend Anna by Rachel Deloache Williams.
I know this pairing sounds like a bit of a stretch, but hear me out. Both of these stories involve a fake identity, and if you liked She's the Man, you're clearly into that sort of thing. However, My Friend Anna is a nonfiction memoir that chronicles the long con of supposed German heiress/socialite, Anna Delvey. The true story is filled with twists and turns that uncover how she left Deloache Williams, with a bill of over sixty thousand dollars during an overseas trip to Egypt.  
If you liked About Time, you'll dig In Five Years.
Not to wax poetic, but these stories tug at similar heartstrings. They're both the kind of story that makes you send your best friend a mushy text of appreciation once you've finished. In Five Years follows type-A Dannie Kohen, who thinks she has her whole life mapped out, only to wake up one day five years in the future in a life that is unlike what she expected. After returning to the present, the reader investigates alongside Dannie to piece together what sparks a major change in her plan. 
If you liked 10 Things I Hate About You, you'll appreciate Autoboyography.
It's a bold claim to say that this novel is on the same level as one of the greatest films of the '90s, but I'm really confident about this recommendation. Autoboyography is a queer YA story set in an LDS community. It's a gem—equal parts rom and com.      
Juno is another one of those movies that really became inexplicably ingrained in the zeitgeist during the aughts. Let's all bow our heads for a moment to thank the movie gods for the holy trinity that is Juno's indie soundtrack, Jason Bateman's questionable hotness, and the iconic one-liners. If you love a bittersweet story with a heartwarming, optimistic vibe, you'll devour The Two Lives of Lydia Bird. This innovative story follows a bereft Lydia who experiences an alternate reality in her dreams: a reality that shows her what would have happened if her fiancé had lived.
If you liked Baby Mama with Amy Poehler and Tina Fey, you'll appreciate The Unhoneymooners.
You love a story that brings two seemingly polar opposite people into each other's lives with slapstick humor around every corner. In The Unhoneymooners, Olive's twin sister's wedding abruptly ends when all the guests simultaneously get food poisoning, except her and the best man/her enemy, Ethan. After much convincing and compromise, Olive finds herself on the honeymoon of a lifetime with the man she hates only to discover that her new boss and Ethan's ex-girlfriend are at the same resort. The Unhoneymooners is laugh out loud funny and guaranteed to brighten up even the foggiest San Francisco summer day.
If When Harry Met Sally made you laugh, then you'll enjoy Heartburn, also by Nora Ephron.
Is it a tad derivative to pair a book and movie written by the same person? Maybe! In my opinion, Nora Ephron is a national treasure and should be treated as such. If lines like, "Don't you love New York in the fall? It makes me wanna buy school supplies. I would send you a bouquet of newly sharpened pencils if I knew your name and address" make you gush, this one is a no-brainer. Bonus points if you snag the Audible exclusive version that is narrated by none other than Meryl Streep.
If Notting Hill is a  jam of yours, it's clear you fancy the slow burn. These two stories follow protracted love drama with a dash of spicy power imbalance. Both are dense with dry humor and Britishisms. Fair warning, this book isn't a beach read in the sense that it's light and fluffy, but more in the sense that it'll only take you a day to read.
If you (like me) consider Legally Blonde an unflinching part of your upbringing, snag One to Watch.
This is going to sound crazy, but when I was five years old, my dad sat me down and had me watch Legally Blonde in hopes that it would instill a desire in me to practice law. It worked for the following 14 years of my life, but then I realized that what I *actually wanted* was just to be a strong female lead. If a fierce femme is something you look for in books, I can't recommend One to Watch enough.