Decor & Styling
TV Console Makeover
posted on September 17, 2014 | by Amanda Holstein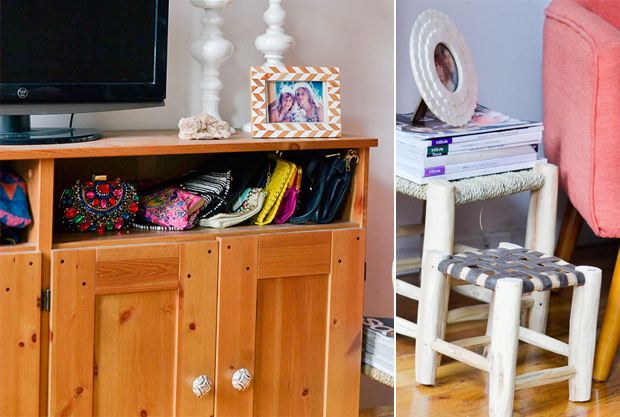 This IKEA console table was the first piece of furniture I bought when I moved to San Francisco, right out of college. It has served several purposes. First, it stood at the end of my bed (when I had the largest bedroom I've ever had in my adult life). Then it served as an entry table, and finally a TV console. Now that I'm in my new apartment in NY with some motivation to redecorate, I decided to give my TV area a bit of a makeover.
Before: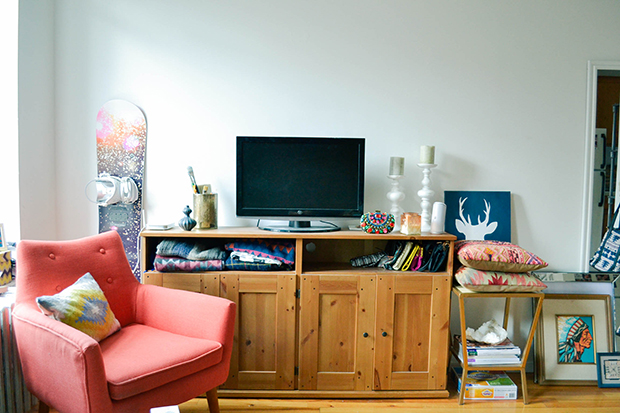 After: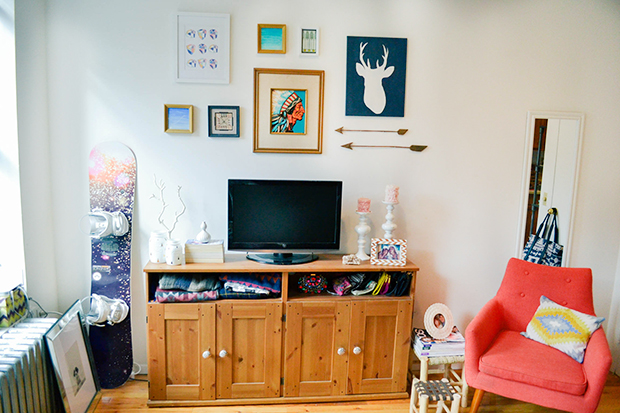 The first thing I like to do when giving a piece of furniture an update is to swap out the knobs for new ones. I bought these pretties from Anthropologie and love the luxe feel they give this simple wooden piece. Next up was rearranging the items in and on top of the TV console. I tried to stick to a palette of whites, tans, and pale pinks to keep the look consistent. I also organized my scarves and clutches for a neater look.
Next was rerranging some other pieces of furniture to fit around it. I love these little handmade stools from Elsie Green. They give my apartment that rustic vibe I'm always a fan of, while still look put together and stylish. I placed some magazines on top and use them as a sort of side table to my beloved Urban Outfitters chair, which you've all seen.
Last but not least – the gallery wall. Finally! I've always wanted to put up a gallery wall but never had the right space or the right artwork for one, until now. First I played around with the different pieces I had by laying them out on the floor. Once I was satisfied with the arrangement, I took a photo so I wouldn't forget as I hung them up. I started by placing the largest piece in the middle of the wall, and continued until I hung the smallest pieces last. I think it turned out well!
 Shop these products:
TV Console:
console table (newer version) | knobs | candle holders (in store at Z Gallerie)
candles | picture frame | white branches | white vase | diy vases
Other Furniture:
chair | stools | pillow
Artwork:
native american print & frame | geometric print
arrows | the rest are homemade :)