Dating & Relationships
Fun Things To Do
10 Summer Date Ideas
posted on August 18, 2015 | by Amanda Holstein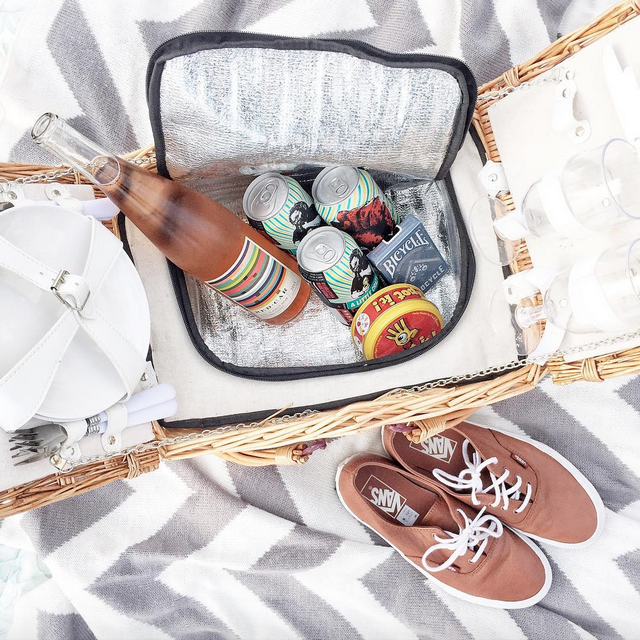 Full of sunny days and warm nights, summer is the perfect season to go big on date night. Take your dates outdoors and enjoy all that summer has to offer. Today I've rounded up some unique (and some classic) summer date ideas to enjoy with your current beaux or a prospective one ;).

1. Paint on the Patio
I've actually done this with my best friend once in college, and it was SO much fun. Grab two canvases, some paint, and a bottle of wine. If you have a patio to sit on, that's great. Otherwise hop on your roof or just sit by the window! The two of you can be silly and paint whatever you want — it doesn't need to be good, it should just be fun. Plus, that wine should give you some liquid courage :). (image via)
2. Go for a bike ride
There's something so classic about going on a bike ride with your date. You could take a little ride during the day, or try a bike ride to the beach and watch the sunset together! Make sure to stop along the way if you see anything interesting — like a mini roadtrip. (image via)
3. Go on a Donut Tour
What's a donut tour, you ask? It's where you hop around your city visiting all the best donut places in one day. 'Nuff said. (image via)
4. Explore a New Neighborhood
I always hear about cool, up-and-coming neighborhoods in my city that are just out of the way to visit on a daily basis. So, why not turn this little adventure into a date? Grab your guy and head to that neighborhood you've always wanted to see. Pop into stores, restaurants, and half fun walking and talking. (image via)
5. Visit an Amusement Park
Bring back a classic middle school date, minus the braces, and visit a nearby amusement park! Seriously, it never gets old. (image via)
6. Make Dinner for Breakfast
A simple, at-home date, this has always been one of my faves. Go to the grocery store together and pick out all your favorite breakfast goodies to make and enjoy together. (image via)
7. Picnic in the Park
Another classic, a good 'ole picnic in the park is the perfect date no matter how love you've been with your guy. You could go during the day and bring some fun activities along, or make it more romantic and watch the sunset. (image via)
8. Outdoor Concert
Outdoor concerts are everywhere during the summer, so take advantage and bring your date along. I recommend something more low key, where you can sit on a blanket and watch, so you can actually hear each other :).
9. Rooftop Drinks
Finish your day with some yummy drinks at a rooftop bar overlooking the city. (image via)
10. Make Choco Tacos!
Have some fun attempting to make this childhood treat together! Who cares if it turns out to be a mess, I promise you'll have fun doing it. (image via)