Outfits
3 Ways to Wear White Jeans in Fall
posted on November 5, 2015 | by Amanda Holstein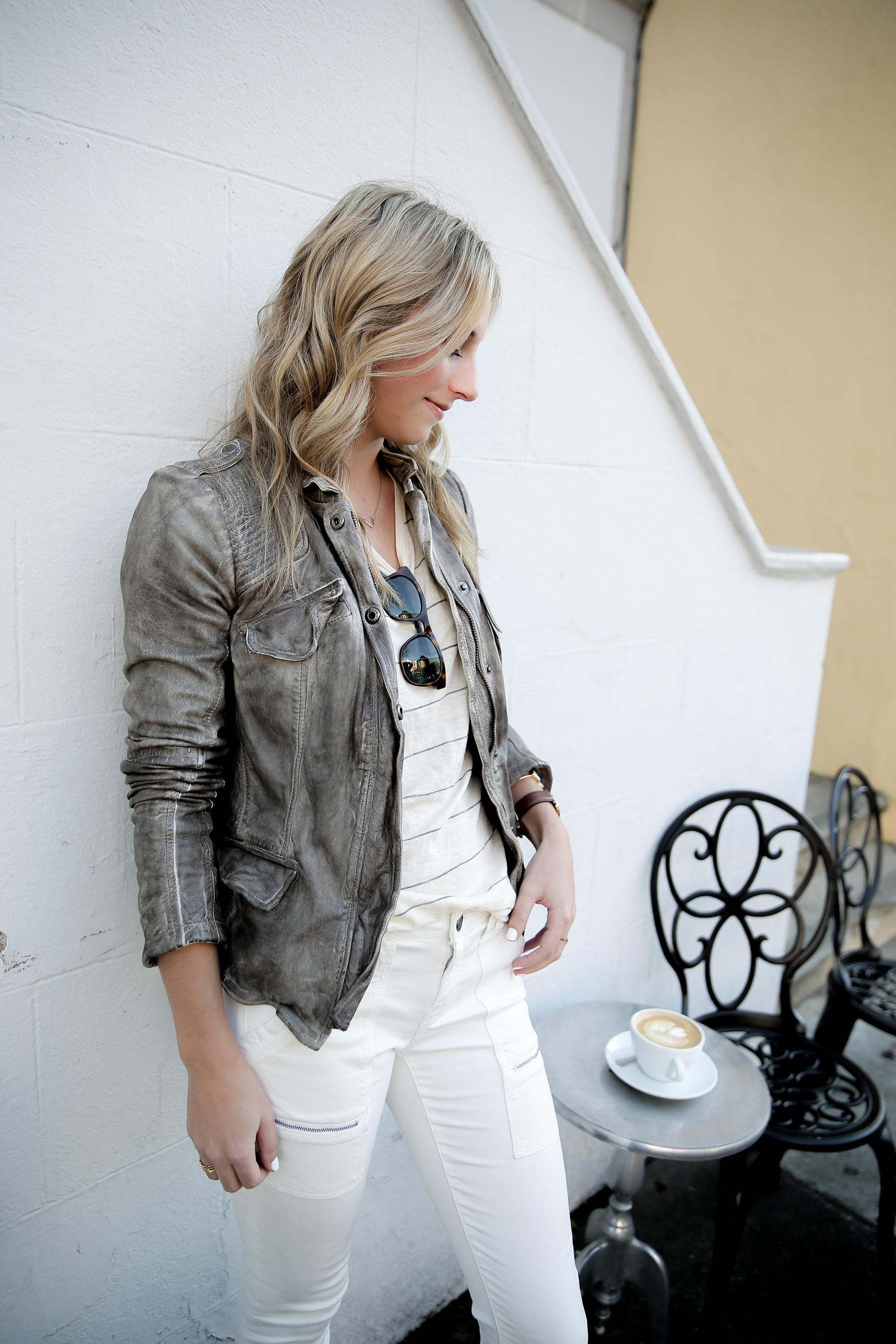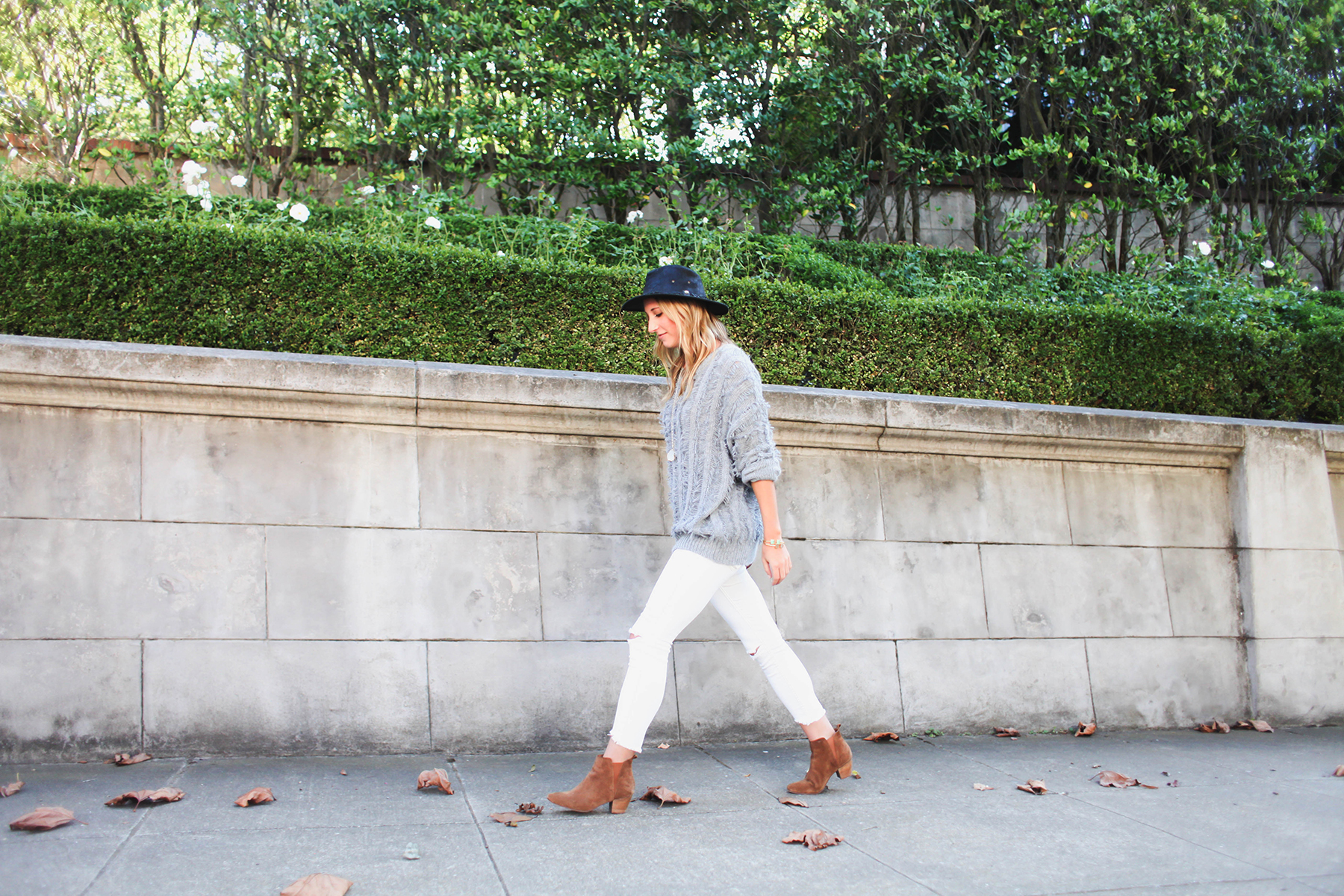 If you've been following me for some time now, you know that I have a slight obsession with white jeans. I love how they so easily freshen up any look just by swapping them out for your regular denim. I think we all know by now that the rule "no why after labor day" has become a thing of the past, but it can still be a bit difficult to figure out how to wear your white jeans after summer ends. So since I wear a pair pretty much everyday I thought I'd share some advice, as well as three totally different ways to wear your white jeans in fall.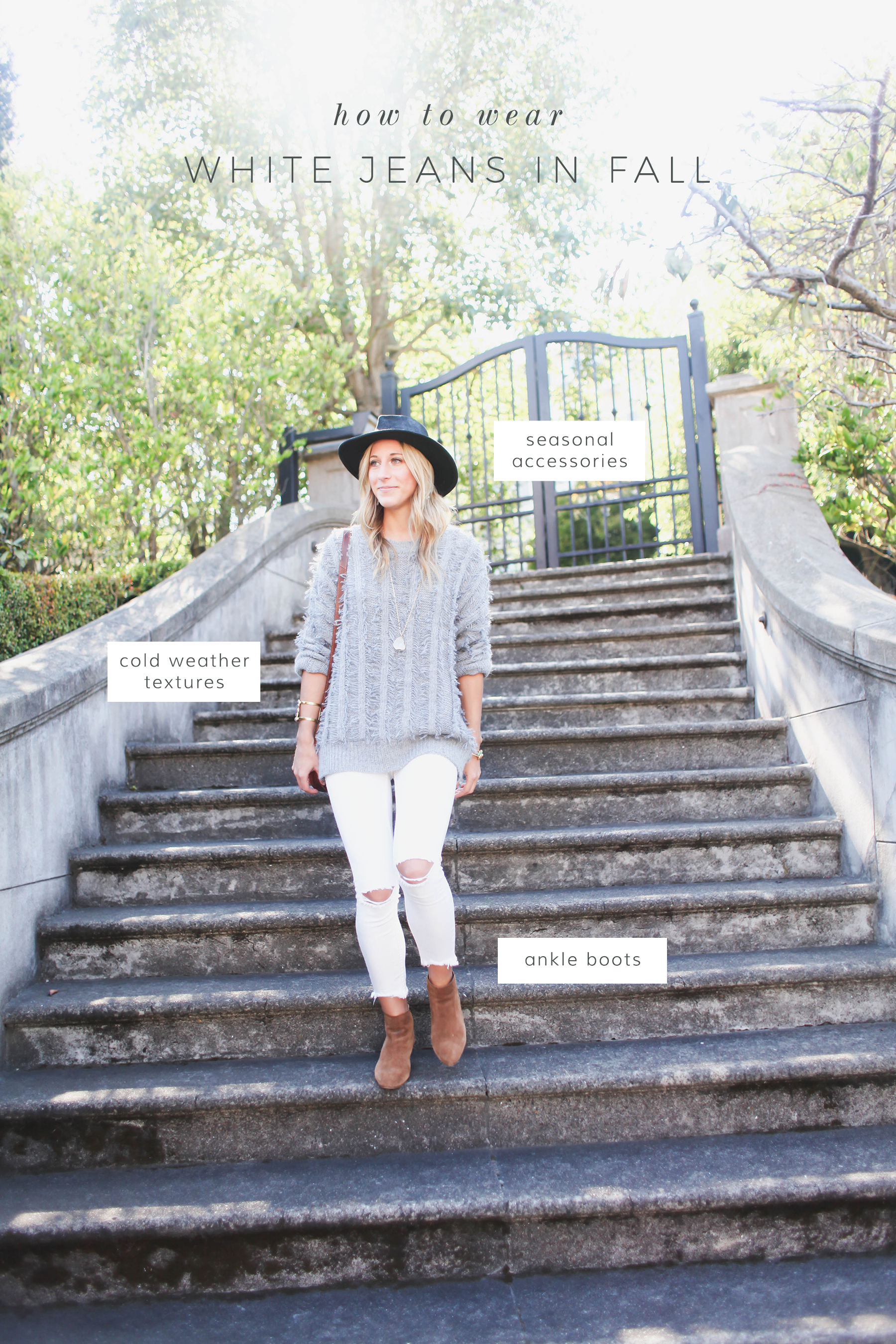 1. Add fall texture
Fall textures are key to making your white jeans fall-appropriate. Think sweaters, knits, leather, suede — something on the heavier side. Pairing your white jeans with fall prints, like plaid, is a great way to keep them relevant throughout the season as well.
2. Boots are a must
While you can certainly pair your white denim with heels or flats, I think boots make them feel the most fall. Go for softer shades, like brown, tan, or gray and try to avoid harsh colors like black.
3. Finish with fall accessories
Leather or felt hats are the perfect fall accessory and will give your outfit that cold-weather vibe. Scarves and vests are great options as well. I'm also a huge fan of Margaret Elizabeth this season and love how her pieces incorporate raw stones and gold hardware — the perfect combination for fall.
Option 1: Textured Sweater
For this look I opted for my Free People Destroyed Ankle Skinny to create a bohemian vibe. I love pairing an oversized sweater with super slim jeans, so I went for this JOA knit. (Try a more subtle version here!). As for my boots, these are from Mango, but unfortunately are no longer available. These are super similar though! I added seasonal accessories with this Free People hat, and Margaret Elizabeth's White Druzy Capri Necklace, Corsica Cuff in Labradorite, and Emerald 2 Stone Bangle in Gold Quartz and Aqua.
JOA Sweater
Free People Jeans
Mango Boots (similar)
Margaret Elizabeth Necklace, Cuff, & Bracelets
Free People Hat (similar)
// Photography by Margaret Elizabeth
Option 2: Leather Jacket
A well-fitted leather (or faux leather) jacket is my go-to for fall. It adds that heavier texture needed to make your white jeans cold-weather appropriate. I've recently been obsessing over this Free People jacket because of its versatile "greige" shade and worn-in texture. You can also find a more affordable, faux option here. I kept the look cool with a simple T-shirt (on sale for $29.99!) and these Joie jeans (I love the zipper detail!).
Free People Jacket (faux option)
Joie Jeans
Madewell T-shirt
Frye Boots
// Photography by Andrea Posadas
Option 3: Plaid
We all think fall when we see plaid, so pairing the classic print with your white jeans is a great solution. I mentioned on Instagram how utterly obsessed I am with this pair of high-waisted flares from Free People. They are super stretchy, comfortable, and just so unique. I tucked in this plaid shirt and threw on a leather cross-body bag to complete the look.
Rails Top
Free People Jeans
Frye Boots
Urban Outfitters Bag (similar)
Shop The Post