Editor's Picks
5 Fall Basics for Every Twenty-Something
posted on September 22, 2014 | by Amanda Holstein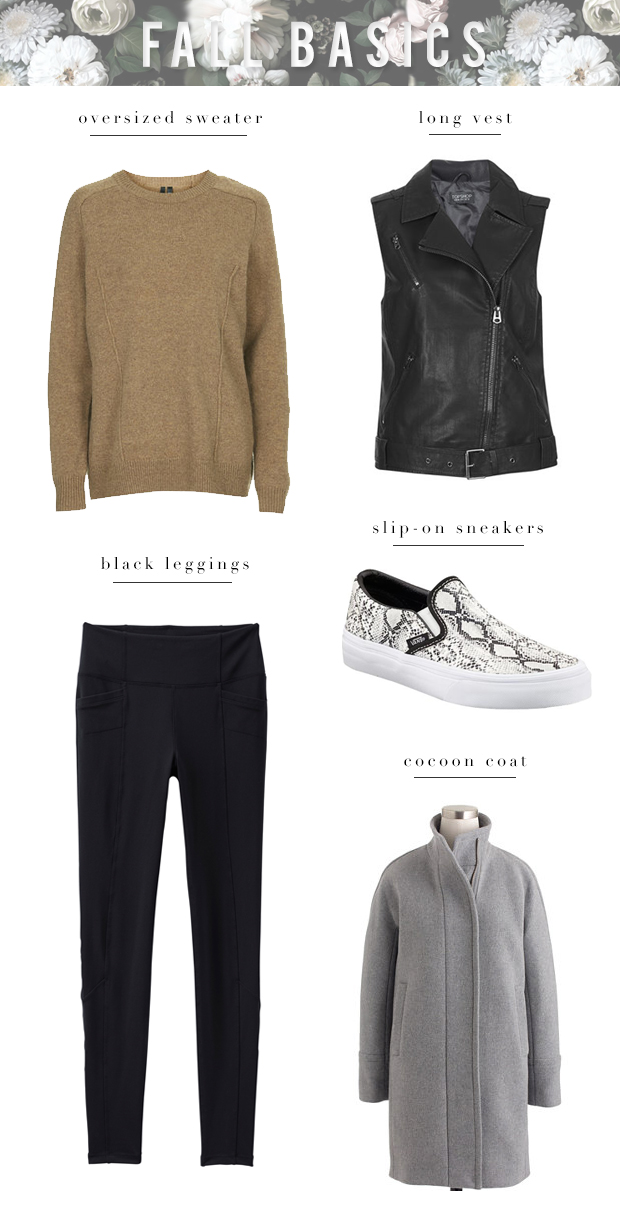 Trends come and go, which is why I'm always a fan of classic basics that last from season to season. I have to admit, fall basics have always been a favorite of mine. Cozy sweaters, layering pieces, and heavier textures are in rotation during these colder months, and I love the versatility of all three. Take a look at my must-haves this season below:
1. The Oversized Sweater
The coziest of basics, the oversized sweater is a necessity every time fall & winter come around. They work with just about any bottoms – jeans, skirts, leggings – and they come in a variety of prints and textures. Try this camel one and mix it with your darker neutrals. Any trend as comfortable as this is one I want in my closet.
2. The Long Vest
I'm becoming a huge fan of the long vest, particularly this leather motorcycle vest. Its length is perfect for pairing with flowy dresses or leggings, and that edgy silhouette gets me every time. The long vest is also a great way to spice up a simple look, which makes it easy to transform any outfit. Just wear it open over your classic jeans-and-a-tee look.
3. Black Leggings
An item that never goes out of style, black leggings are seriously a must for cooler weather. Not only are they insanely comfortable and warm, but they are super versatile. They can go from casual errand runs to trendy nights out in just a few styling steps. Wear them how I've styled them above, with a cozy oversized sweater, flats, and a long vest. Or dress them up with a long, sleek blazer and heels. Just make sure your top is long enough to cover that booty ;). These classic black leggings are from Athleta, and I love the pocket details on them. I'm also a fan of these subtle printed ones for a sportier look.
4. Slip-on Sneakers
As you've probably noticed from my Instagram feed, I've grown a bit of an obsession with slip-on sneakers. My love of that tomboy style comes in full effect with this new trend. Swap these sneakers for your other flats to create an edgier look. Wear with skinny jeans, leggings, or even shift dresses (my favorite). Try these fun printed ones or go simple with black.
5. The Cocoon Coat
A classic silhouette that can be worn from year to year, the cocoon coat should be your go-to this fall & winter. Its sleek shape works with just about any outfit, plus it's incredibly warm – a must for the New York winter I'm about to endure! J.Crew always has a great cocoon coat that's well made and worth the investment.
Try pairing all five of these basics together for an easy look you can wear just about any day.
// This post brought to you by Athleta, the premier fitness fashion brand for women.