Outfits
Why You Need a Moto Jacket
posted on October 2, 2013 | by Amanda Holstein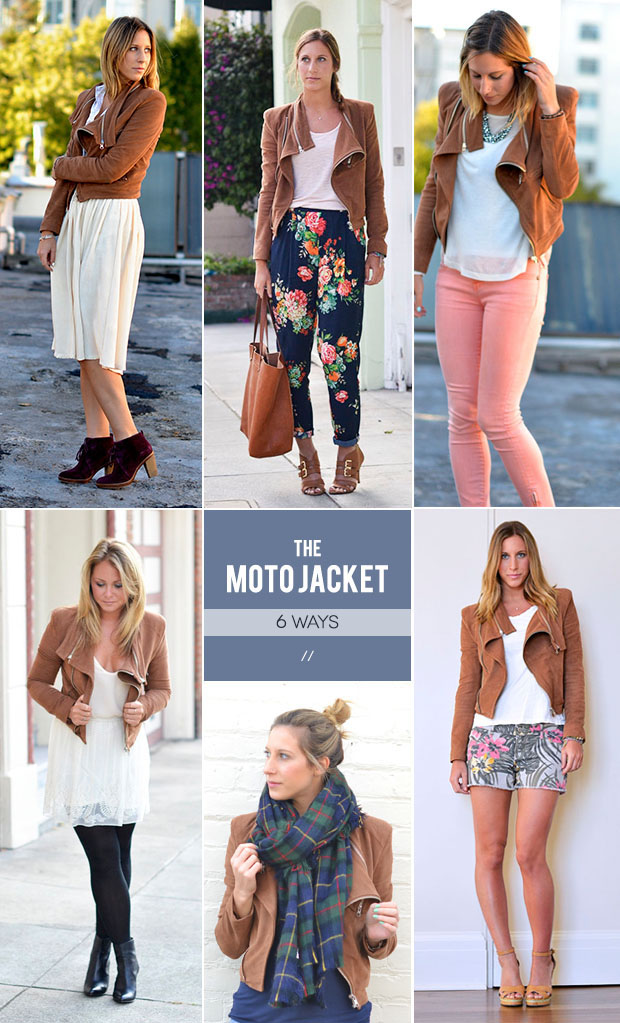 My go to piece of outerwear for some time now has been this brown suede moto jacket. Why? Because it literally goes with everything and makes every outfit look magically put together. It's seriously a must-have and every twenty something (and thirty something for that matter) should own one. When scrolling through my past outfits, I've noticed how versatile this piece really is. I've rounded up some of my favorite ways to wear a moto jacket below:
When looking for the right moto jacket for you, make sure to consider…
1. The Cut
Finding the right moto jacket that fits you to a T is totally worth the wait. Make sure it's slimming in all the right places. Often times ill-fitting jackets have baggy arms, shoulders that are too broad, or don't properly fall properly on your figure. Be sure to check all these boxes when searching for our perfect moto jacket. Don't settle!
2. The Color
Choose a versatile color that goes well with your wardrobe. I tend to opt for softer colors and lots of lighter neutrals like whites and grays, so this soft brown was the perfect shade for me.
3. The Material
Moto jackets come in all kinds of fabrics: leather, suede, denim, faux leather…the list goes on. I'm always a fan of a good leather (or faux leather) jacket. It's a great way to add some edge to any look. I was also surprised at how versatile suede is. It works with your regular jeans, silk pants, and even wax coated denim. Take a look at your wardrobe and choose a material that works well with the clothes you wear the most.
Unfortunately mine is no longer available,
but here are a ton of great options in a butt load of price ranges. Enjoy!