Decor & Styling
Affordable Finds for the New Apartment
posted on July 31, 2014 | by Amanda Holstein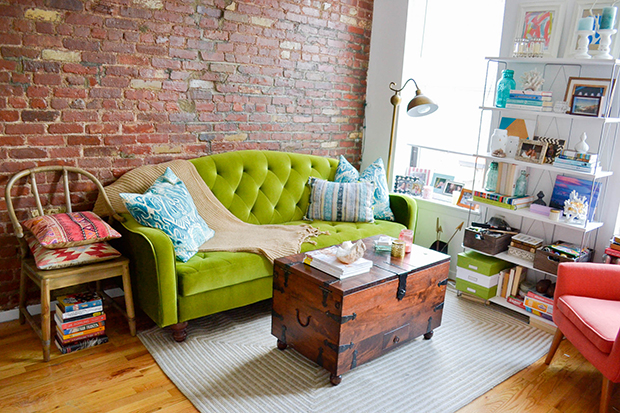 My new pad!
I've been in my new apartment for literally 3 days and all I can think about are the new pieces I want to get to decorate my new home! I kept just about everything from my San Francisco apartment – all the big stuff that is (I'm never getting rid of this couch!). But there are definitely some things I need to get, like a smaller dresser for my tiny bedroom :).
Artwork is a great thing to add when you move as well. With different wall space, it's nice to change up the look of your home with new finds. I found some really unique pieces on my newest obsession Great.ly, which curates stylish pieces from makers around the world. Integrating new pieces into my already bright and bold apartment is not easy though. So I decided to put together some affordable finds that just might work. Take a look below!
Hover over the image and click the shopping cart icon to shop!
Urban Outfitters Stand | Furbish Studio Rug | Lisa Krannichfeld Painting Urban Outfitters Drawers | Urban Outfitters Shelves | Furbish Studio Box Overstock Dresser | Miles of Light Print | Serena & Lily Crate | Furbish Studio Pillow