Editor's Picks
American Apparel Halloween Costumes, Part II
posted on October 28, 2014 | by Amanda Holstein
As an experienced costume party goer from my sorority years in college, I know a thing or two about throwing together a good costume. And if you've been to your fair share of costume parties, you know American Apparel is a haven for DIY costumes. Last year I put together a list of American Apparel Halloween costumes, so I thought I'd continue the tradition with some more ideas for this coming Halloween. As you can tell from this roundup, I'm a huge fan of the throwback costume. Bringing something back from the past is always fun and a great way to start conversation and meet new people. Check out these three favorite costumes below you can make from American Apparel items, or even pieces from your own closet!
Mary Kate & Ashley
from the 90s
Great as a solo costume, and even better as a duo with your BFF, you can't go wrong with MK & A. Grab some overalls, a t-shirt, and tie a flannel around your waist. Add a backwards hat and some sneakers and you're good to go.
Shop the costume: overalls | t-shirt | flannel | hat | sneakers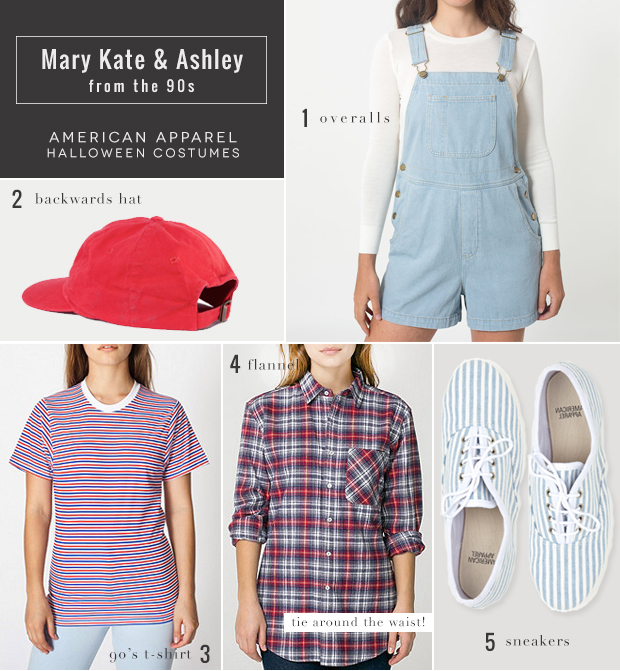 The Craft
Nancy
A classic creepy teen movie from our generation, The Craft is the perfect throwback for Halloween. Obviously go for the scariest of the foursome, Nancy, and have fun with crazy makeup and accessories. The look is pretty simple with a leather mini skirt, white button down, knee high socks and boots. If you don't have a denim vest you could just add a black cardigan as well – all items you probably already own!
Shop the costume: leather skirt | denim vest | white shirt | socks | boots | saw necklace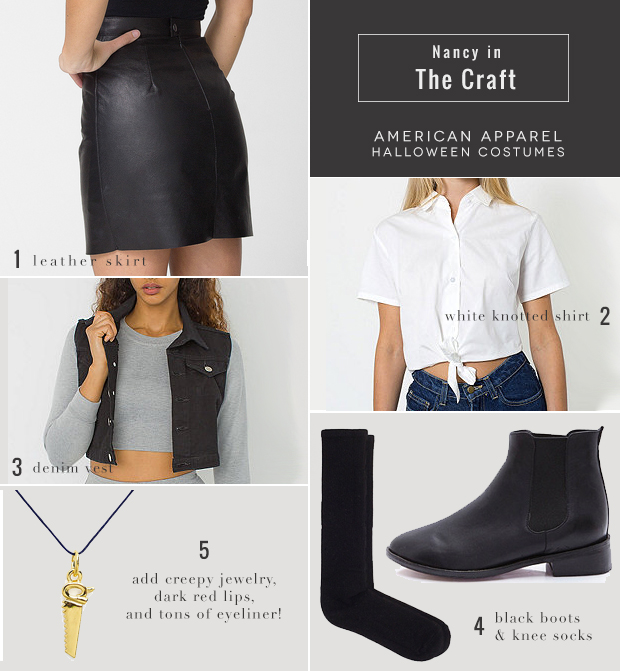 Malibu Barbie
My latest obsession with the latest blogger-inspired Instagram feed by Barbie sparked this throwback idea. Dress as the original Malibu Barbie with a blue bodysuit and tons of pink, 80s accessories (something American Apparel is stock full of).
Shop the costume: bodysuit | headband | fanny pack | umbrella | sunglasses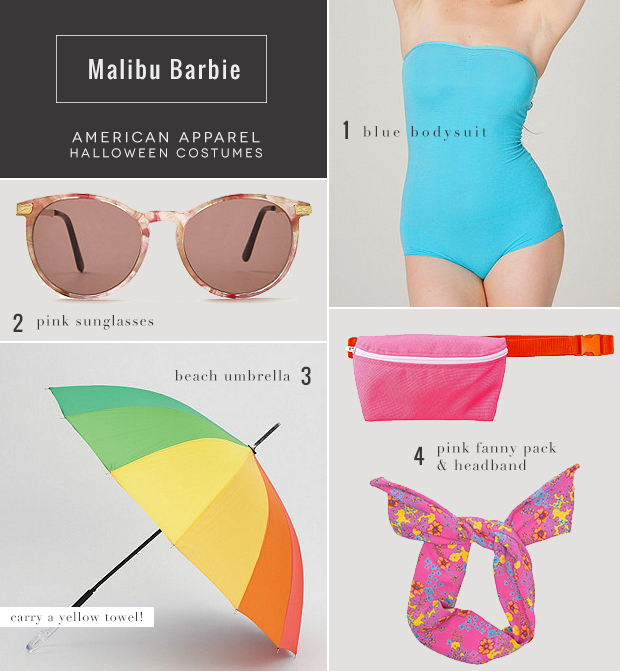 I'll be sharing more Halloween costume ideas this week, so be on the look out! And if you have any ideas, but aren't sure how to execute them, just shoot me an email at info[at]advicefromatwentysomething[dot]com!