How to Choose Throw Pillows for Your Couch
posted on March 11, 2014 | by Amanda Holstein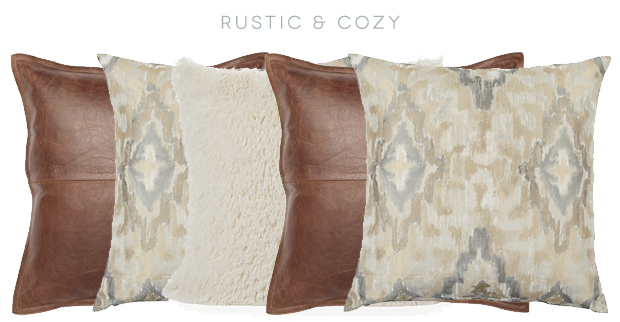 There are tons of options when it comes to throw pillows, but the hard part is knowing which ones to put together, what sizes to buy, and how many. It can be a daunting process. Swapping out your throw pillows every once in a while is also a great way to totally change the look of your apartment, without spending a ton. So knowing how to pick them out is a much needed skill. I've broken down this process into three simple options. Choose your preference below:
Symmetrical:
The simplest way to choose throw pillows for your couch is by going the symmetrical route. Choose 2 of the same large (20-24 inch) pillows, 2 of the same medium size pillows (12-18 inch), and 1 small pillow. I recommend choosing 2 prints and one solid. Make sure there's a mix of texture in there as well (my velvet pillow is the pop of texture). As for mixing prints, it's best to choose one print of a smaller scale, and one of a larger scale. For instance, the larger pillows have a small scale print – meaning the print is pretty condensed. Although it's bold, it's not distracting. The medium pillows have the larger print – meaning the print is more spread out across the surface of the pillow. Then add a solid color to tie the prints together.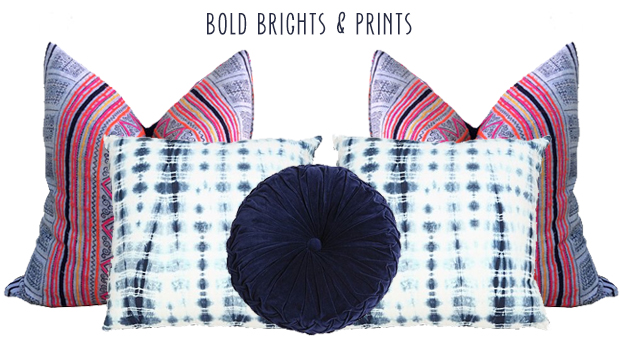 large pillows | medium pillows | small pillow
Asymmetrical:
This option is super fun, but a bit trickier. Start with two of the same large size pillows (20-24 inch). Then choose two medium size pillows that are different, whether in shape, color, or print. Finally, add 1 small pillow to finish off the look. It's best to choose your color scheme first and then start picking out the pillows. I love the way the soft blush looks with the pop of black and white.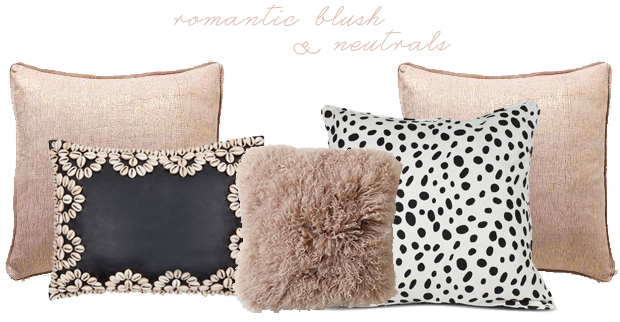 large pillows | medium rectangle pillow | medium square pillow | small pillow
Same Size:
Another one of my favorite options is to choose pillows in all the same size (20-24 inches). Choose 2 pairs of pillows, one pair could be solid and the other pair a print. You could add one more print for the last pillow or just mix in some texture. I love how the leather looks with the soft plush pillow.