Outfits
Styling Advice
How To Wear Loose Trousers
posted on June 4, 2014 | by Amanda Holstein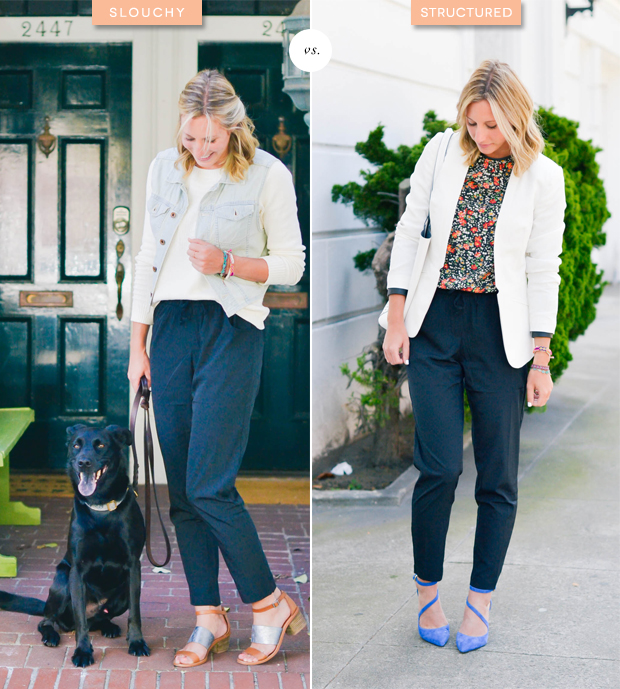 The loose fitting trousers are a trend I can't get enough of. They're insanely comfortable, a nice break from denim, and perfect for all sorts of occasions. The problem is, many people don't know how to wear them. They can be a bit intimidating, but if you think of them in two ways, they're much easier to style: slouchy vs. structured. Find out how to wear loose trousers with these two looks below!
Slouchy
You can go casual with loose trousers by pairing them with a loose fitting t-shirt or sweater. Half-tuck your top into the front of the pants. This helps define the waist in an otherwise baggy, unstructured outfit, plus adds a touch of edge to your look. Keep the shoes casual, yet still polished. Go for booties or embellished sandals. I added a denim vest to my look to give it a little something extra, but you could add a necklace or a jacket instead. A cute pup isn't a bad accessory either ;).

Structured
Now that you've mastered how to wear loose trousers casually, let's try the more structured route. Rather than pairing your loose trousers with casual items, try adding more polished pieces to the look, like a sleek blouse and blazer. This is a perfect way to dress up your trousers for the office or a nice dinner. Add heels (I love this pop of blue!) to keep the look chic and structured.

Shop Loose Trousers