Editor's Picks
Outfits
How to Wear The Trend: Leather Skirt
posted on October 3, 2012 | by Amanda Holstein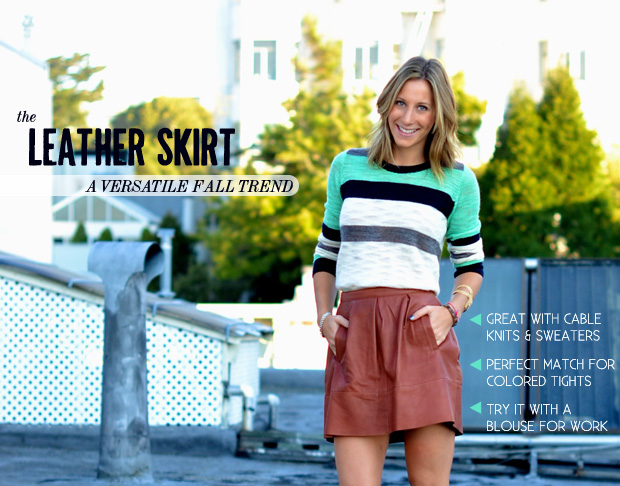 If you're gonna invest in a statement piece for fall, invest in a leather skirt. It's one of those versatile trends that you can wear to so many different occasions throughout the colder months. First, choose a shape that suits your lifestyle: pencil skirt for the office, A-line for any occasion, or go for a mini if your schedule is more casual. Then select a color that you can mix and match in your wardrobe easily. I'm more of a brown leather girl, but maybe black is more your go-t0 neutral. You could even do a deep red or navy – whatever color goes with the palette of your wardrobe.
I chose to pair mine with one of my go-to sweaters. The shape is easy to tuck into an A-line skirt, and the stripes make it fun and interesting. I added my favorite booties because they match everything, they're super comfortable, and they make the outfit really feel like me.
For more ideas on how to style the leather skirt, check out my pinterest board: "How to Wear a Leather Skirt".