Editor's Picks
Last Minute Gifts!
posted on December 24, 2012 | by Amanda Holstein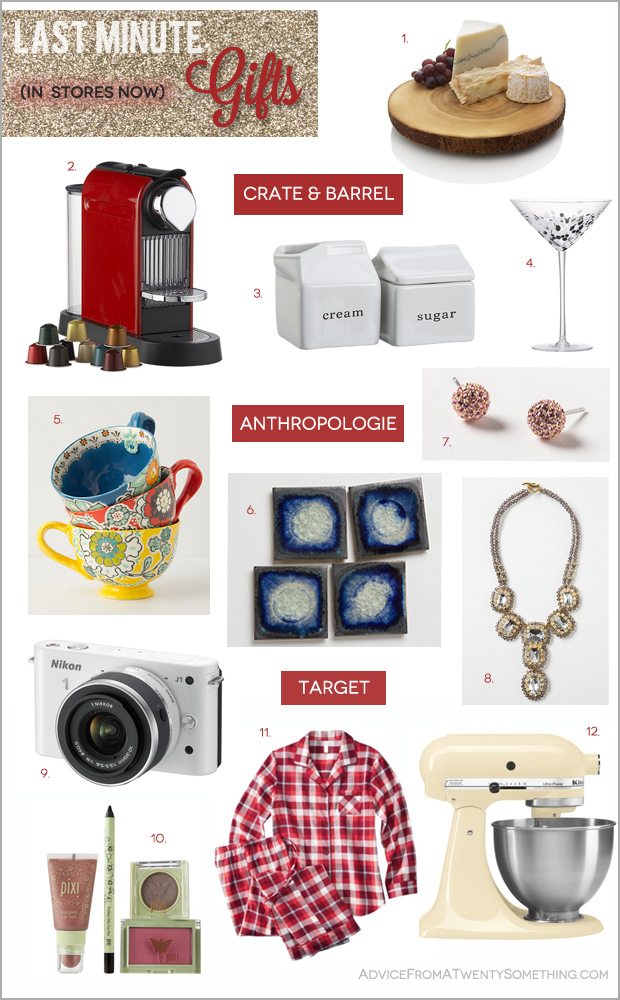 You're not the only one who still needs to get one or two more gifts before Christmas, trust me. In my opinion, the best time to buy gifts is in stores, during those few days before Christmas when you don't have much to do anyways! So while your family is cooking, prepping, or just lazying around at home, sneak out for a quick trip to your local Crate & Barrel, Anthropologie, or even Target for some great last minute gifts. Don't stress! All of these are available in stores now.
Don't Stress! Tips on getting last minute gifts:
1. You don't need to have an exact gift in mind. Go to one of your favorite stores and you'll get tons of ideas just looking around.
2. If you don't have time to go out to get a present, there are tons of other options. Gift an activity of some kind, like tickets to a concert or cooking lessons. Also try "of-the-month" clubs. Who knew you there was a Bacon of the Month club? Yum.
3. You can always get a gift for a couple together, rather than individually. Also, there's no shame in sharing gifts with your siblings to give to your parents. They'll understand – you're twenty something, and you don't have the biggest budget right now.