Editor's Picks
Last Minute Halloween Costumes All from American Apparel
posted on October 31, 2013 | by Amanda Holstein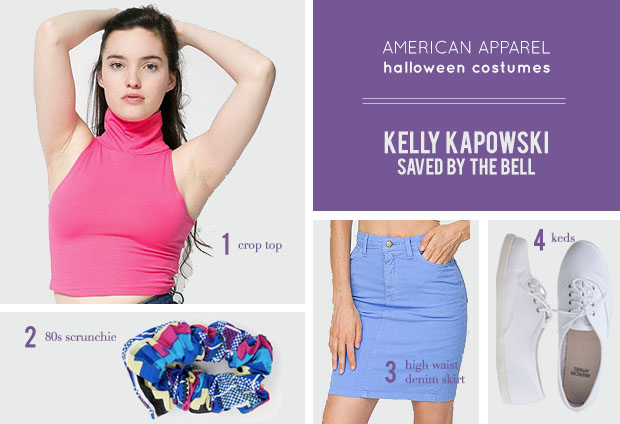 In college, it felt like you had all the time in the world to plan, prep, and create your magical Halloween costume. Now that we're in the real world? Not so much. So for those of you who've left your Halloween costume until the last minute, you're not alone. My solution for last minute costumes of any kind has always been American Apparel. Although sometime overpriced, their pieces are super versatile so you'll most likely get more than a handful of wears out of whatever item you buy, whether for another costume or even everyday.
So after snatching up my costume at American Apparel yesterday, I thought I'd round up some other quick and easy last minute Halloween costumes you can throw together quickly. Just run over to your nearest American Apparel and shop away using these pieced together ideas below!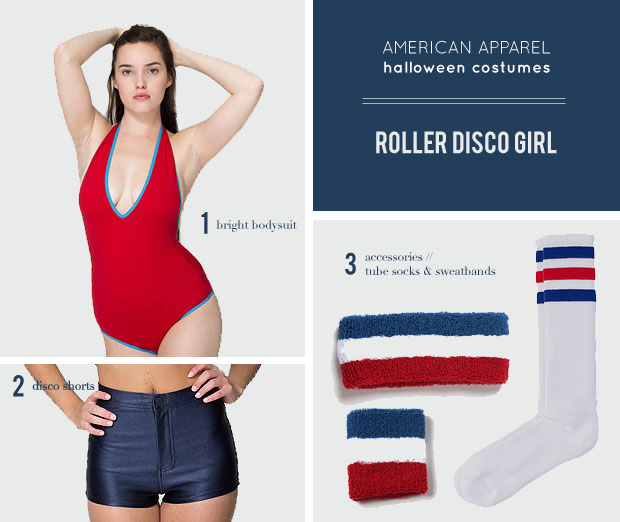 Roller Disco Girl
(wear roller skates all night!)
Products:
1. Cotton Spandex Jersey Halter Leotard
2. The Disco Short
3. Stripe Knee-High Sock, Headband, Wristband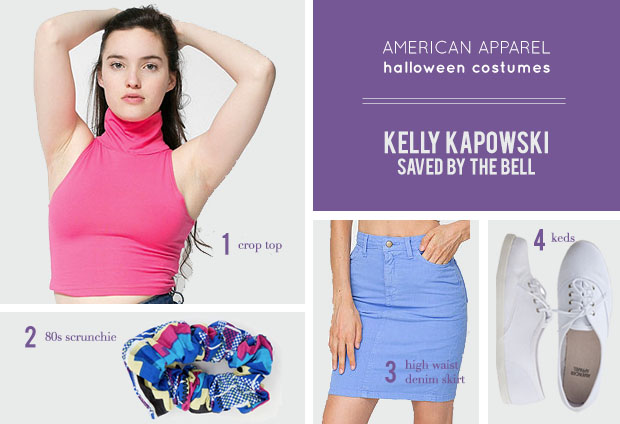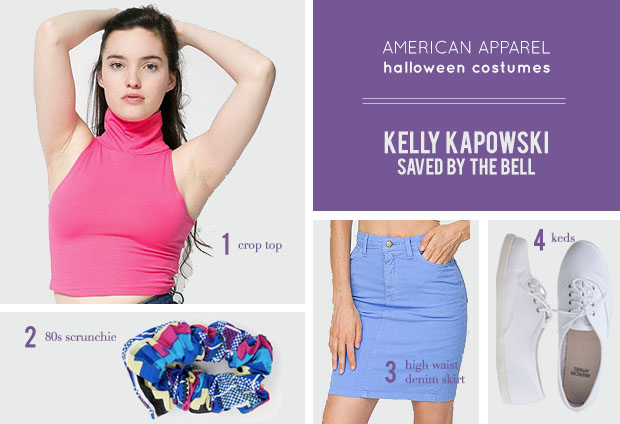 Kelly Kapowski
(from Saved by the Bell)
Products:
1. Cotton Spandex Sleeveless Turtleneck Crop Top
2. Cotton Scrunchie
3. Denim High-Waist Slim Skirt
4. Unisex Tennis Shoe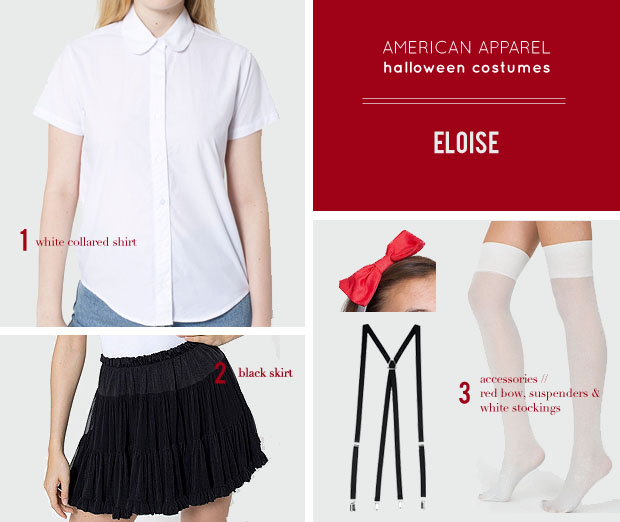 Eloise
(remember those books?)
Products:
1. Poplin Round Collared Short Sleeve Button-Up
2. Multi-Layered Reversible Petticoat
3. Suspenders, Bow Headband, Stockings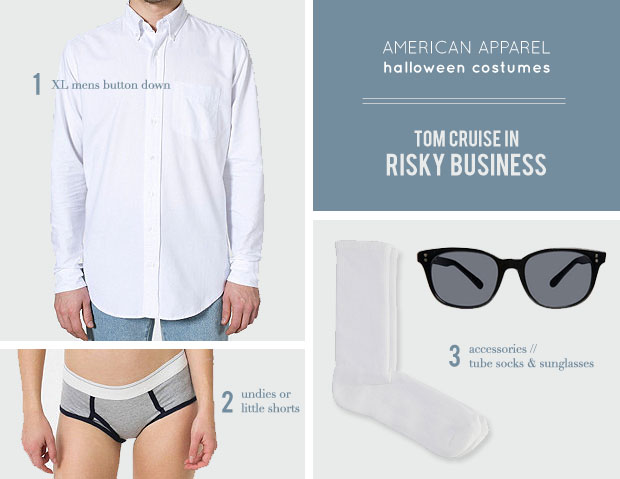 Risky Business
(you can always wear shorts if these undies scare you)
1. Oxford Long Sleeve Button-Down
2. Cotton Spandex Jersey Boy Brief
3. Tube Socks, Sunglasses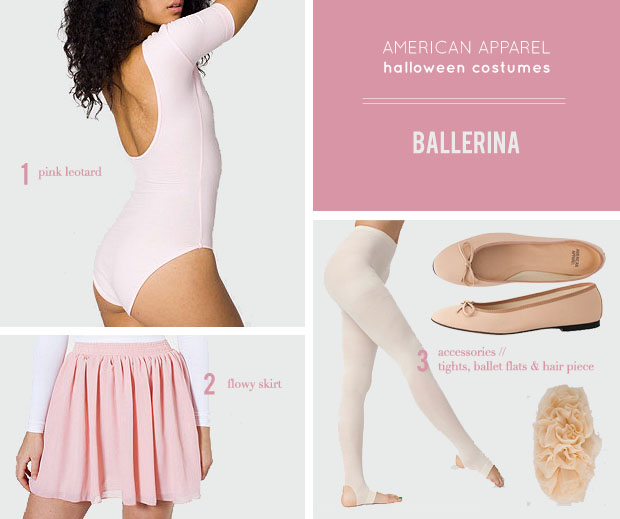 Ballerina
(it's time to work that top knot)
1. Cotton Spandex Jersey Short Sleeve T-Shirt Leotard
2. Chiffon Double-Layered Shirred Waist Skirt
3. Stirrup Pantyhose, Ballet Flats, Blossom Hair Clip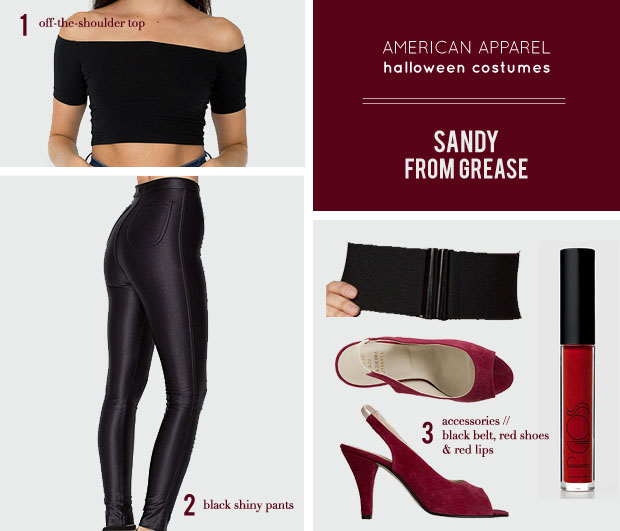 Sandy from Grease
(an excuse to buy candy cigarettes!)
1. Cotton Spandex Off-Shoulder Top
2. The Disco Pant
3. Belt, Heels, Lipgloss
What are you being for Halloween?? I want to know!