Editor's Picks
Get Cozy: 3 Sweater Trends for Fall
posted on November 4, 2013 | by Amanda Holstein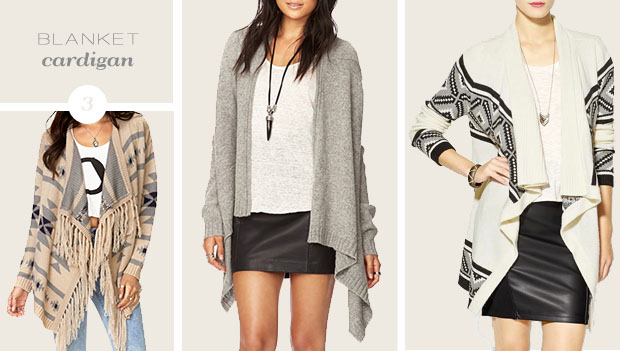 It's sweater season!!! I never thought I'd hear myself get so excited about that, but something about the sweater trends this year just make the cold weather more bearable. There are so many different kinds of knits to mix up your fall wardrobe, from classic cable knits to textured sweaters, and my personal favorite, the blanket cardigan. Try over-sized sweaters with leather leggings for a casual weekend look, or embellished knits to spice things up at the office. The possibilities are endless. Take a look at my top 3 sweater trends below!
The classic cable knit is a timeless sweater trend perfect for fall and winter. It's simple enough to add to risky trends like printed pants or full skirts, yet interesting enough to wear with just a simple pair of jeans. This trend won't be going anywhere any time soon!
Texture has always been an obsession of mine. Adding intricate textures to simple knits make them look luxe and add unique dimension to any look. Try the pebbled look (far right) for an easy transition into the trend, or go playful with super fuzzy fabrics.
My personal favorite has to be the blanket cardigan. Not just because it has the word "blanket" in it, but I think the draped silhouette is super chic. Just add a simple t-shirt and jeans, and you've got a perfect fall look.
Which is your favorite sweater trend this season?