How to Get Michelle Obama's Inauguration Look
posted on January 21, 2021 | by Megan Lierley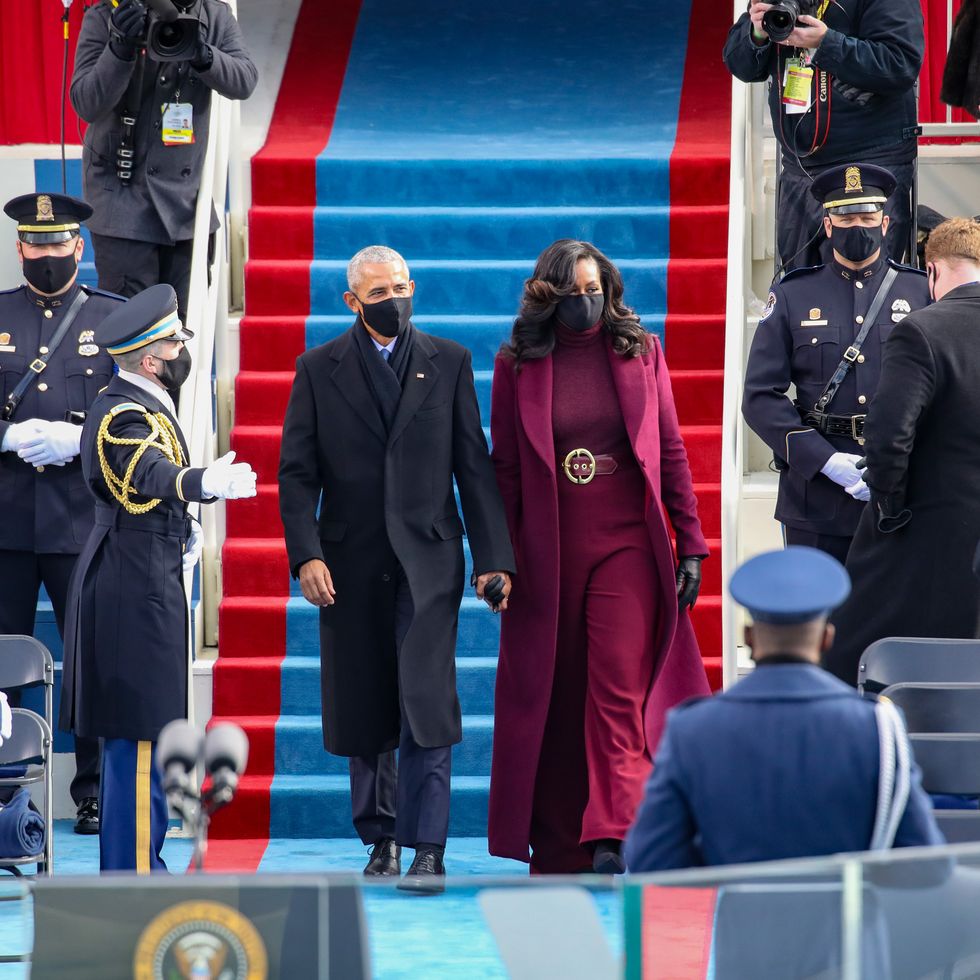 Yesterday, the internet was abuzz with proclamations of hope, renewed faith in politicians and humanity, and, of course, virtual jaw drops and applause over Michelle Obama's outfit. We're thrilled to see fashion is back at the White House, and while we may not be leaving our own houses for the foreseeable future, we saw no reason why we can't find a budget-friendly, plum, monochromatic ensemble for our next Zoom power meeting. Here, we scoured the internet for dupes of the former First Lady's Sergio Hudson suit.
The Coat
We sifted through a lot of long, burgundy coats and the best budget dupe has got to be this one for under $200 at Nordstrom Rack. At under $100  and under $60, there are plenty of beautiful long, burgundy coats to choose from, you just have to mix and match with the proper pants, turtleneck, and belt to achieve Michelle's monochromatic vibe.
The Pants
Hellooooo, 70% off beautiful silk wide-legged pants! The beauty of trying to dress as glamorously as Michelle Obama in late January is that seemingly everything is on sale. For our budget option, we found these for under $70, also on major sale. The priciest of the bunch is $200 here from one of our favorite brands, Cuyana.
The Turtleneck
At the most budget of the bunch, you can't go wrong with this classic option for less than $40. At 70% off, this cashmere number is an excellent option for $50, and then there is this very soft-looking sweater and pants combo from Mango.
The Belt
There are plenty of gorgeous, pricey options like this one from Balenciaga or this thin option by Ferragamo. To look for budget dupes, we turned to Etsy, where we found this gorgeous leather option and this thin belt with gold leaves, both for under $40.
Would you wear this look? Or did you have a different favorite from Inauguration Day? Let us know in the comments!