Skincare
Skincare Products Update
posted on June 10, 2014 | by Amanda Holstein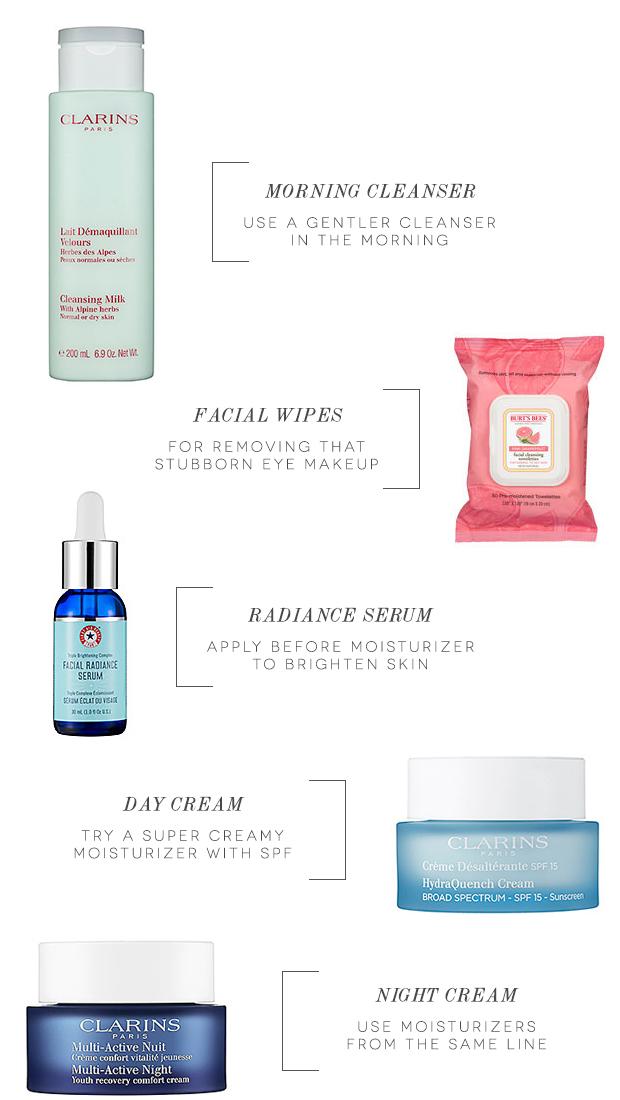 As I've mentioned before, it's always a good idea to switch up your skincare products every few months, especially if you stop seeing results. Well, after posting my Twenty-Something Skincare Routine, I've changed up a couple products and want to make sure I keep you all in the loop! Here are some of updates and newest additions to my current skincare routine below.
For the most part, the routine has stayed the same, but I added in a new gentler cleanser to use just in the mornings. At night, I still use my Clarisonic with my Shiseido Purifying Cleanser because the cleanser has gentle exfoliating beads perfect for getting all that makeup and dirty off that's built up throughout the day. In the morning, I don't feel that I need such a strong cleanser, so I switched to something more gentle – Clarins Cleansing Milk.
One issue that never seems to go away no matter what products I use is eye makeup residue. I decided to get some easy facial wipes to solve this problem, and they're seriously a lifesaver. I use these new Burt's Bees Facial Cleansing Towelettes after I wash my face to remove any makeup that the cleanser left behind.
I've also added in a serum that evens out your skin tone and is perfect if you feel like you have dull skin. I'm really liking this First Aid Beauty Radiance Serum. It's gentle and soaks into the skin quickly, and I've seriously noticed a difference in my skin tone! Apply it before your moisturizer and make sure it fully soaks into your skin first.
After a few months, I also decided to change up my moisturizers – both for day and night. Mostly because my friend who works at Sephora recommended them to me, and I absolutely love them. Since my skin airs on the drier side, this Clarins HydraQuench Cream is a luxurious dream. It's super creamy yet still absorbs into my skin perfectly. I also thought it would be best to use a night cream from the same line, so I went with the Clarins Multi-Active Night Youth Recovery Cream. I'm a huge fan of both!
Shop The Post