Editor's Picks
Wardrobe Essentials: The Top 7 Shoes Every Girl Needs
posted on March 24, 2014 | by Amanda Holstein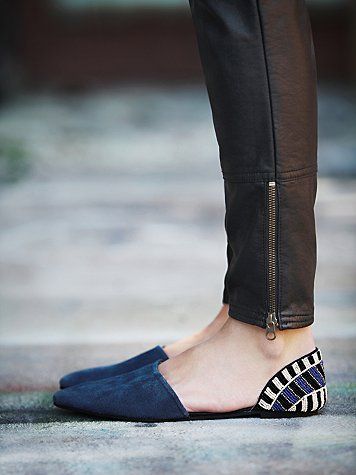 As a shoe addict, it's hard for me to narrow down what shoes we actually need, but I think I've got the list down to a reasonable number. In my opinion, there are 7 types of shoes every girl needs in her closet. Find out what they are below.
1. Flats
A comfortable yet stylish pair of shoes is definitely a necessity in any girl's closet. Flats are also a bit more polished than sandals are sneakers, so they're perfect for work or more dressy occasions.
2. Fashion Sneakers
When you can go a bit more casual and need some more support for your feet, a stylish pair of sneakers is a must. Now, these aren't the shoes you wear to the gym. These are the sneakers you wear walking around town, doing errands, as a tourist, etc.
3. Flat Sandals
For casual days in warmer months, flat sandals are my go-to. I usually go for neutrals so I can wear them with everything. The great thing about flat sandals now is they come in more polished silhouettes that you can actually wear in more dressy settings like work or out to dinner.
4. Heeled Sandals or Wedges
Probably my favorite type of shoe, heeled sandals are perfect for dressing up any look. Try a lower, thicker heel for work or a more casual look, and opt for tall stiletto for a night out or a date. Wedges are also a great option for day or night.
5. Classic Pumps
An essential for any girl's wardrobe, no matter what the age, the classic pump is one shoe I recommend investing in. Every girl needs a classic black pump – for work or play. I'd also suggest some colorful ones and a pair of nude pumps, as they're perfect for elongating your legs and go with everything.
6. Booties
You know how I feel about booties. The perfect way to add a touch of casual edge to any outfit, while still looking pulled together. Plus, they work in any season of the year.
7. Knee-high Boots
Every girl needs the perfect pair of knee-high boots for those colder days in Fall & Winter. They're also a great way to make an outfit a touch more polished and feminine than booties do.