Outfits
Transitioning from Winter to Spring with White Denim
posted on March 31, 2015 | by Amanda Holstein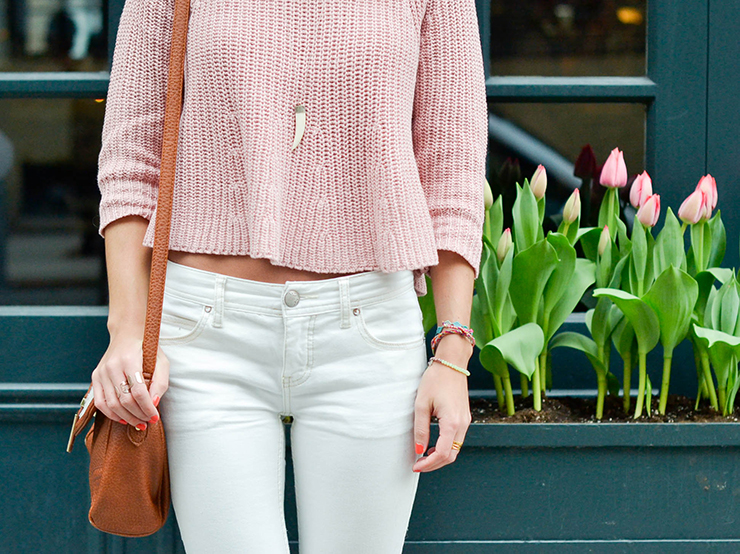 Well folks, if you don't live on the east coast, you may not be aware that it's STILL WINTER. I'm not gonna lie, I'm seriously bummed about it. The good news is, I've found the perfect top for this weird transitional weather. A three-quarter sleeve, crop sweater in a spring hue? It's warm enough yet still spring appropriate — a.k.a the perfect combo. White denim is also my secret weapon for transitioning from winter to spring. They're bright and scream spring, but still keep you warm. In fact, I'm a fan of wearing them all year round to mix up your denim game.
Some other good news? After a much-needed catchup with my gorgeous blogger bud Shannon of G.B.O. Fashion, I've decided to amp up the outfit posts on this ol' blog. While my main focus is really giving real-life advice, in all areas of our lives, I realize there aren't a lot of opportunities for me to share my life with you. So keep a look out for more outfit posts where you'll see what I actually wear on a day-to-day basis and what I'm up to during the week. I hope you're all cool with that! So check out today's look and let me know whatchya think.
Wanna shop this outfit below? Here are a few tips:
The sweater runs true to size, and comes in a few other colors (I bought it in two!). It fits great and is super versatile. It's not a true crop top — it goes past your belly button (and I have a pretty long torso), which definitely makes it more wearable.
The jeans are my latest obsession, but I would say they run a tad small. I'm normally a 26 and that's the size I got, but they are a bit snug. I'd recommend going up a size just to be comfortable.
The bag and the boots were old purchases, but I included a few similar options (that I actually like better!) below.
The necklace was a little DIY project (just go to a bead store and buy the chain and a pendant you like!), but I included some similar options for it as well. Hope this helps!
Shop The Post