Styling Advice
What to Wear with Flats
posted on February 8, 2016 | by Amanda Holstein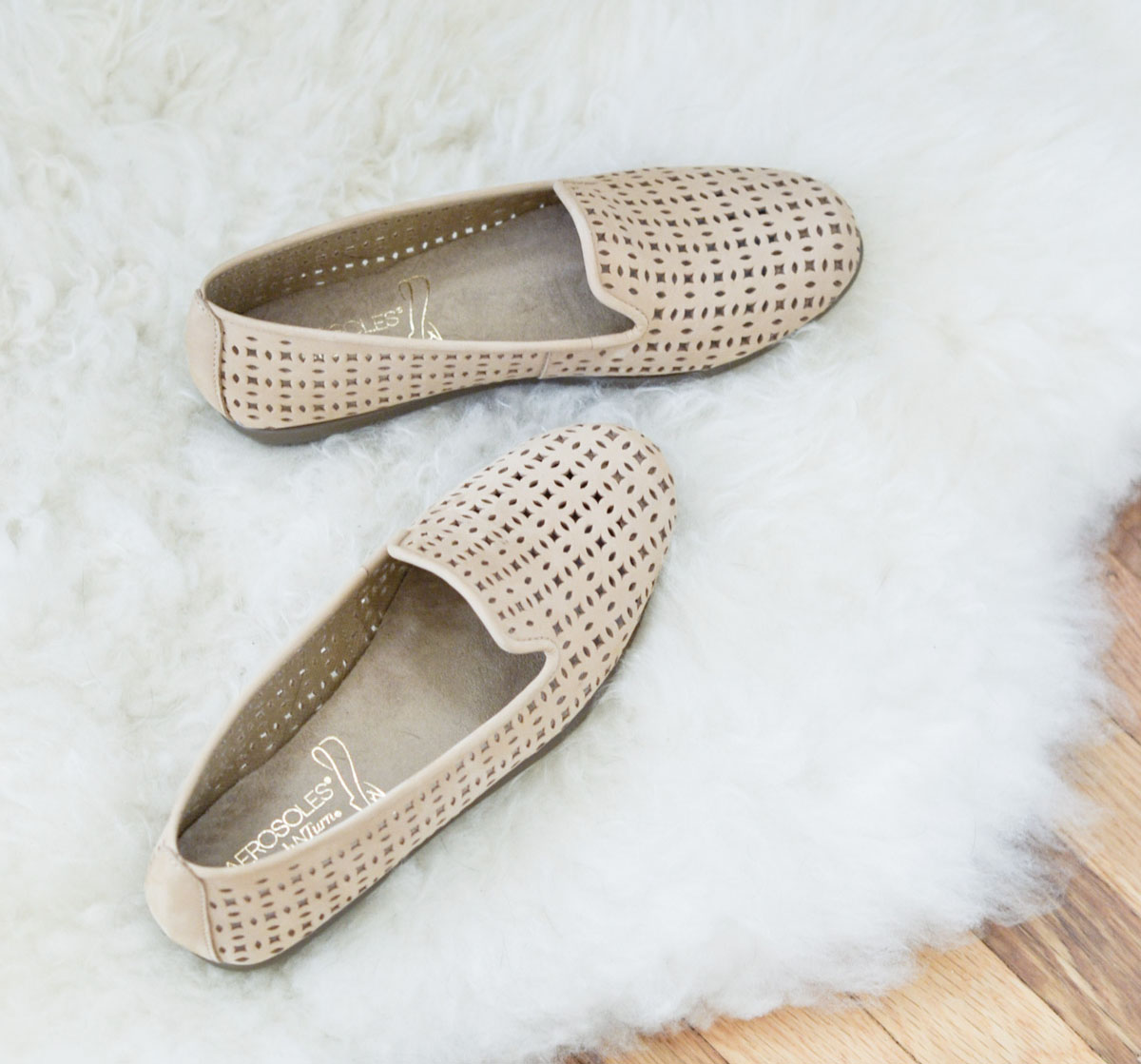 I think it's safe to say that we all love flats. Anytime a comfortable trend comes around, we jump on it and hope it never goes away. So I've partnered with Aerosoles today to show you how to pull off the trend with these adorable perforated flats (a look you'll be seeing a lot of come spring! I love how the perforated detail adds a bit of texture to the trend.)
The great thing about flats, clearly, is that they're comfortable. However, I tend to have issues finding ones that are flattering. The key, I've discovered, is pairing them with the right pieces. Since flat shoes can generally make you look shorter, it's helpful to pair them with pieces that elongate your legs. Here are the items I think, personally, look best with flats: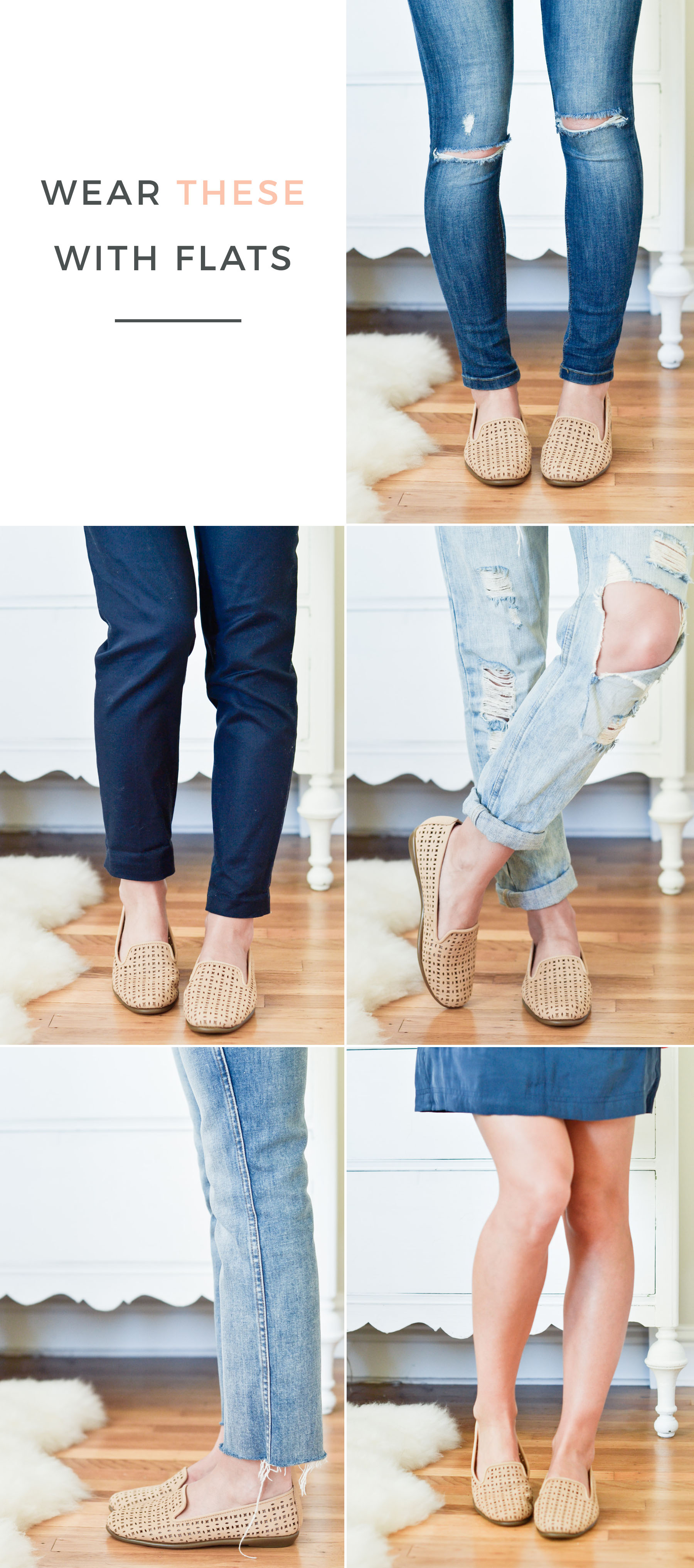 1. Skinny Jeans
The classic skinny jean is the perfect match for your flats. They elongate your legs and are just the right length for loafers, ballet flats, smoking slippers and the like.
2. Slim Trousers
Slim, ankle trousers make it possible to wear your flats to the office. Like skinny jeans, they create a slim silhouette and leave enough space between the pant and the shoe to help add some length to your legs.
3. Boyfriend Jeans
As long as your boyfriend jeans aren't too baggy, they look great with flats as well. I'd recommend steering away from ballet flats, which sometimes cut your foot off abruptly, and opting for loafers or pointed-toe flats, which help elongate your look. (Choosing nude or tan colored shoes can also help!)
4. Straight Crop Jeans (new!)
The latest trend in denim, straight crop jeans or demi-boot jeans, will go perfectly with your flats this spring. More forgiving than the skinny jean, these straight crop jeans are super flattering and leave just the right amount of room between the pant and your flats.
5. Short Skirts & Dresses
Mini skirts, A-line dresses, and those that fall above the knee are a great match for flats because they show off your legs and tend to make you look taller. If you feel a bit frumpy in this look (like I do!), opt for loafers or pointed-toe flats again in a nude shade.
//
Now that we've covered what pieces pair well with flats, you may be curious to know what doesn't pair well. Again, this is just my own personal opinion, but I generally try to stay away from items that can make me look shorter, like these below: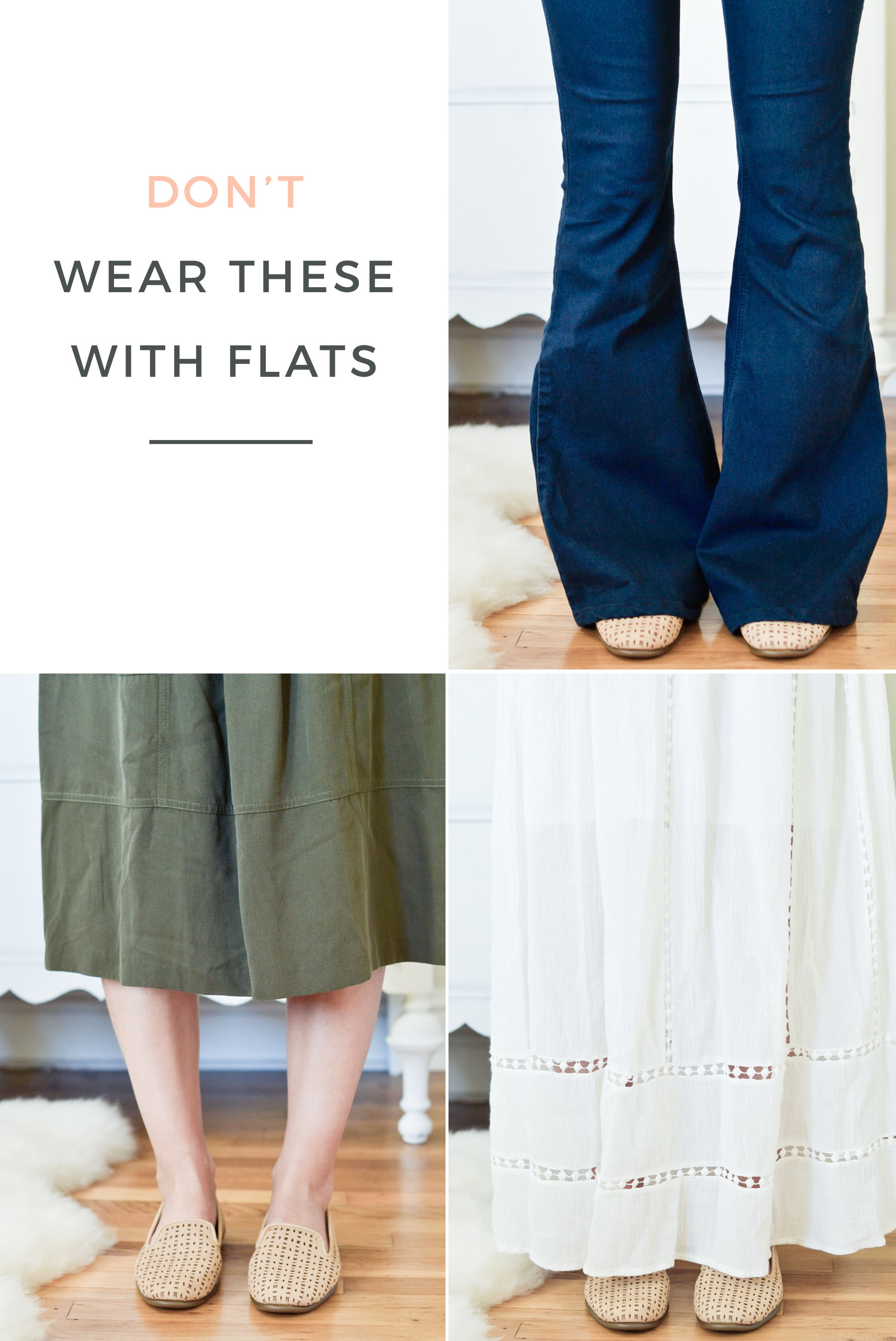 1. Flare or Wide-Leg Jeans
I personally find that flare, wide-leg, and even boot cut jeans look best with some sort of heel. With flats, they often bunch up at the bottom, which can make you look shorter.
2. Midi Skirts or Dresses
Since midi skirts cut off your leg in a somewhat inopportune spot, I find that they tend to make people look shorter. So wearing flats can just exacerbate that problem.
3. Maxi Skirts or Dresses
Because maxi skirts & dresses cover so much skin, wearing them with closed-toe flats can cause a frumpy effect. Flat sandals are fine, but the flats I'm referring to (loafers, ballet flats, etc.) aren't the ideal match in my opinion.
What do you think looks best with flats?