Advice From
Self Improvement
Advice From: Liv Bowser, CEO & Founder of Liberate
posted on February 26, 2021 | by Megan Lierley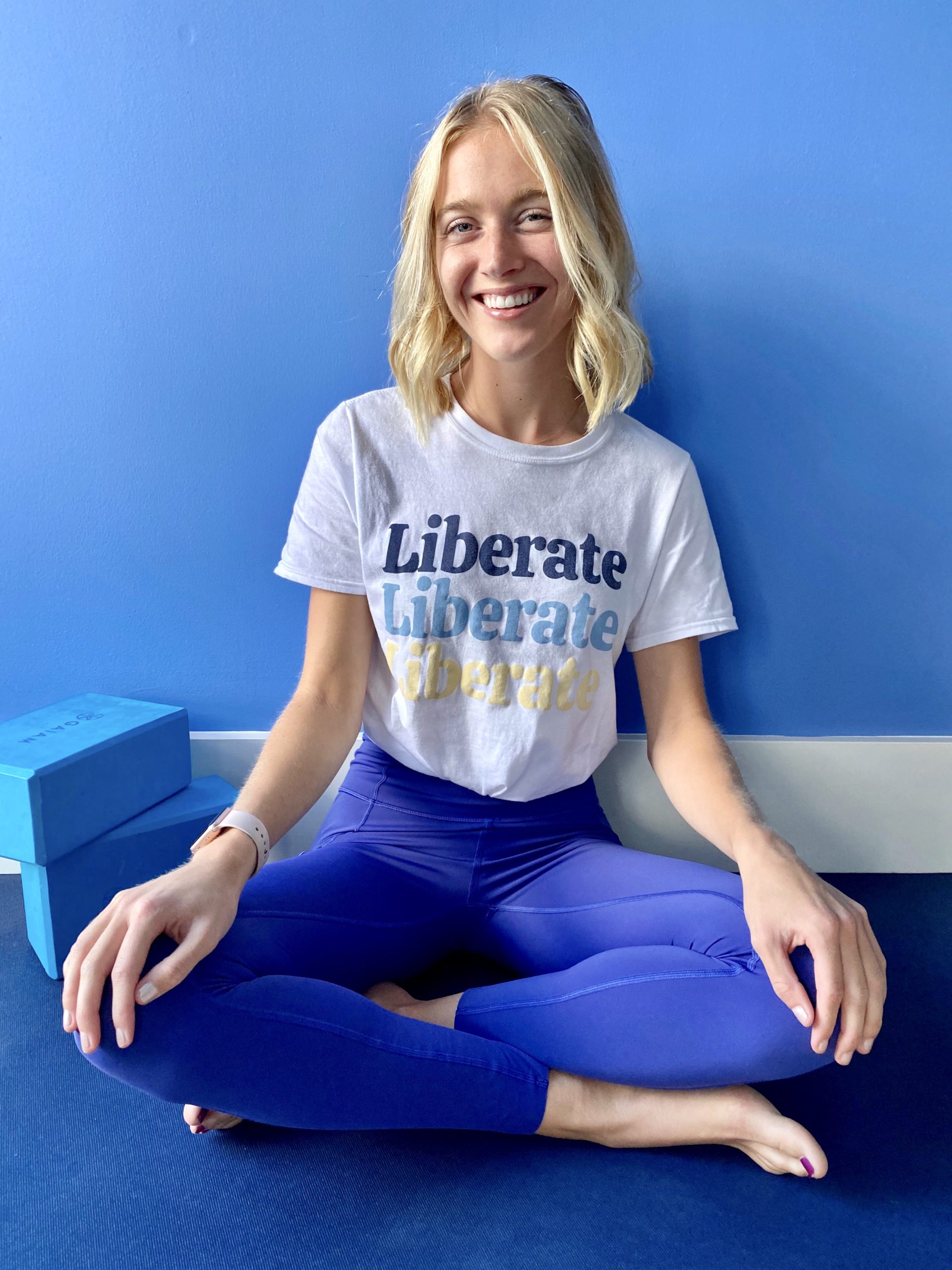 Welcome to "Advice From," an opportunity to introduce our community to some truly inspiring women. Every interview (including those featured on Advice From a 30 Something!) is featured in my weekly newsletter, along with recommendations for great things to read and lots of fun extras—kind of my roundup of the "best of" the internet each week :). Subscribe here so you don't miss any inspo! xx, Megan Lierley, Managing Editor, Advice From a 20 Something
This week, I'm excited to introduce Liv Bowser, a Certified Meditation and Mindfulness Teacher and the CEO & Founder of Liberate based in LA. 
I can't say enough positive things about Liberate—I think the concept is absolutely brilliant. For context for our readers, can you describe the class structure and how it came to be?
We worked with sports psychologists for over a year to develop The Liberate Method: A proprietary flow of movement, journaling, conversation, and meditation to leave you feeling lighter. I wanted our workout to be just as dynamic, engaging, and fun as a physical fitness workout, but instead of toning your muscles, you strengthen valuable life skills like courage, resilience, and self-love every time you practice.
In your work with Liberate, you're very focused on mental wellbeing. This past year has been a huge challenge for so many of us; do you have a few quick tips for the days where it feels particularly difficult to put one foot in front of the other?
My favorite tips: 
Meditate. This can be in any form that works for you – walking around the block, sitting and breathing, painting, or any activity that gets you into a mindful state. It doesn't have to mean sitting still! Find something that feels incredibly meditative to you and return to it on days you're feeling low or anxious.
Allow your feelings. It's never fun to feel sad, but shaming ourselves for how we feel makes our experience doubly difficult. I've learned that allowing myself to coexist with anxiety, sadness, or stress takes some of the weight and heaviness away from it. Remember that nothing is permanent, and this too will pass.
Find a community. One in three people feel lonely during COVID, versus one in five prior to the pandemic. Find a group of humans that you can lean on and work through your heaviness with. Our community at Liberate is a great place to start.
OK, an entrepreneurship question: You had an amazing idea, what next? 
We're focused on bringing mental fitness to as many human beings as possible. We have expanded from offering virtual classes to offering virtual courses, self-guided content, and corporate programs as well. My mission is to mainstream mental health, and that starts by acknowledging that every age group, gender, race, and body needs support. We also recognize that different formats work better for different people!
What do you wish you knew before you launched Liberate—or, what's been your most valuable business learning along the way?
There is no single path forward. As a young entrepreneur, I read loads of business books, searching for "the one" clear path to success. Over time, I've learned there are many ways to create the growth you seek. When I try to work seven days a week without any relaxation or break from the computer, my productivity suffers and so does my passion. Maybe working the weekends works for you, or maybe you need a break on Saturdays like me. Maybe you're a networking wizard, or maybe you hire a PR team because you prefer to focus on inner business. Find your favorite work style, networking style, R&R style through experimentation, and then have confidence that you know yourself best—no matter what the "experts" say. 
What's the best advice you've ever received (and if that's too difficult, the best advice you've received lately)?
When I had an anxiety attack at my previous job, my dad calmed me down by saying, "I have lived through the end of the world so many times." This simple statement completely changed my reaction to my perceived stress, and has given me calm and confidence during so many more stressful experiences since. When we're caught up in moments of stress and negativity, it's easy to let the negative become all consuming, blurring your vision and hiding any clear path out. Remembering this quote helps me tune into my resilience and remind myself that I will get through everything.
What's your favorite book of all time and why?
The Power of Now is the first mindfulness book I ever read. I was 20 years old, struggling with anxiety and keeping my mind in the present moment instead of worrying about the past or future. My dad gifted me this book for Christmas, so I reluctantly agreed to give it a try. Each page opened my eyes to what life could feel like when living fully embodied in the here and now. The author, Eckhart Tolle, explains that there is technically no past or future—the only thing that exists is each actual present moment of our current experience, and that to be fully present is to meet each new moment with your complete and full attention. I realized that I had so often been consumed by obsessing about the past or ruminating over the future that I was totally missing what was right in front of me. It took me about 200 pages to really buy into this idea, but it changed the way I live my life. I began sharing this new way of thinking with my family and friends, and the more I explained it, the more I believed in it. Don't get me wrong! I still fixate on the past and worry for the future, but it takes up a lot less of my headspace than it used to. By living for now, I can create positive change, be a better friend and family member, and be a better version of myself.
What book do you keep going back to, learning or experiencing something new every time you read it?
Untamed by Glennon Doyle. Every time I read it I feel more inspired to step into my power and become my full self.
Best recipe you've tried recently?
Anything from Half Baked Harvest! I have her cookbook and find myself knee deep in pasta, pizza, and salad recipes with her on a daily basis. I highly recommend her Beef Ramen! 
What keeps you up at night?
Planning the future of Liberate! We have so many exciting ideas to grow and expand. I am always thinking of where to start and how to make the greatest impact now.
Hardest question: What's your favorite piece of art, ever? (Can be a book, album, song, painting, drawing, sculpture, building…!)
Ah, this is hard! I love David Hockney art a lot. I have "A Bigger Splash" in my room. All of his pieces make me feel vibrant and alive with the beautiful colors and shapes he uses. A Bigger Splash is my all time favorite.
My newsletter has an "ETC" section, where I share anything I've loved recently that isn't reading-related. What product, podcast, article of clothing, Airbnb listing, or new restaurant is your go-to "omg, you have to try…." right now?
The Walden meditation set. I recognized that I spent a lot of time and money finding the perfect running sneakers and the perfect yoga mat…yet I hadn't invested in any tools for my meditation practice at all. The Walden Set is the most comfortable meditation cushion I have ever used and it makes my daily practice even more enjoyable.
If you were writing a book about your life, what might your 2020 chapter be called?
Connecting with light. 2020 was pretty brutal, but as a person I learned how to connect more deeply with myself and find my light in even the darkest days.
What are you feeling hopeful for in 2021?
The opportunity to turn mental health fragility into inner strength makes me incredibly hopeful. 
Try a virtual Liberate class and get $10 off with the code BEWELL.
Thanks so much, Liv!