How I'm (Slowly) Getting into Cooking
posted on December 4, 2017 | by Amanda Holstein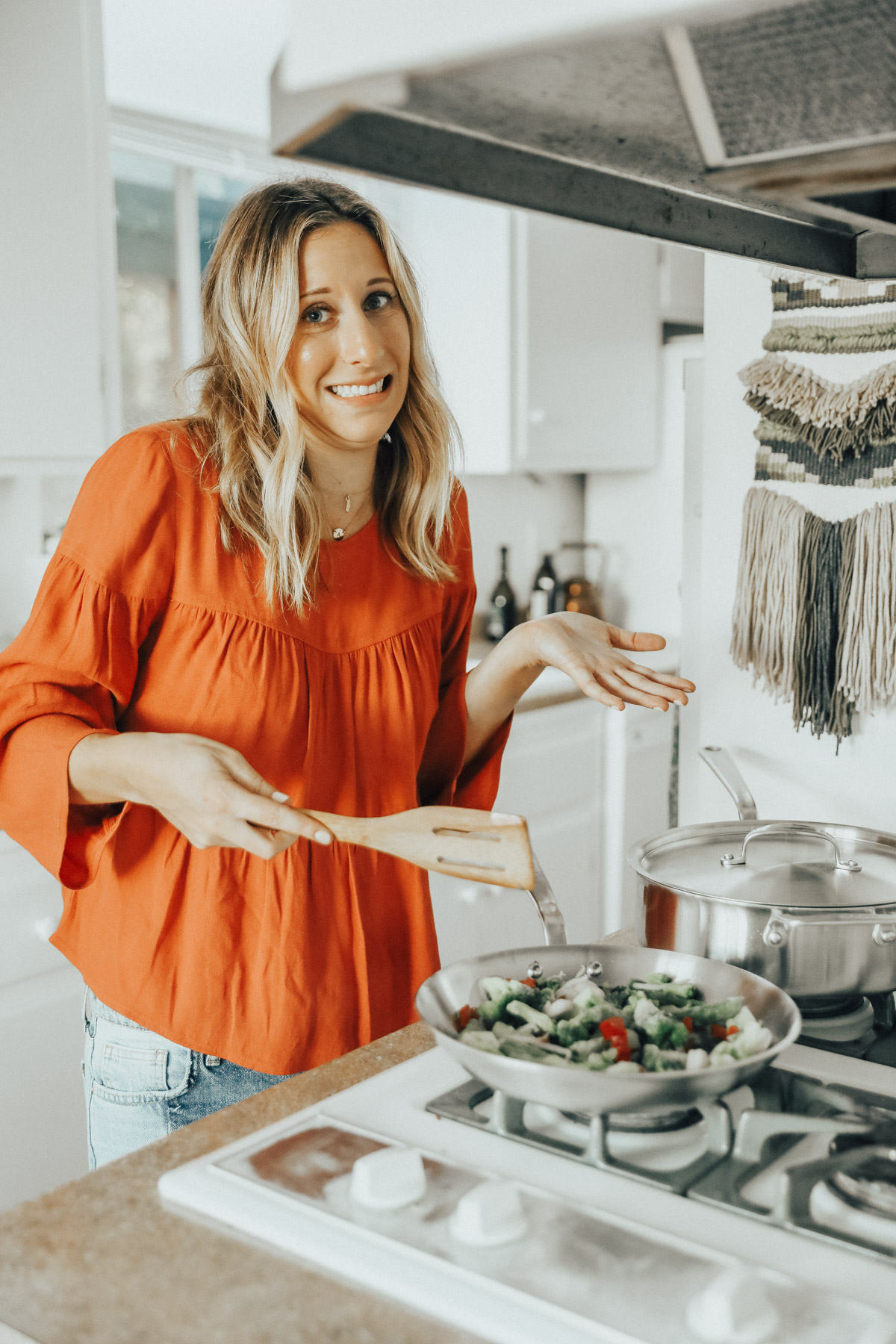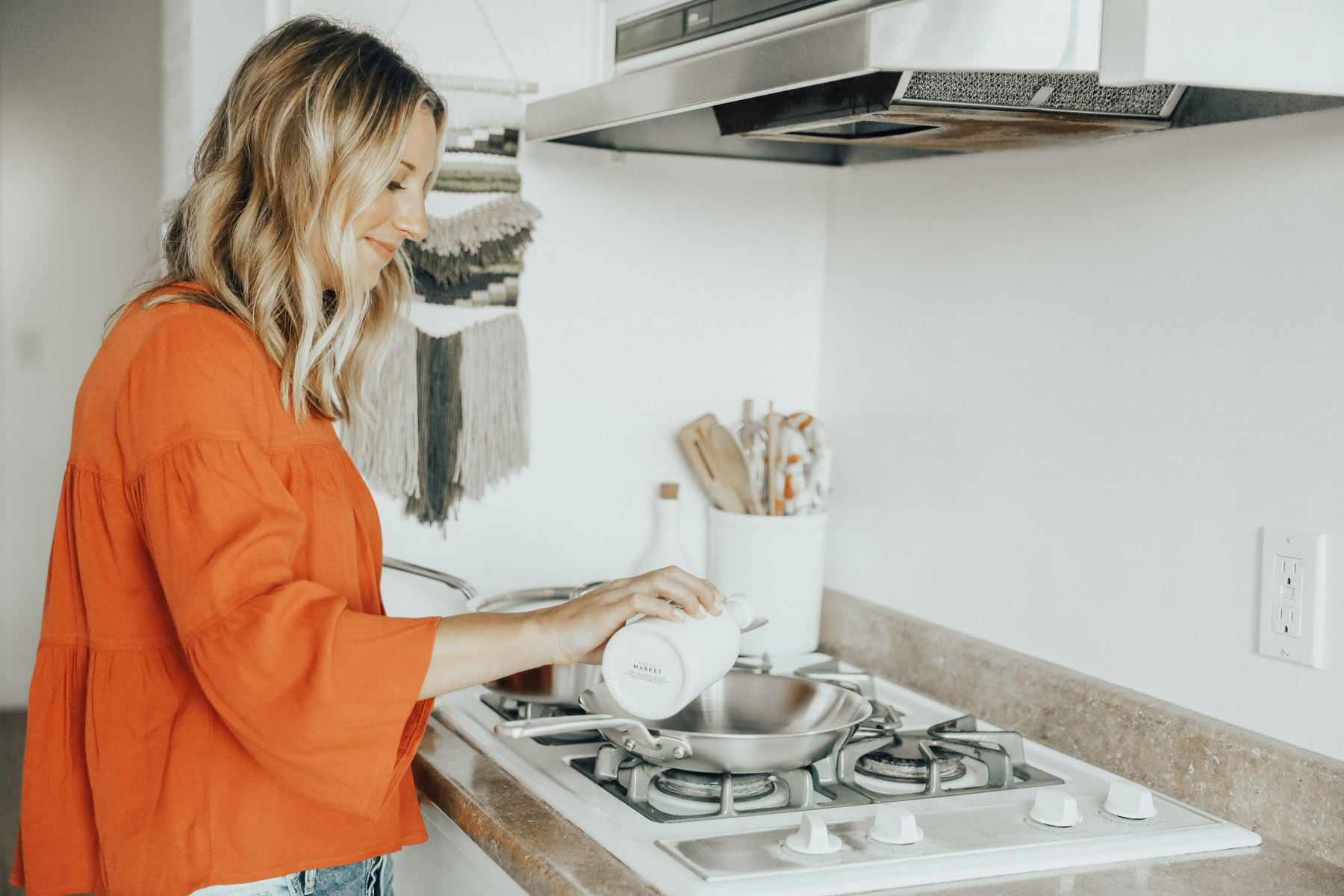 As you may know, I'm not the most comfortable in the kitchen. Let me rephrase that: I'm terribly uncomfortable in the kitchen. I've never been a foodie, so getting myself to cook was never a real interest of mine. But now that I'm an "adult", I can't quite live off of PB & J and cereal. Sadly, I'm starting to notice the effects on my body and mood. Realizing just how few vegetables I consume each day really kicked my butt into gear. So I decided it's time that I start cooking. (Insert cringe face here).
Introducing healthy, balanced eating into my life is truly a life change in a lot of ways. I don't just need some recipes, I need a step-by-step guide on how to make eating healthy easy. And since I clearly have no idea what I'm doing, I turned to my mama to help me get started. Here's her advice:
1. Start with the right cookware
It sounds simple, but the right tools can really make a difference. Try cutting a tomato with a dull knife and you'll see what I mean. So, to get myself started, I invested some nice pots & pans by Made In Cookware. I'm absolutely in love with this eco-conscious brand and how simple they've made the shopping experience for a newbie like me. Even though they offer premium products, they don't make the experience intimidating at all. It's easy to pick out exactly what you need. I find myself using their Saute Pan and Fry Pan most often and am so happy to have a set of premium cookware that will last a long time. (And their tags are plantable herbs!! What?!?)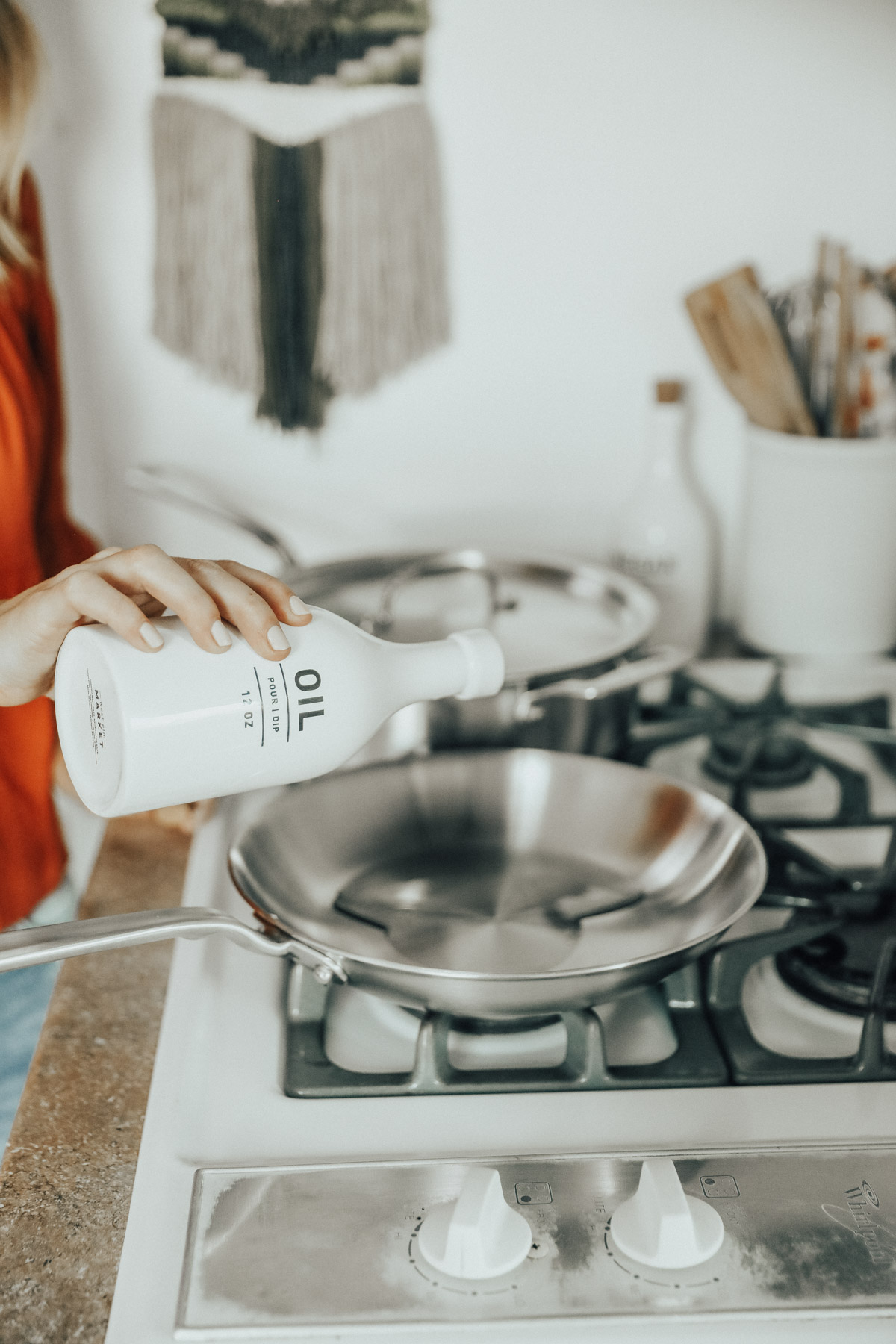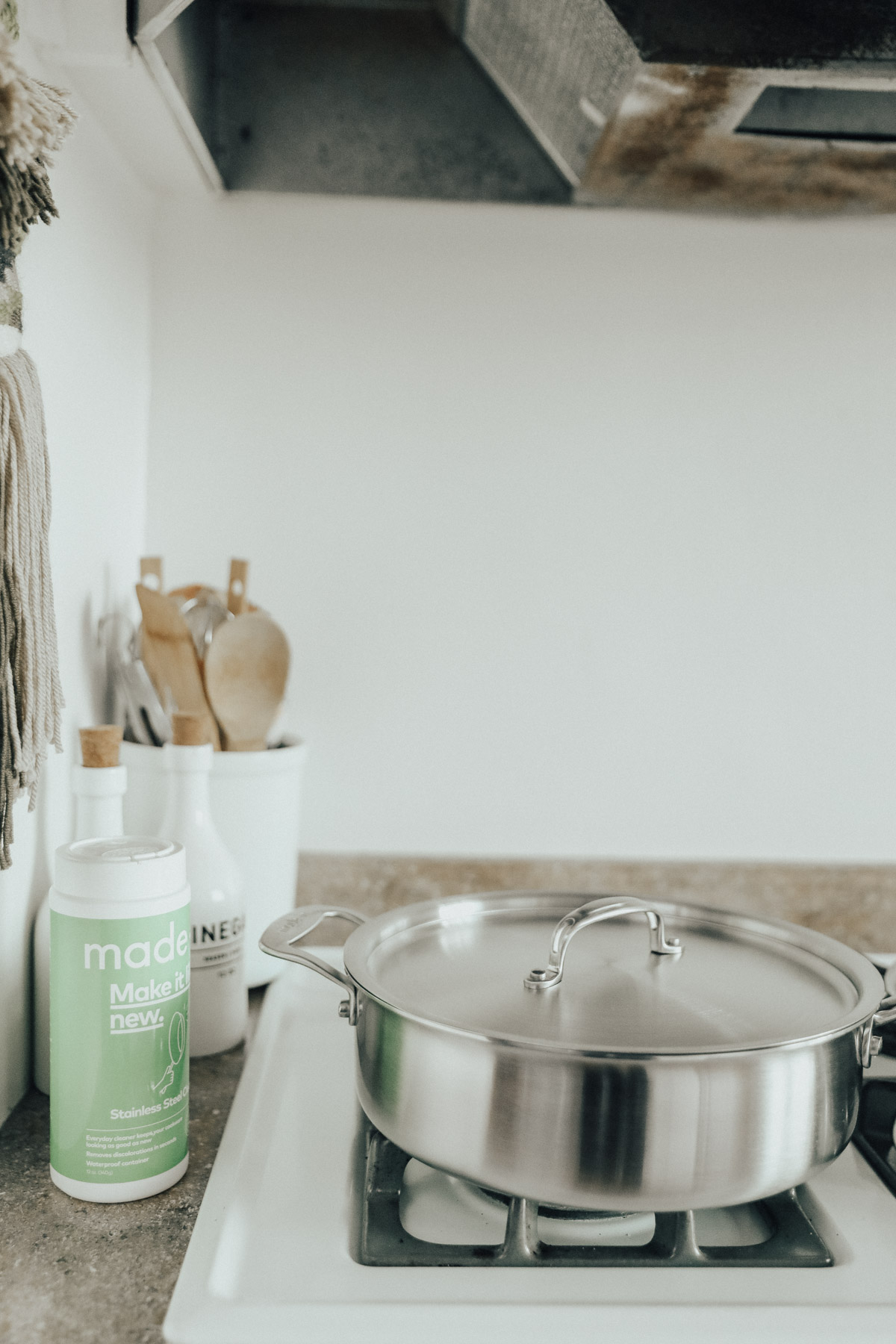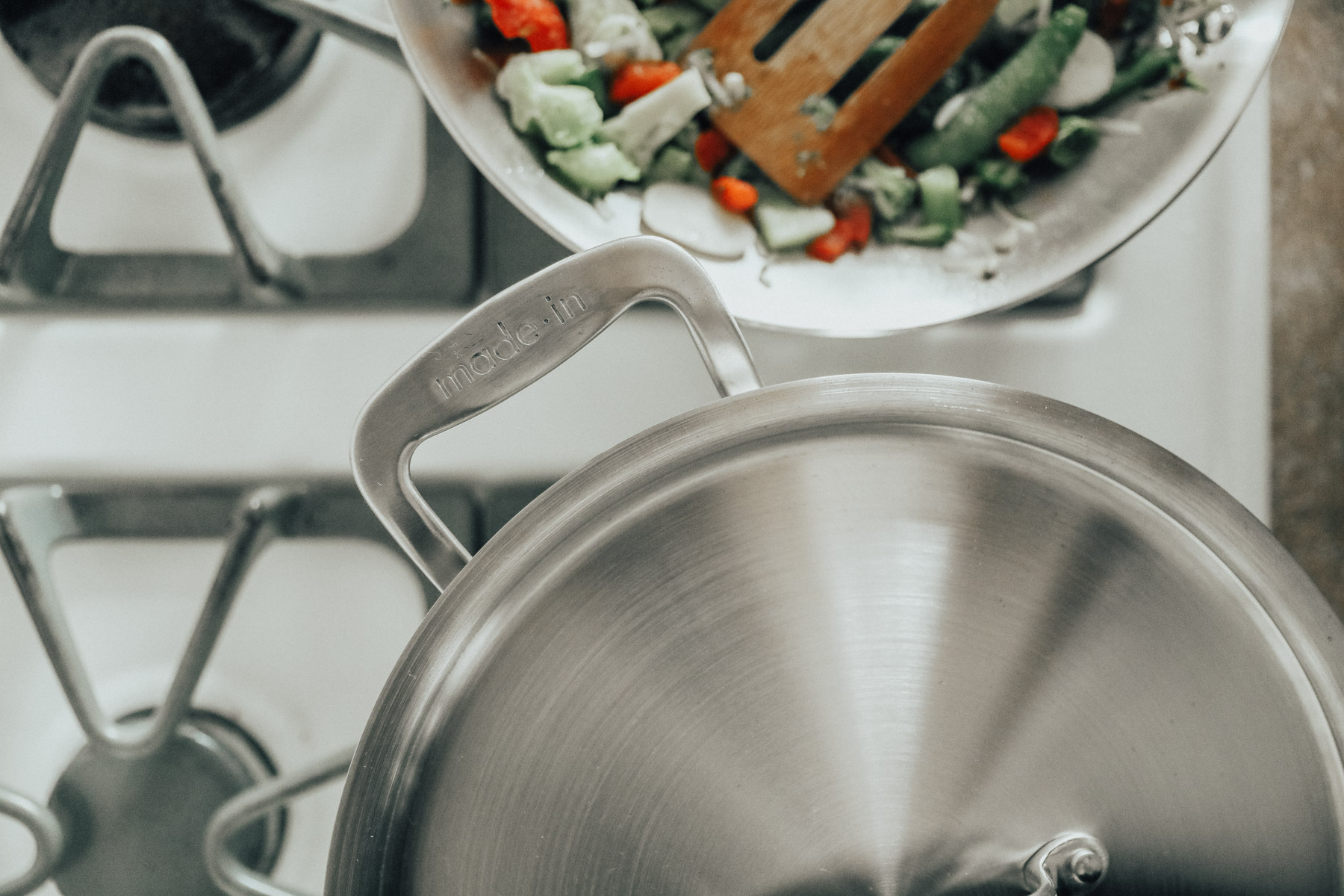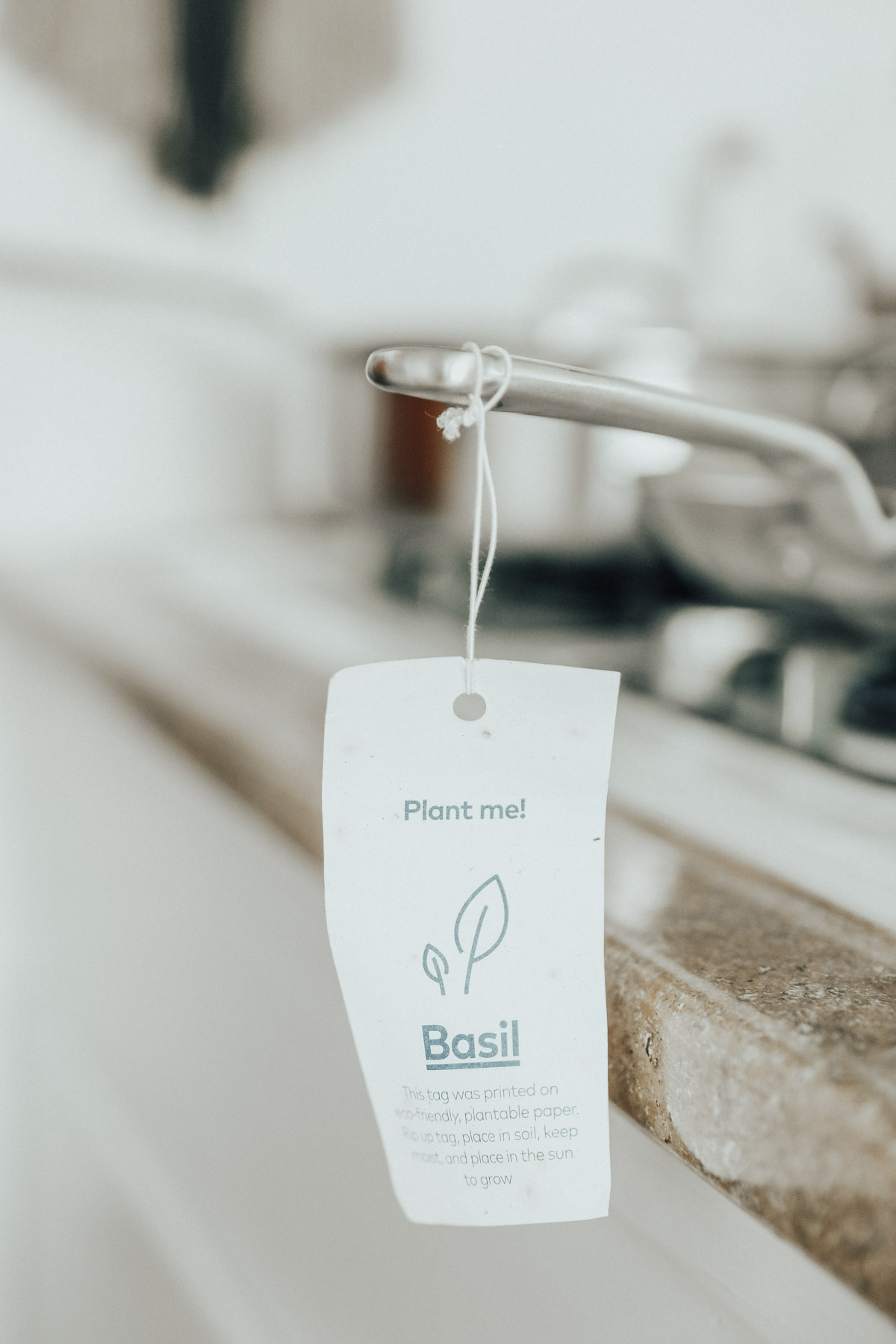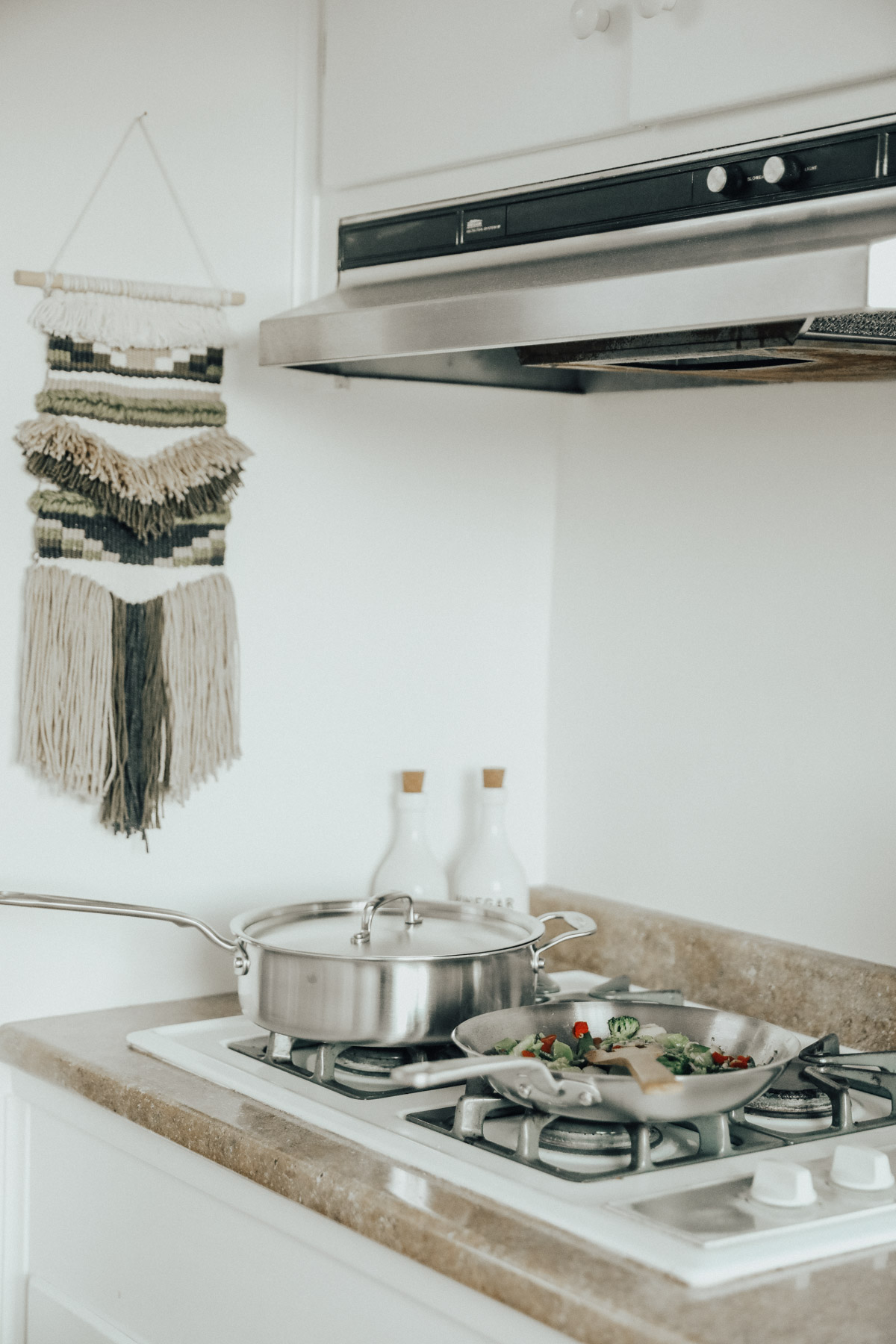 2. Have a list of go-to recipes for each meal (+ snacks!)
Since I really had no idea where to start, my mom made a list of simple recipes for each meal. I always struggle to come up with what to eat, so this has been super helpful. For each meal, I've got 2-3 options written down and some snack ideas as well. These are in no way groundbreaking recipes and may seem incredibly obvious to you, but my mind literally goes blank when I think about what to eat. So this really helps!
Breakfast:
– Oatmeal with banana & walnuts
– Greek yogurt with granola & berries
– Avocado toast with soft boiled eggs
Lunch:
– Salad with mixed greens, whatever veggies are in the fridge, almonds, tuna & balsamic dressing (I've made this before here)
– Turkey sandwich on wheat bread
Dinner:
– Pasta with pesto sauce (a childhood fave), add tomatoes and grilled chicken
– Stir fry with veggies, rice, and chicken
– Flank steak with green beans & slivered almonds, and wild rice with nuts & cranberries
– Lasagna with ground beef, sneak in some peppers & spinach in the sauce
Snacks:
– Trail mix (make your own with almonds, dried fruit, etc.)
– Turkey roll-ups (roll piece of turkey around red pepper strips)
– Celery with peanut butter
– Fruit dipped in yogurt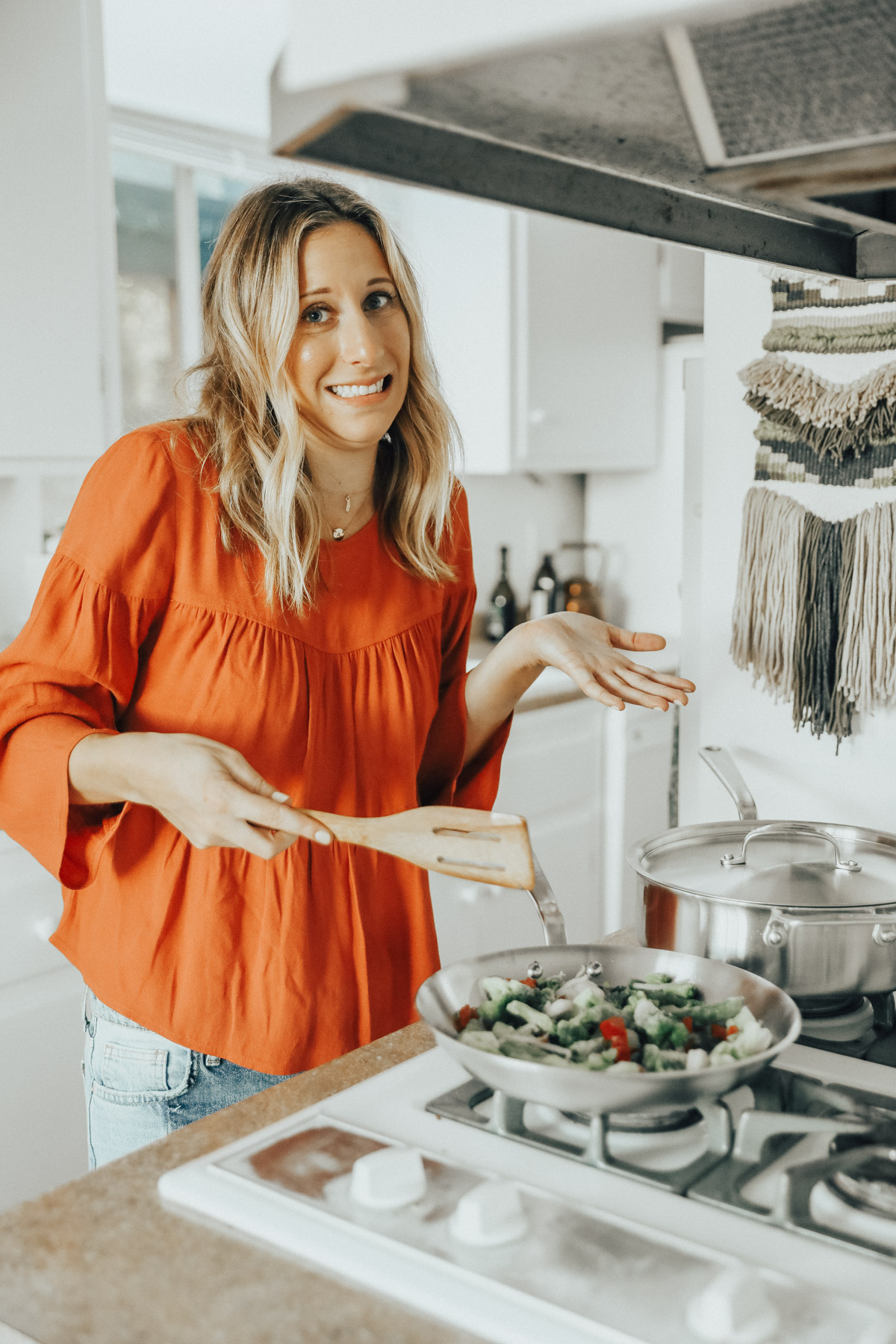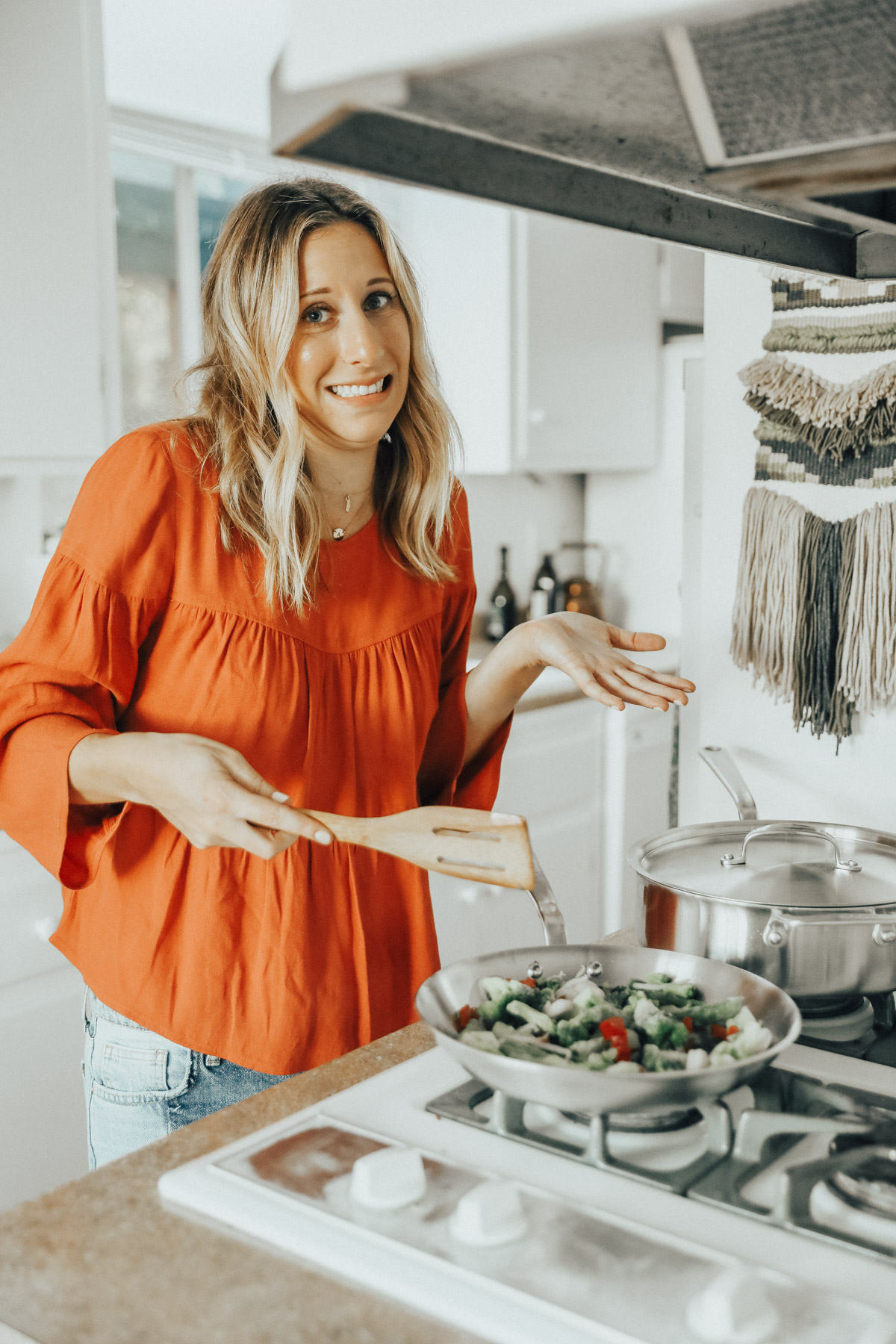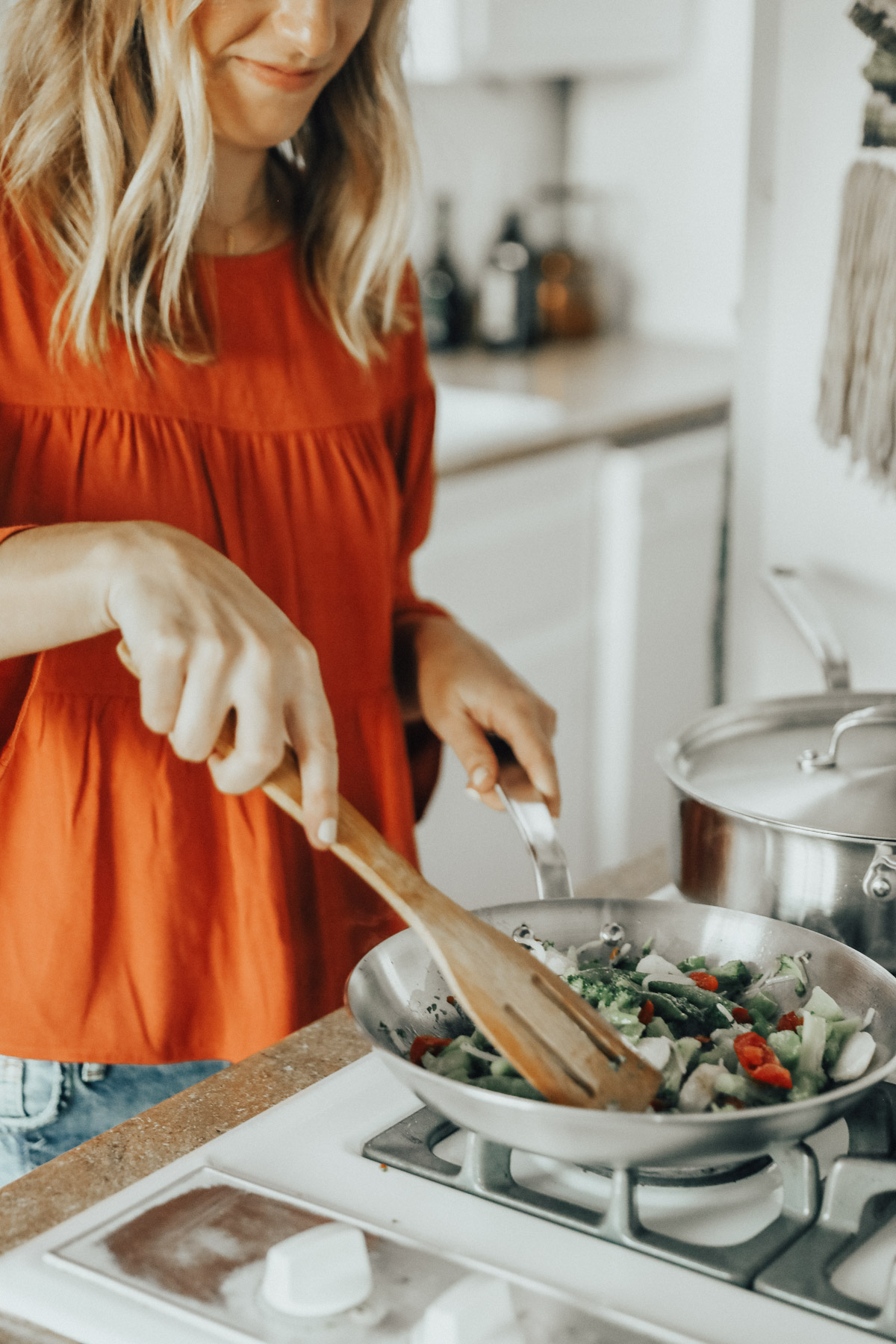 3. Make 1 grocery list to use every time
Having one list to rely on every time I go to the grocery store makes my life SO much easier. Rather than stressing out every time and procrastinating because of the stress, I don't even have to think about it. I can just check my go-to list and use it for every grocery store trip. I base this list off of the recipe options my mom gave me. Of course, there are items you won't need to buy every time, so I just do a quick survey to see what I have before I head out.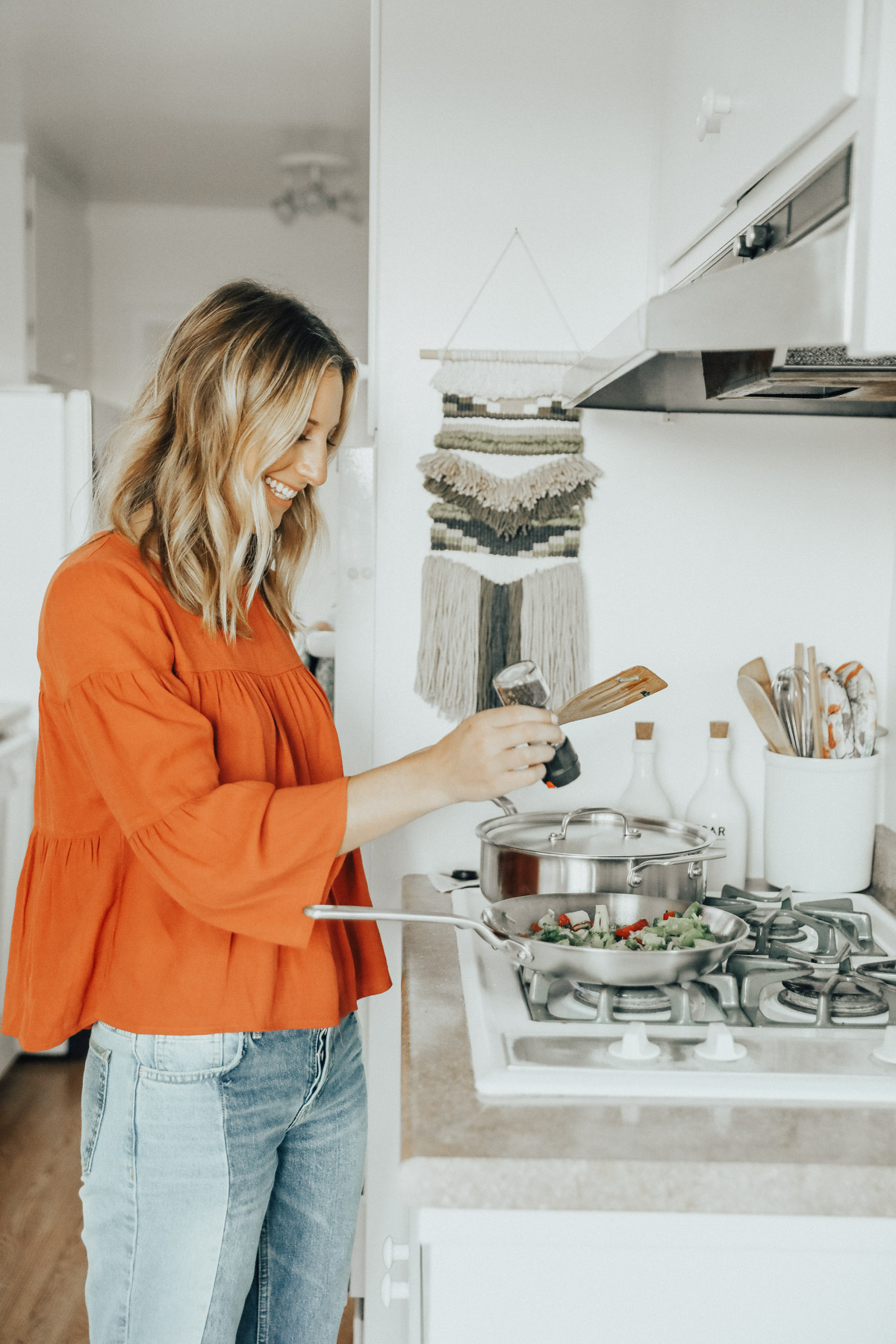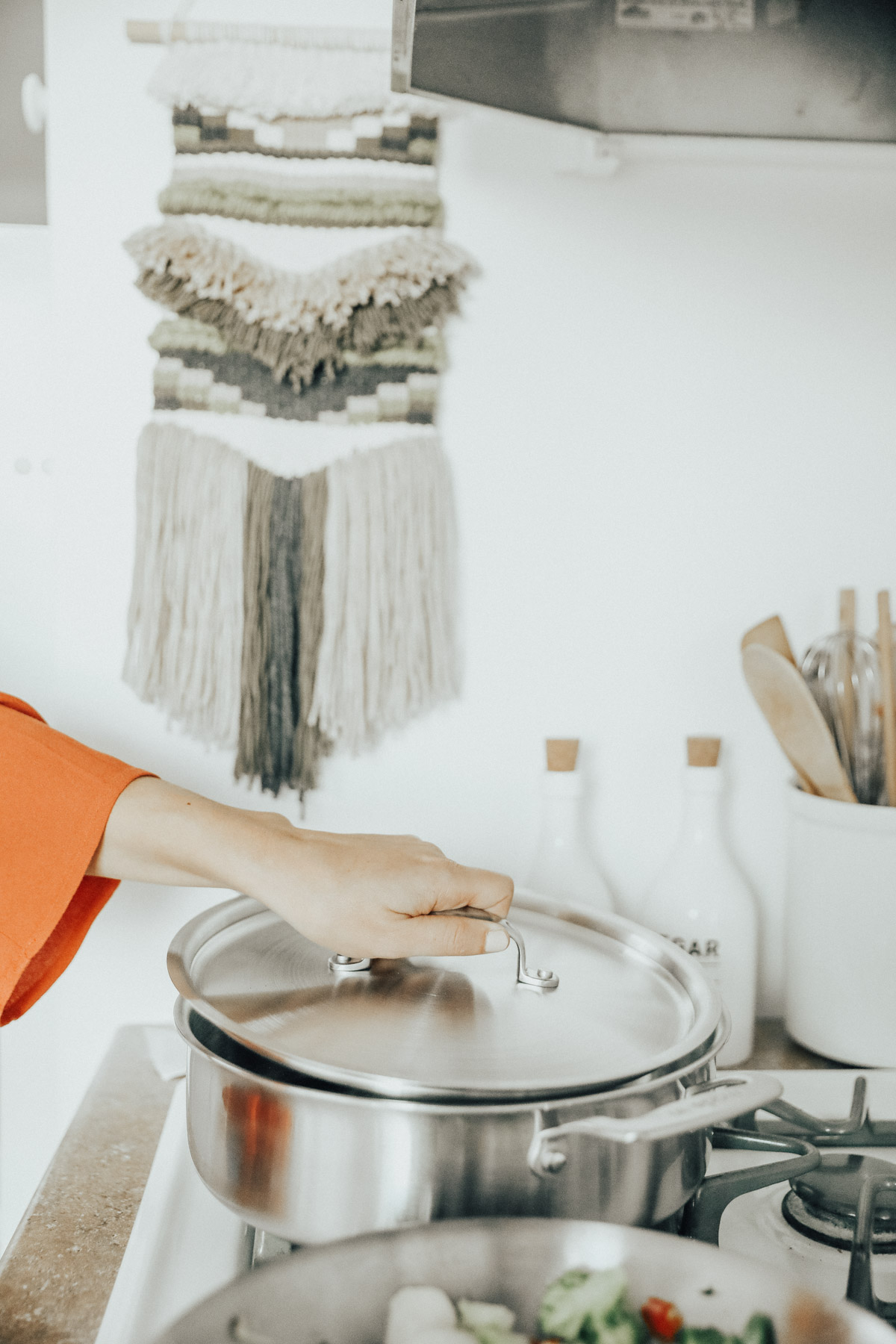 Are you comfortable in the kitchen? How did you get yourself to start cooking?
Thank you to Made In Cookware for sponsoring this post.