Blogging
Career Advice
Blogging 101: Why You Need ChloéDigital
posted on April 14, 2016 | by Amanda Holstein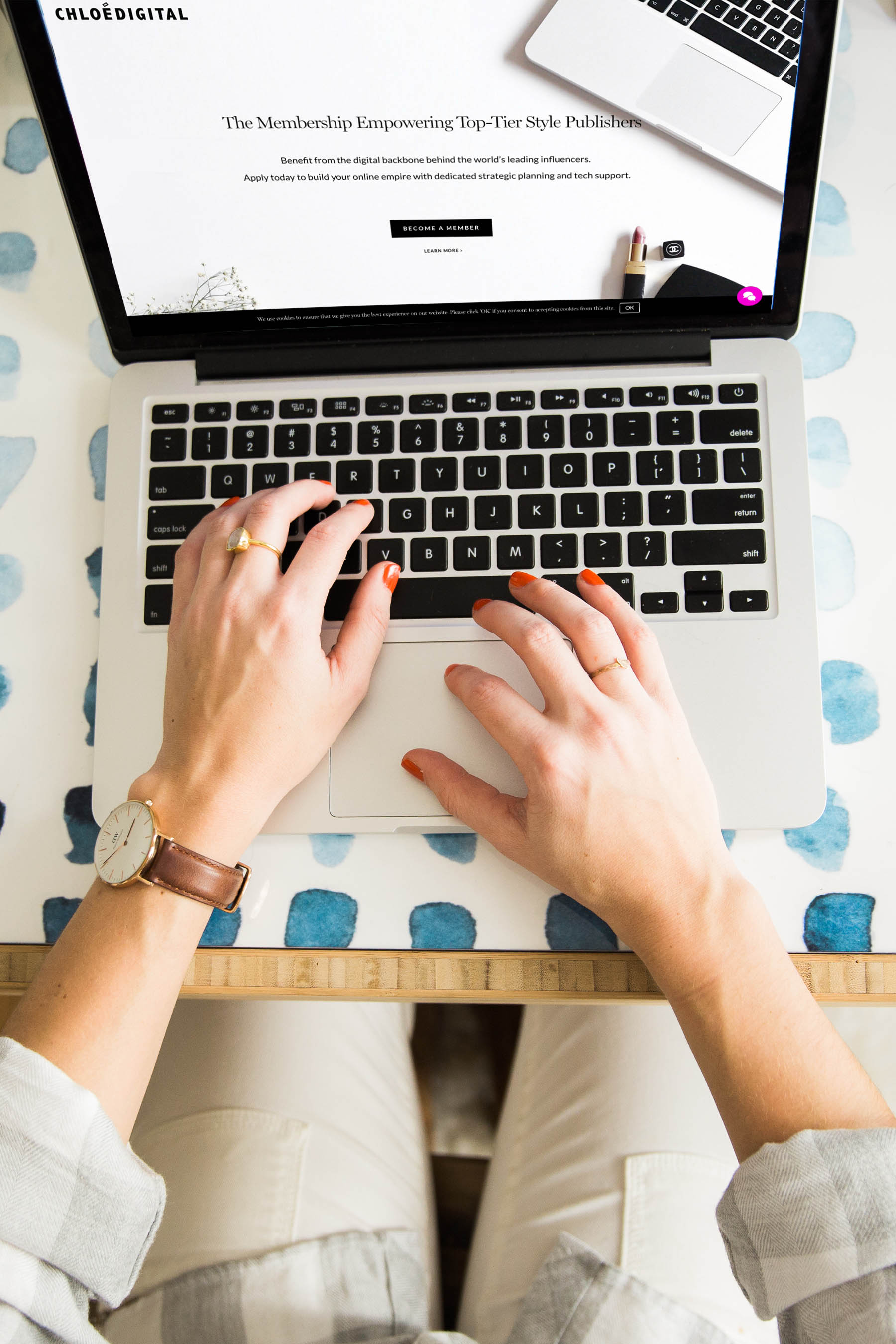 You may have heard the name before, seen it in the footer of some of your favorite blogs, or maybe it's completely new to you. Whether this is the first time hearing about chloédigital or not, if you are a blogger, this is a name you need to know.
What is chloédigital?
Chloédigital is a team of strategic planners, designers, data analysts, and tech experts led by Chloé Watts, a developer turned "fashion technologist". With her expertise in the tech industry and her passion for fashion blogs, Chloé created a solution to a serious need among bloggers. With a growing team of experts, Chloé Digital provides support in pretty much everything bloggers like us need help with — strategy, web design, data analytics, and coding. Yup, this actually exists!
I don't know what I'd do without them.
I've only been working with their team for a couple of months now, but I can't even imagine what I did without them. The tech expertise is one thing — I rely on their team to make sure my site is working correctly and to basically do all the things I had no idea you needed to do to make a site run the way it's supposed to.
But beyond that, I look to their team for strategic advice, which I find to be the most valuable. With my membership, I am assigned to an account manager who works closely with me on my business strategy. We have a monthly call to walk through everything from my site analytics to my future business plans. Being able to have an expert interpret my analytics for me and recommend strategies based on actual data is seriously invaluable. It's something we ALL need! I can email my account manager any time with any question at all, not just tech-related issues. Whether I need a second opinion on a content series idea or advice on reorganizing my site, I can always count on them and their invested interest in me and my business.
If you have budget, look into their memberships.
You can sign up for one of three membership options, each offering a variety of support depending on your needs and your budget. You pay a monthly fee for a whole slew of services. Personally, I chose the VIP membership for a handful of reasons. Because my blog is now my full-time job, I find the investment and the more tailored support worthwhile. If you're not sure which membership to choose, you can always set up a call with their team to chat about your goals and figure out which is right for you.
If you don't have budget, they still offer great advice.
If you're not ready or don't have the ability to invest in a membership, don't worry! The chloédigital blog, newsletter, and Instagram are all incredible resources for bloggers of all sizes. The team not only knows what information is helpful, but they also communicate it in a way that we creatives can actually understand. I highly recommend signing up for their newsletter, following them on Instagram, and giving their blog a quick scroll now and then!
And FYI, they have no idea I'm writing this post :). I'm just a huge supporter of what they're doing and really want you bloggers out there to know about this incredible resource so that you can take advantage!