Blogging
Career Advice
Blogging 101: How to Increase Your Pageviews
posted on July 15, 2015 | by Amanda Holstein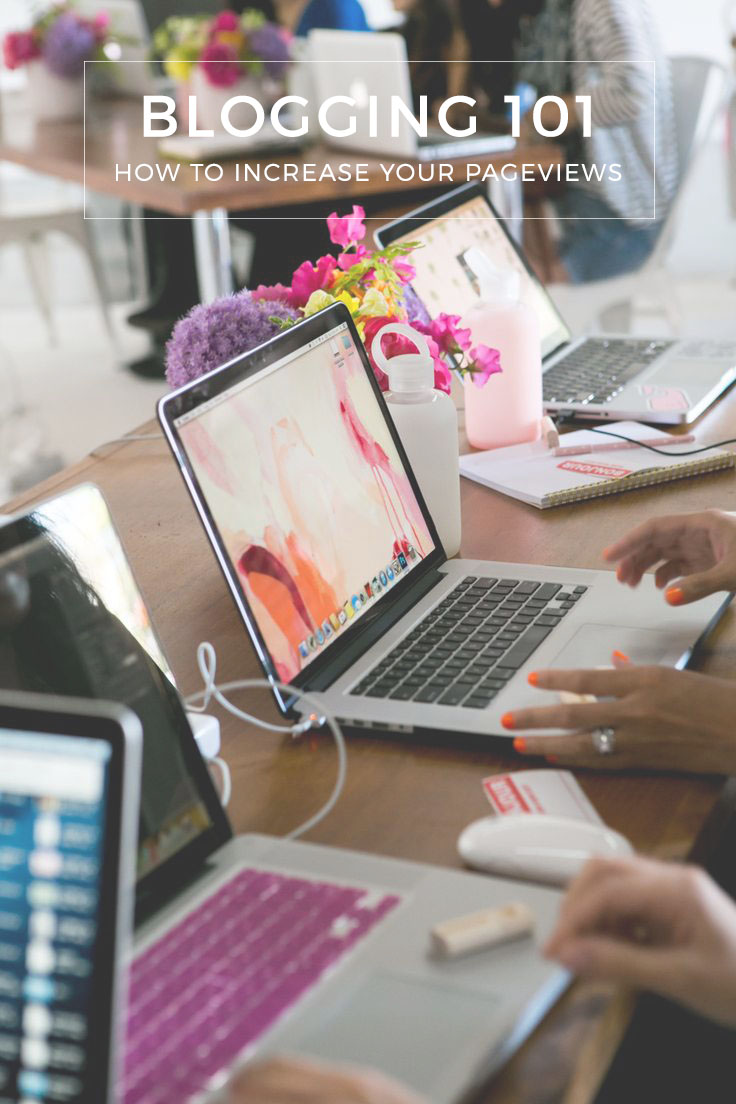 The number one concern from most aspiring bloggers is how to grow your site (i.e. increase pageviews). It's an important number that most brands look at to decide whether or not they want to work with you. Why? When brands pay you to create content, they're really paying for your influence. Yes, they are paying for the work you do, but the reason your compensation changes depending on the size of your site is because brands are paying to get in front of your audience.
Typically, brands want to know both your average monthly pageviews and average monthly unique visitors. What's the difference? Monthly pageviews are the number of times the different pages of your site are viewed in a month. Monthly unique visitors are the number of new people that visit your site in a month. So if I visit your site and view 30 different pages, that's 30 pageviews and 1 unique visitor. Basically, brands want to see how much of your content is viewed and by how many different people. Make sense?
Increasing these numbers is a whole other ball game. I wish I could give you one specific step you can take, but the reality is, site growth is dependent on a number of things. Make sure you take as many of the following steps below and you'll be on your way to a larger reach.
1. SEO
I'm sure you hear this term all the time, and if it poses a huge question mark for you, you're not alone. So let me break it down for you. First, you don't need to understand SEO to its fullest. Just understand this: SEO refers to how optimized your site is for search engines or how likely your site will pop up on Google when people search for things you write about.
If you think about the number of people searching Google everyday, you'll realize that search engines are an incredible opportunity to get your content seen. Here are a few basic steps you can take to make your site SEO friendly:
Create content that people are searching for. Think seasonally, keep in mind what's trending, and of course don't forget the holidays.
Make sure the titles of your posts clearly represent your posts' content. Think about the phrases people use when they search on Google and try to make your titles similar. (Ex: instead of "Denim Days", use "Fall Denim Trends". See the difference?).
Make sure the titles of your photos clearly represent what the photos are of, just as you would for your post titles. So when people search through Google images for "distressed denim", your outfit photos containing distressed denim, and titled "distressed denim", will show up.
If you're on WordPress, start using the Yoast plugin immediately. It will tell you if each post is SEO friendly and what to do to optimize them.
2. Create Unique Content
While SEO is super important, the most effective thing you can do is create high quality, unique content. If you're creating content that no one else is, that means less competition when readers are searching online. If the content is high quality, that means people will share your content as well. While all of the steps in this post are helpful, nothing beats high quality content that's useful, shareable, and that you can't find anywhere else.
3. Post Consistently
The bottom line is you get more pageviews when you publish new content, right? Look at a day when you published a new post and compare it to a day when you didn't publish any content. There's an obvious difference. So it makes sense that posting consistently would increase your pageviews. It also is useful for your readers — they'll come back if they are expecting a new post, and they won't if they realize there is no new content.
4. Promote Your Content
There is no way for anyone to see your content if you don't promote it. It's rare, especially for a new blog, for someone to randomly stumble upon your site, so you need to do whatever you can to promote it. Make sure you publish every new post to all of your social channels. Emailing your new posts is a smart way to remind readers to go to your site as well. You can setup automatic RSS emails or literally just send an email to your family and friends — do whatever you need to do! Even linking to some of your older content within your posts is helpful. Don't be afraid to put yourself out there and promote your work!
5. Get Features on Relevant Sites
A great way to get new readers to your site is to have other sites link to you. There are many ways to go about this. One way is to contribute new content to sites with larger followings. You'll notice I do this with The Everygirl every once in a while. How should you go about this? Simply email them with some background about who you are, examples of your work, and ideas for posts you want to create for their site. It's also important to find a site with a similar audience so that their readers will want to click over to your site.
Another way is to have others link to your content. This isn't something you can typically control, but there are things you can do to help. There are sites you can submit your content for a chance to be featured. TheOutfit, stylegawker, Apartment Therapy, and probably some of the blogs you read daily, all accept submissions (just check their "about" or "contact" page). Also make sure you are active in blogger communities, commenting and building genuine relationships with your peers. From there, you can work together to feature each other's content or contribute to each other's sites. Don't view other bloggers as competitors — we are all unique, so naturally so are our blogs. Share the love, be supportive, and I promise it'll be worth it!
I know this was a lot of information, but I hope it was helpful!
Let me know if you have more questions and always feel free to email me :).
And check out more Blogging 101 posts here.