Editor's Picks
How to Choose the Perfect Gift
posted on December 12, 2013 | by Amanda Holstein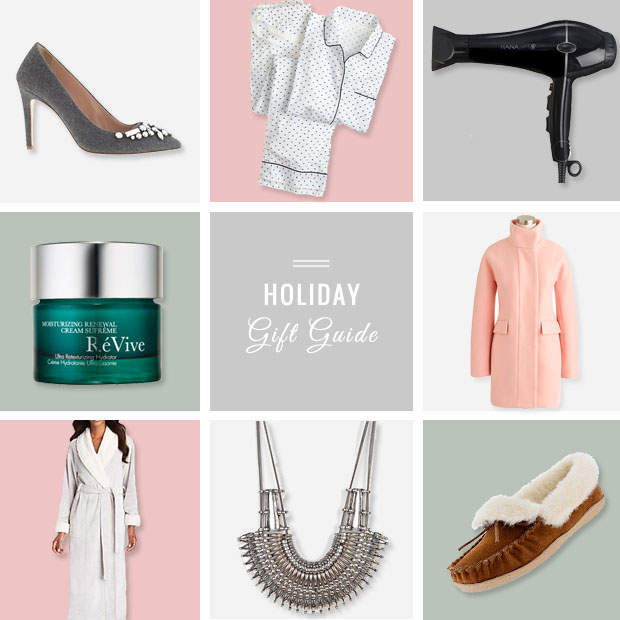 When it comes to choosing the perfect gift for someone, my theory is this: Go for something they would so enjoy, but couldn't justify spending the money on themselves, i.e. something you want vs. something you need. This theory explains why the infamous socks are a sucky gift. If you would buy it for yourself, then it's probably not the best present. So if you're looking to really wow someone this Holiday season with a gift they'll truly be excited about, get some ideas from my Holiday gift guide below.
A Salon Quality Hair Dryer
Sounds kind of weird, but hear me out. We dream of achieving the perfect blowout at home, and do you know what's really stopping us? A high quality hair dryer. I always settle for an affordable one from my local drugstore, but after recently trying this salon quality HANAair Professional Hair Dryer, I realized what a difference it makes! Now, not everyone will appreciate a gift like this, so only purchase it for someone you know would enjoy it. Maybe your friend or family member who's really into beauty and fashion.
An Insanely Comfortable PJ Set
Snuggling up in a soft set of cozy pajamas is the perfect way to end a cold winter day. The problem is, it's hard to justify spending over $50 on PJs, which is why they make the perfect gift! J.Crew has some adorable options – I'm loving these simple polka dot ones.
Spa Quality Skin Products
Unfortunately, some of the best skin products out there are insanely expensive. I got suckered into purchasing ReVive Moisturizing Renewal Cream Supreme, but I must say – it works wonders! It's an extremely high quality product and I've never gotten so many compliments on my skin than in the past few weeks. It would make an amazing gift.
A 5-star Hotel Worthy Robe
Similar to pajamas, a super soft and luxurious robe is a great way to pamper yourself, but not necessarily something you want to spend your own money on. Rather than picking out the cheapest one at Target, a gift version of a robe could be high quality cashmere. While this would be my top choice, this Natori Sherpa Robe is a bit more realistic price wise. Both look insanely comfortable!
Shoes!!!
Shoes are one of the few pieces of clothing you don't tend to have to try on to know they'll fit, which is why they make a GREAT gift. If you know your friend or sister's style, wow them with some fun and stylish shoes. Us ladies love our shoes but don't always want to spend the money on a pair that we know we won't wear everyday. So find a trendy pair for your BFF or your sister, or even your mom and they'll love you forever, I promise.