Decor & Styling
DIY
Easy Ways to Update Your Rental Bathroom
posted on May 30, 2018 | by Amanda Holstein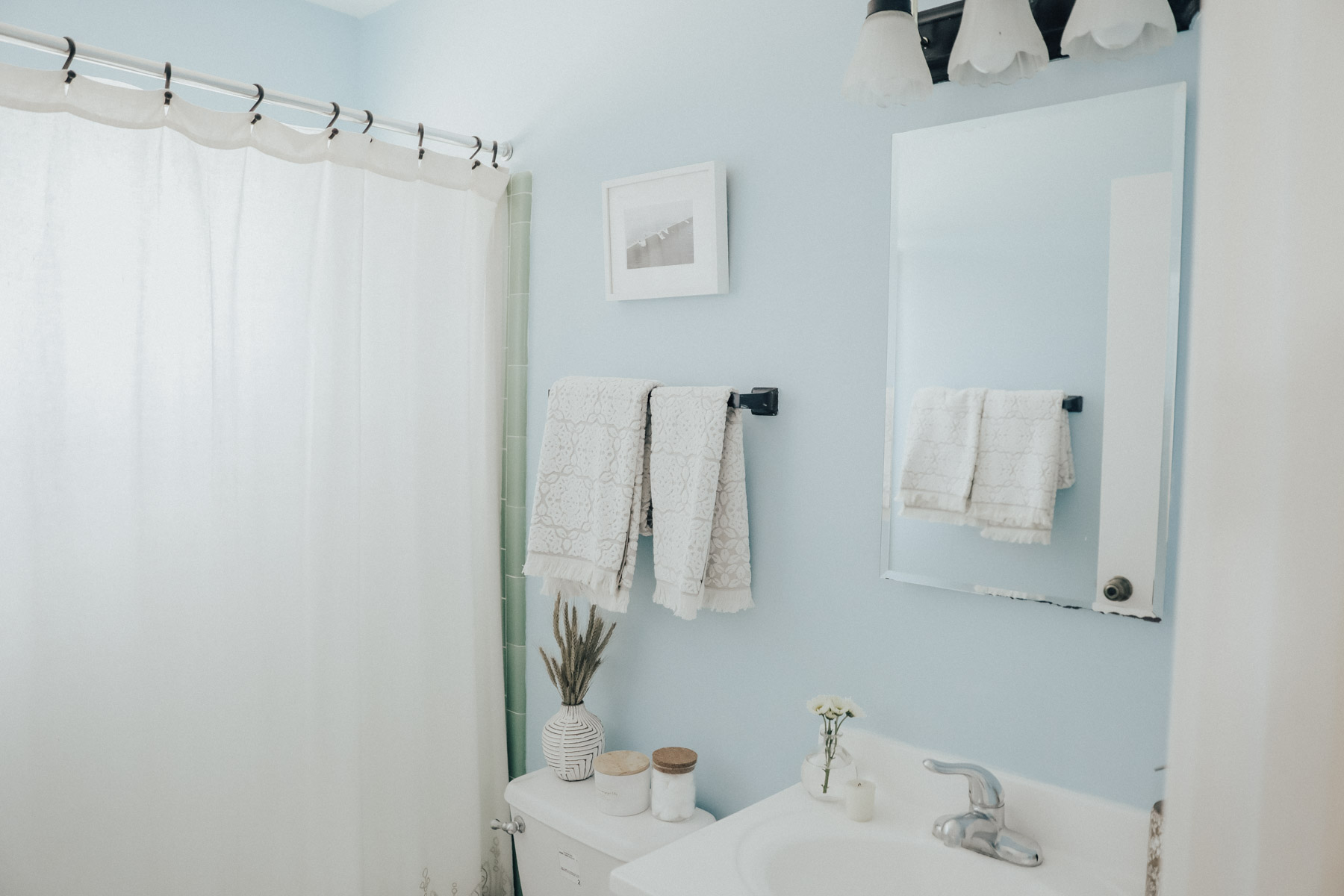 In my 8 years of apartment living, I have experienced my fair share of ugly bathrooms. Everything from hundred-year-old tile to shrunken showers to stained sinks…you name it. Though it seems like there aren't many things you can do to fix these sad looking bathrooms, I've got a few tricks up my sleeve that will turn your gross rental into something fresh & modern — without any major renovating!
First, let's see the before…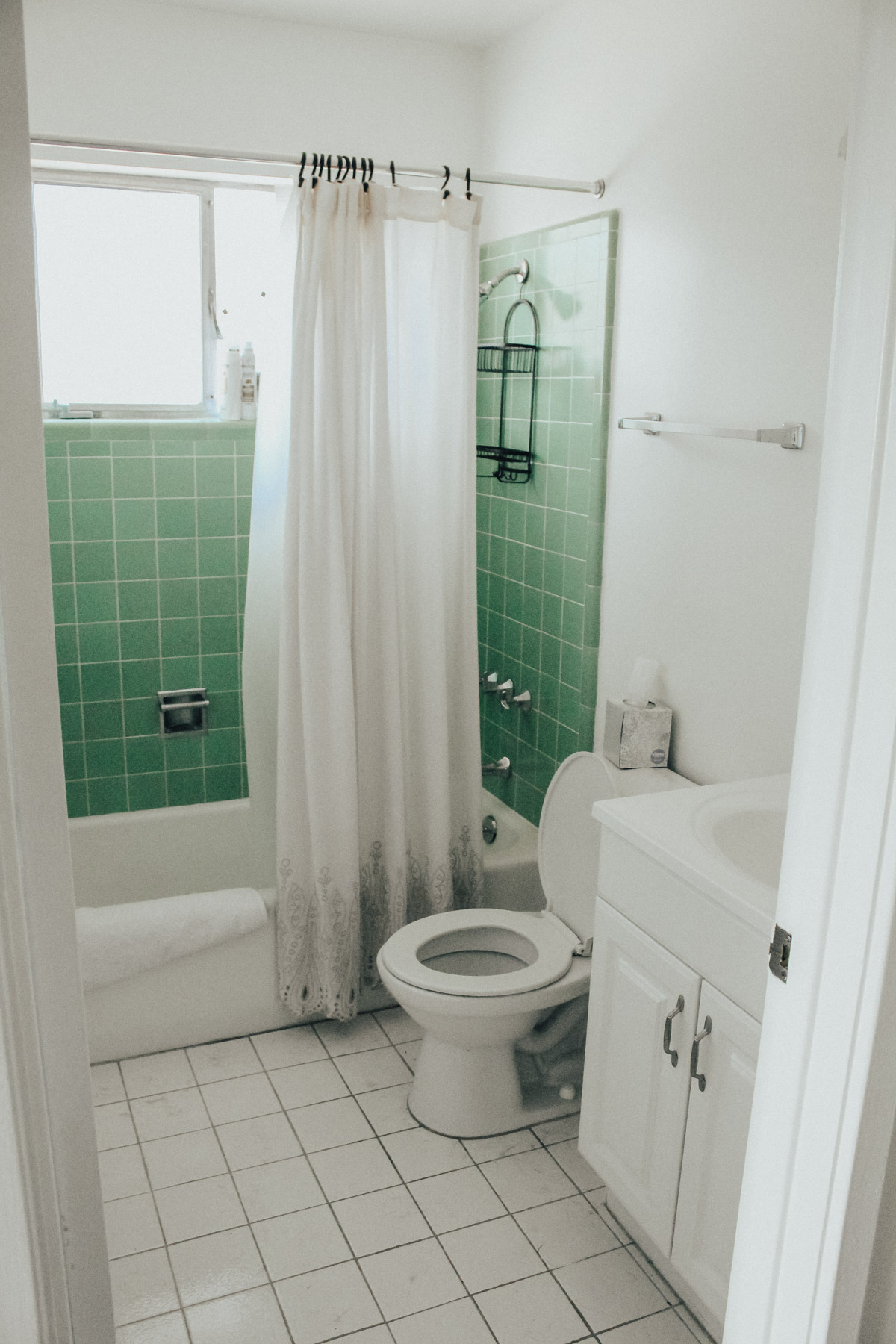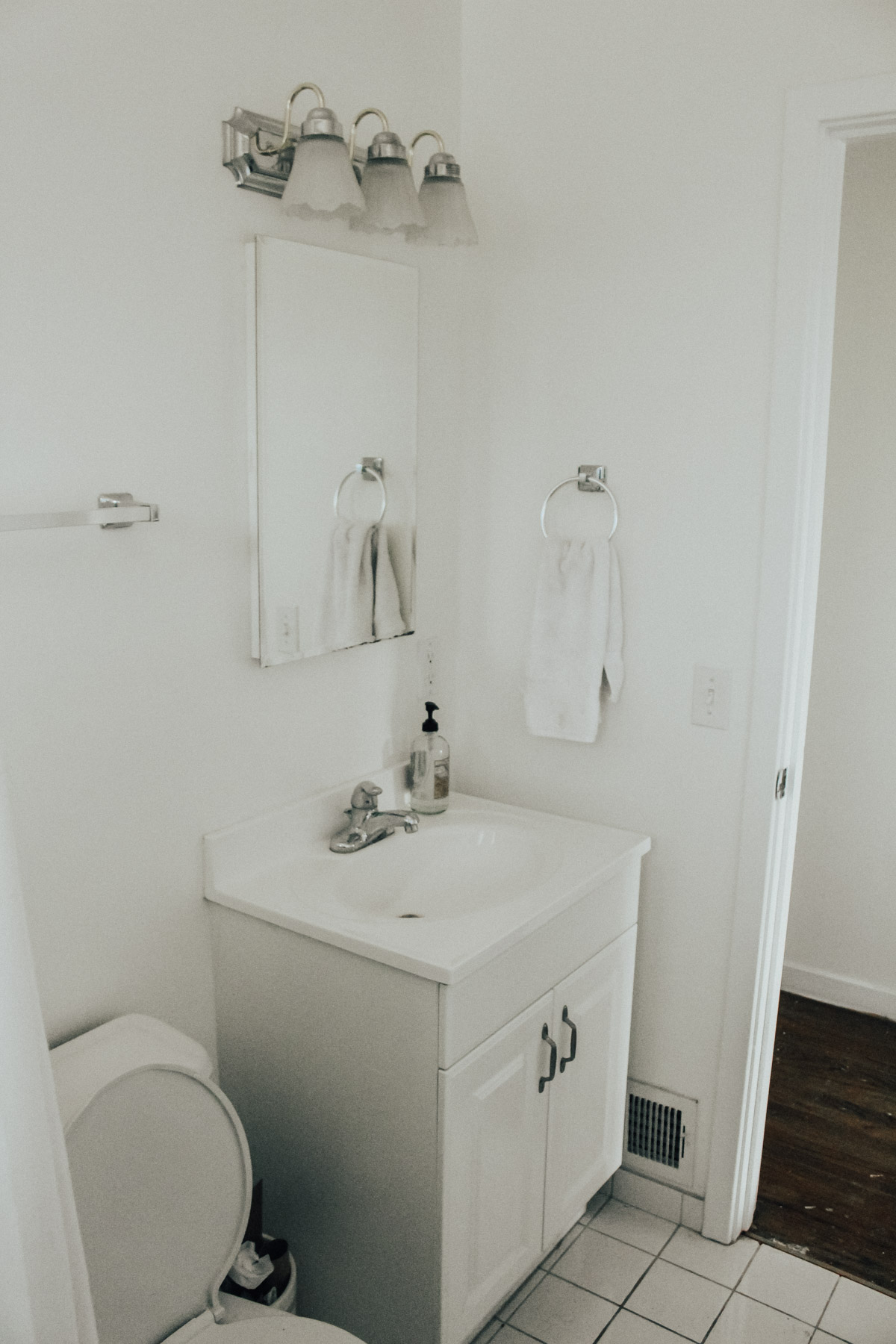 1. Paint changes everything!
It's crazy what a fresh coat of paint does for a space. This bathroom looked so bland and sad with its dingy white walls and tile. It was in desperate need of some color. So I decided to do a little experiment. I asked my friends what they thought about the room in its current state. Most of them brought up words like "dull", "bland", and even "depressing". So I knew I needed to make a change!
For a rental bathroom, I say GO BOLD if your landlord will allow it! It's a fun opportunity to experiment with color. For mine, I decided to take a look at the 2018 Color Collections of the Year from HGTV HOME™ by Sherwin-Williams. These four designer-inspired Color Collections are unique to HGTV HOME™ by Sherwin-Williams with palettes of eight colors that work together in any combination. All I had to do was choose from Thoughtful Living, Next Journey, Future Thinker or Individual Mix. The Future Thinker Color Collection really caught my eye, particularly the different shades of blue. I also love how they look with the green tile, which represents the color Garden Spot (SW6432) from the collection!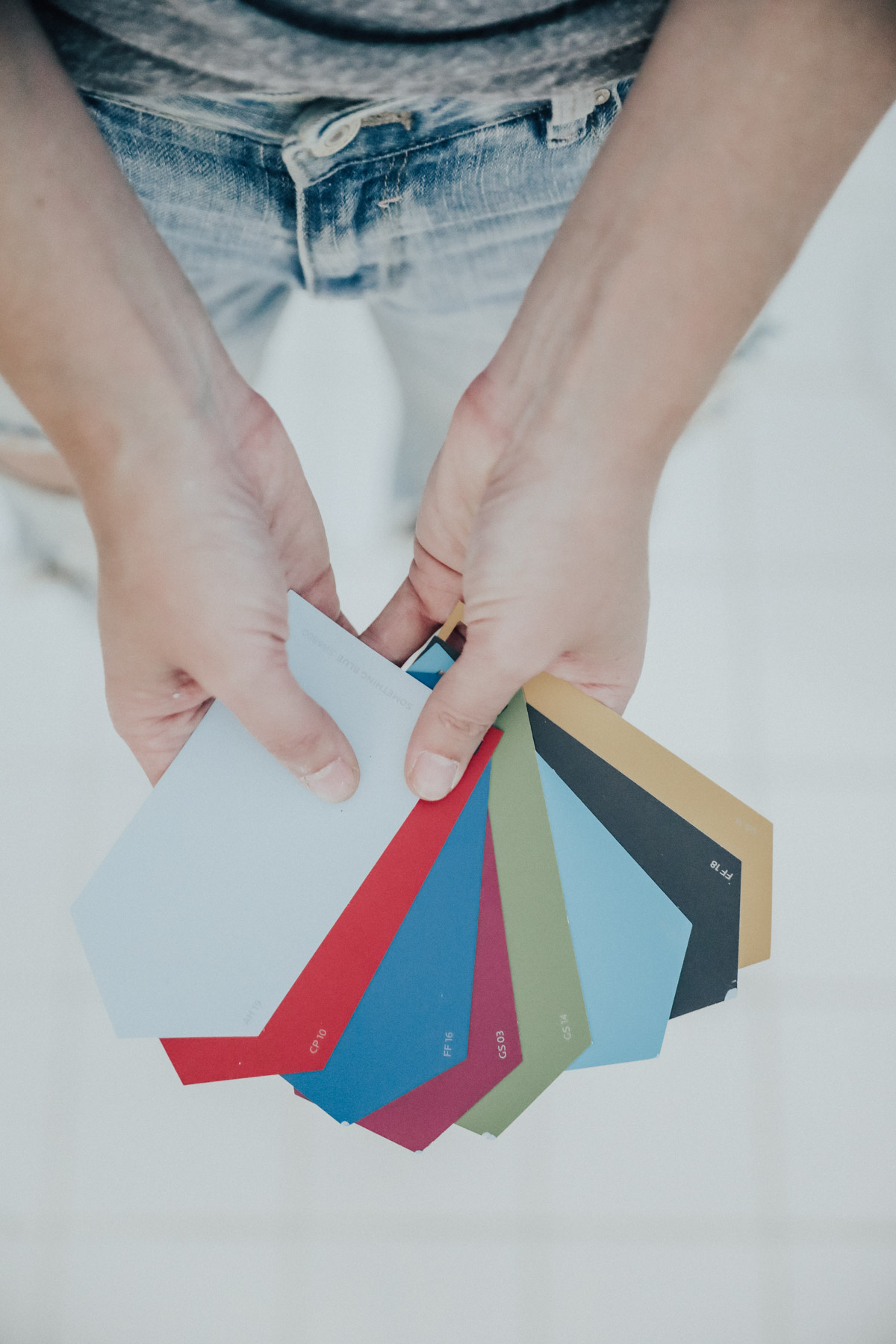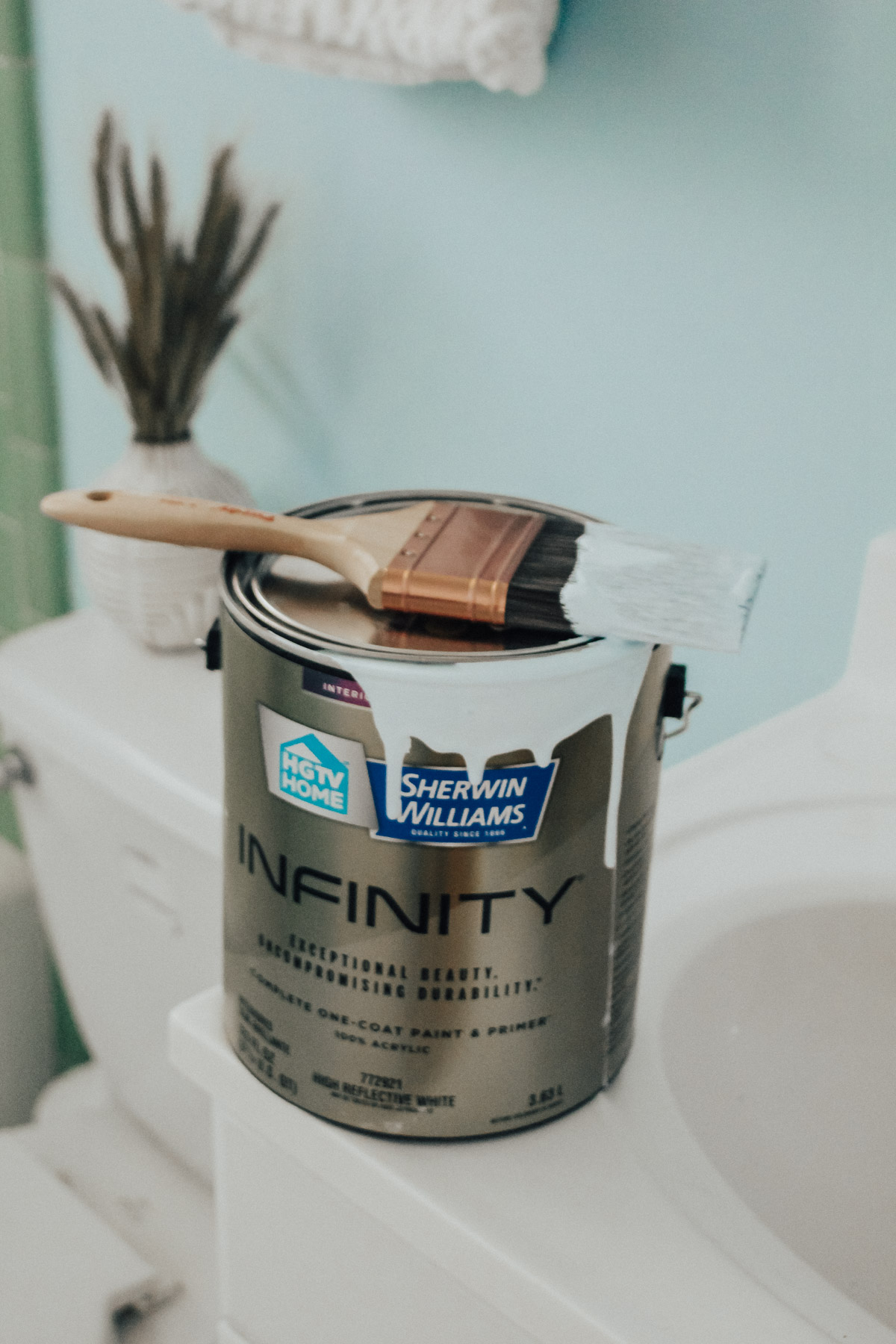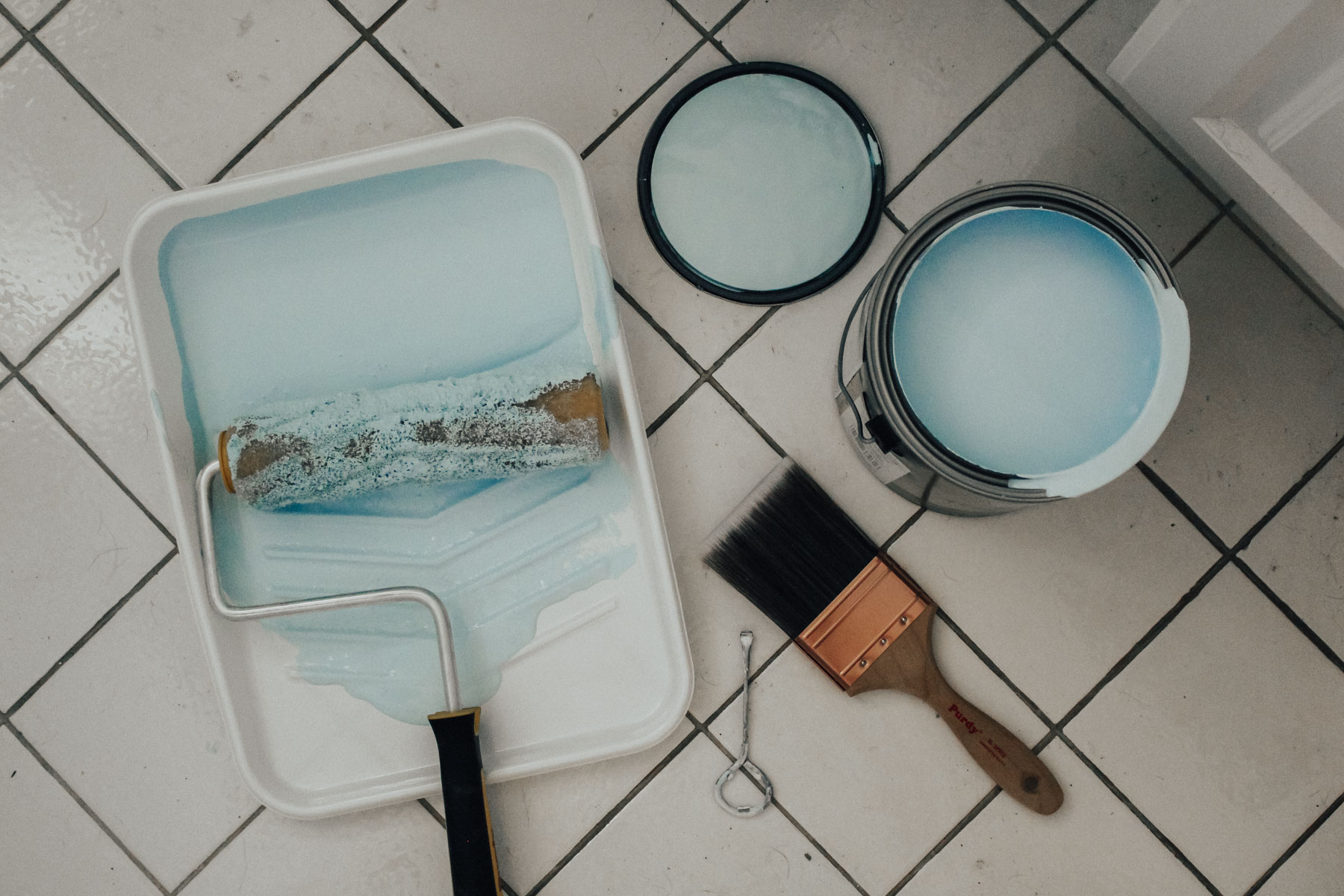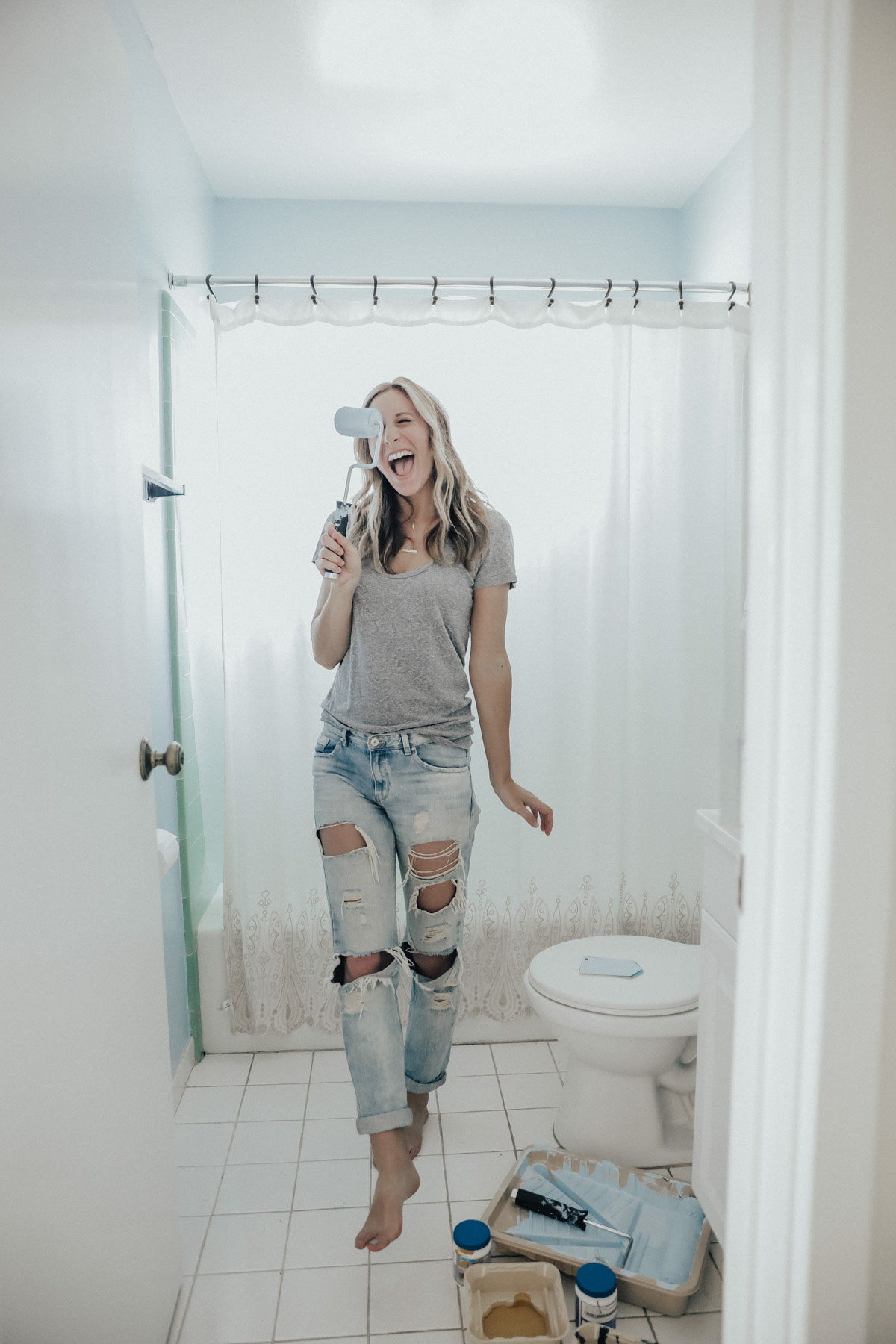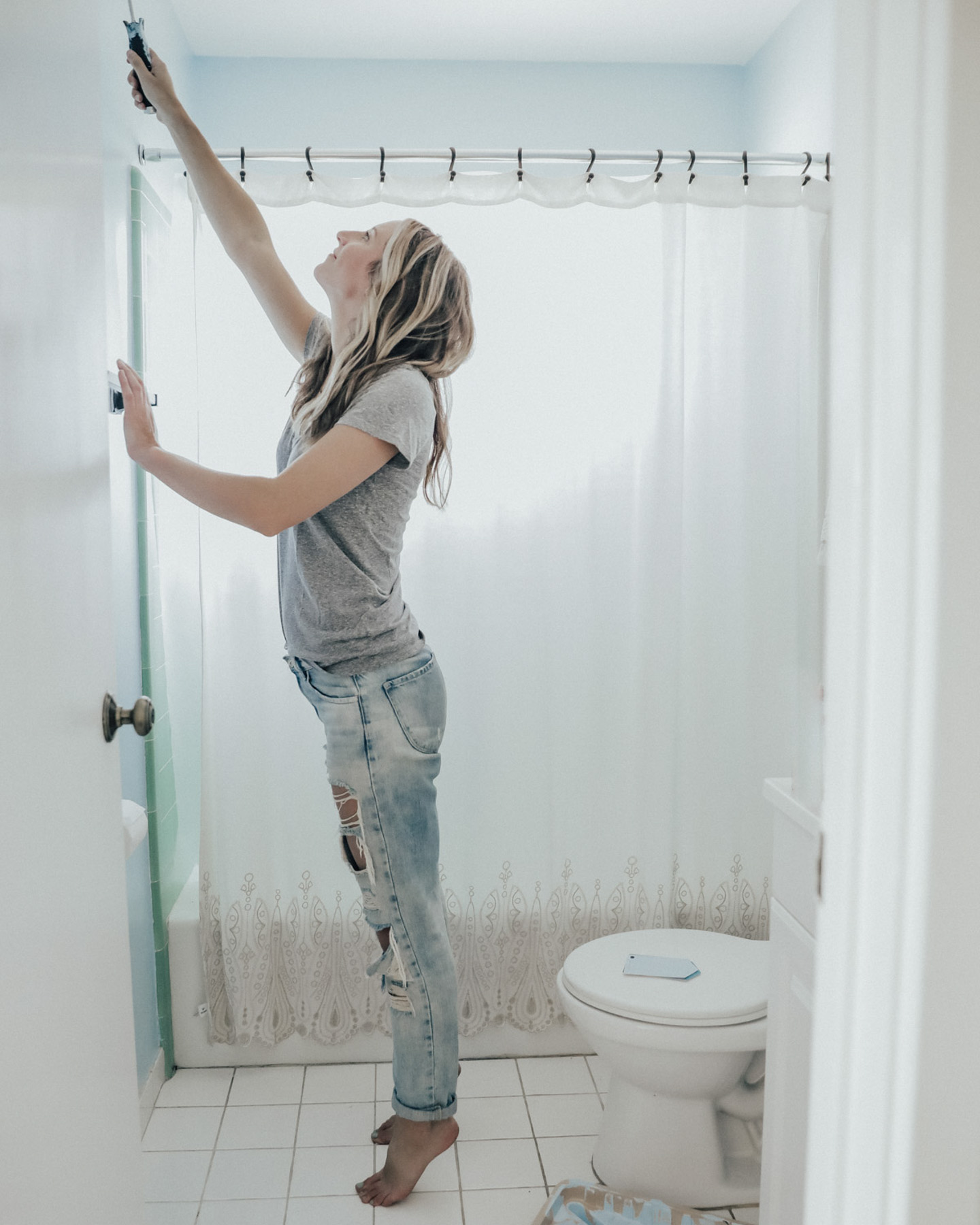 I decided to go for the shade Something Blue (SW6800), which I picked up at my local Lowe's. I love that the color is bold and wakes up the room, yet soft enough to work with my style. It's crazy how different I feel when entering it now. The color just cheers me up and gives me energy! Seeing my friends' reactions to the new color was amazing to watch! Their eyes lit up, they were smiling — clearly the color had an impact. When I asked them how they'd describe the room now, most of them said "calm", "happy", and "inviting". Love that!
2. Paint the hardware too!
Rather than buying new towel bars and a new light fixture, I decided to refresh my current hardware with another color from the palette. It's such an affordable solution! I decided to go with a soft black color, because I love the modern look of black hardware. I chose the color Domino (SW6989), which was also from the Future Thinker Color Collection. Luckily, the Color Collections are designed to beautifully work together in any space, so I was confident that this pairing would bring harmony to the space. It gave the light fixture and accessories a whole new look!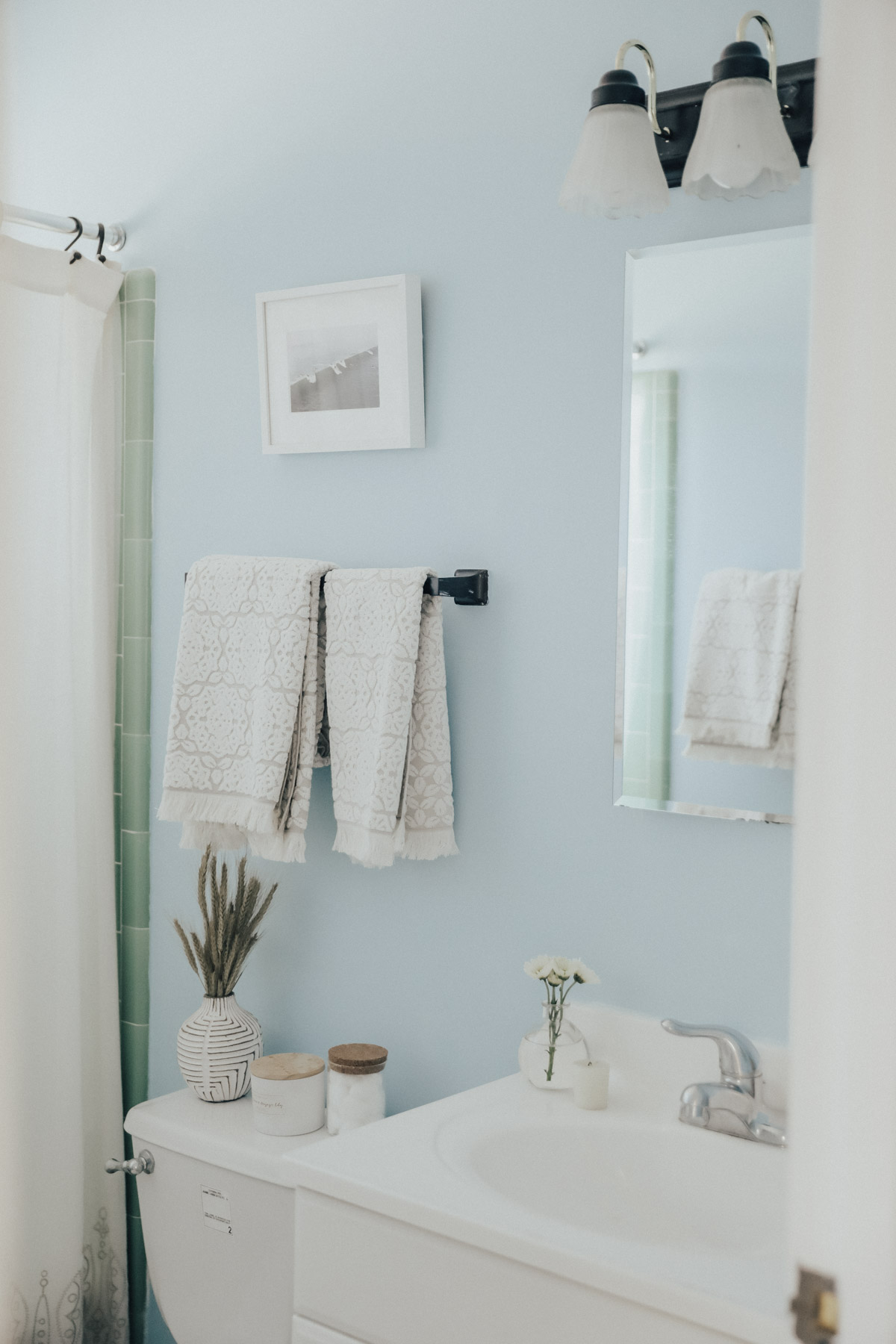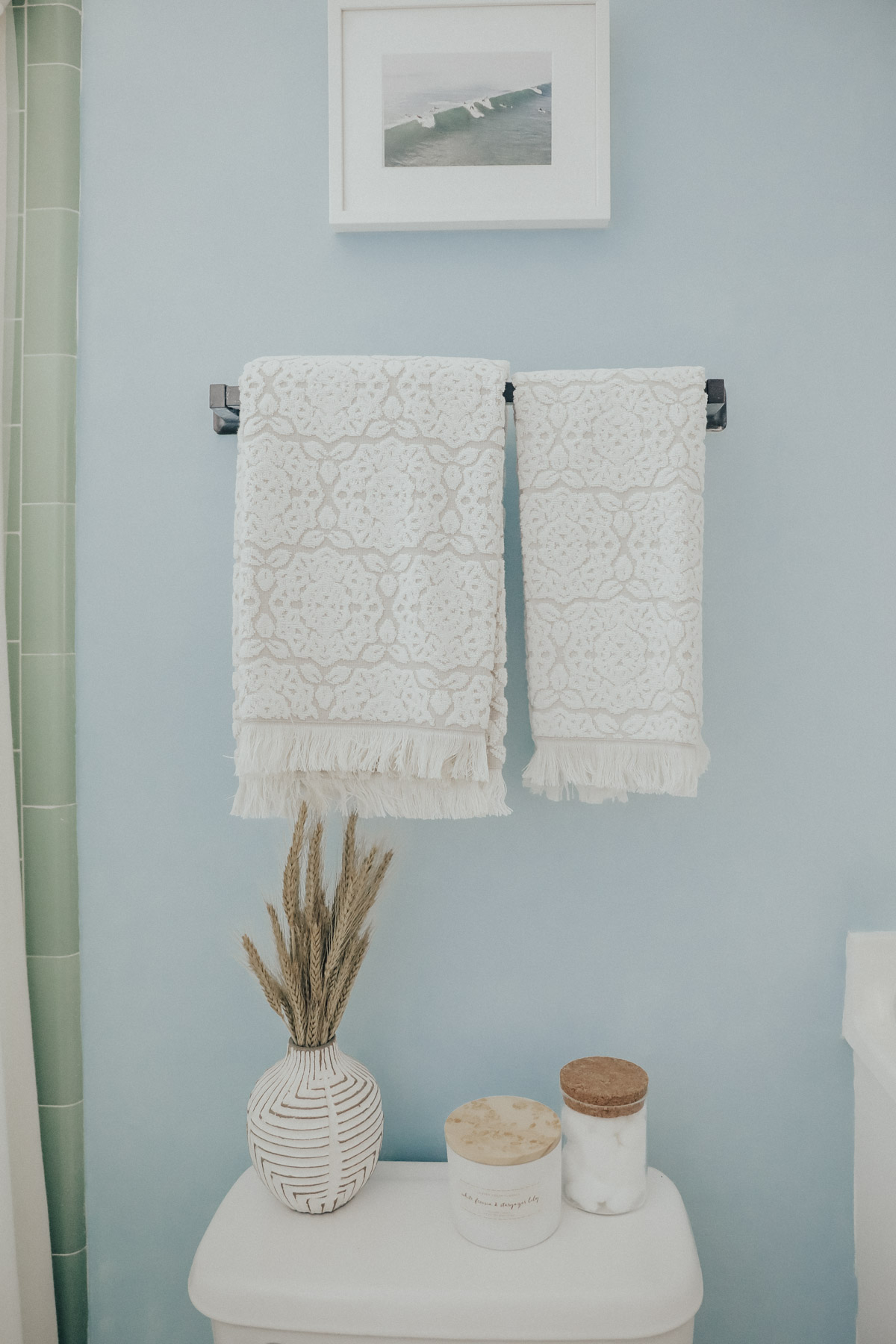 3. Add fun linens.
You could easily just opt for solid-colored towels and a plain bath mat. But why not dress it up a bit if you're going bold anyway? I wanted to really highlight the new color palette and them cheerful theme by bringing in fun prints and textures. I found these textured towels and loved that they were neutral without being boring. Plus, you know I'm a sucker for that fringe! For my bath mat, I decided to bring in another texture with wood. I love how it contrasts with the blue on the walls!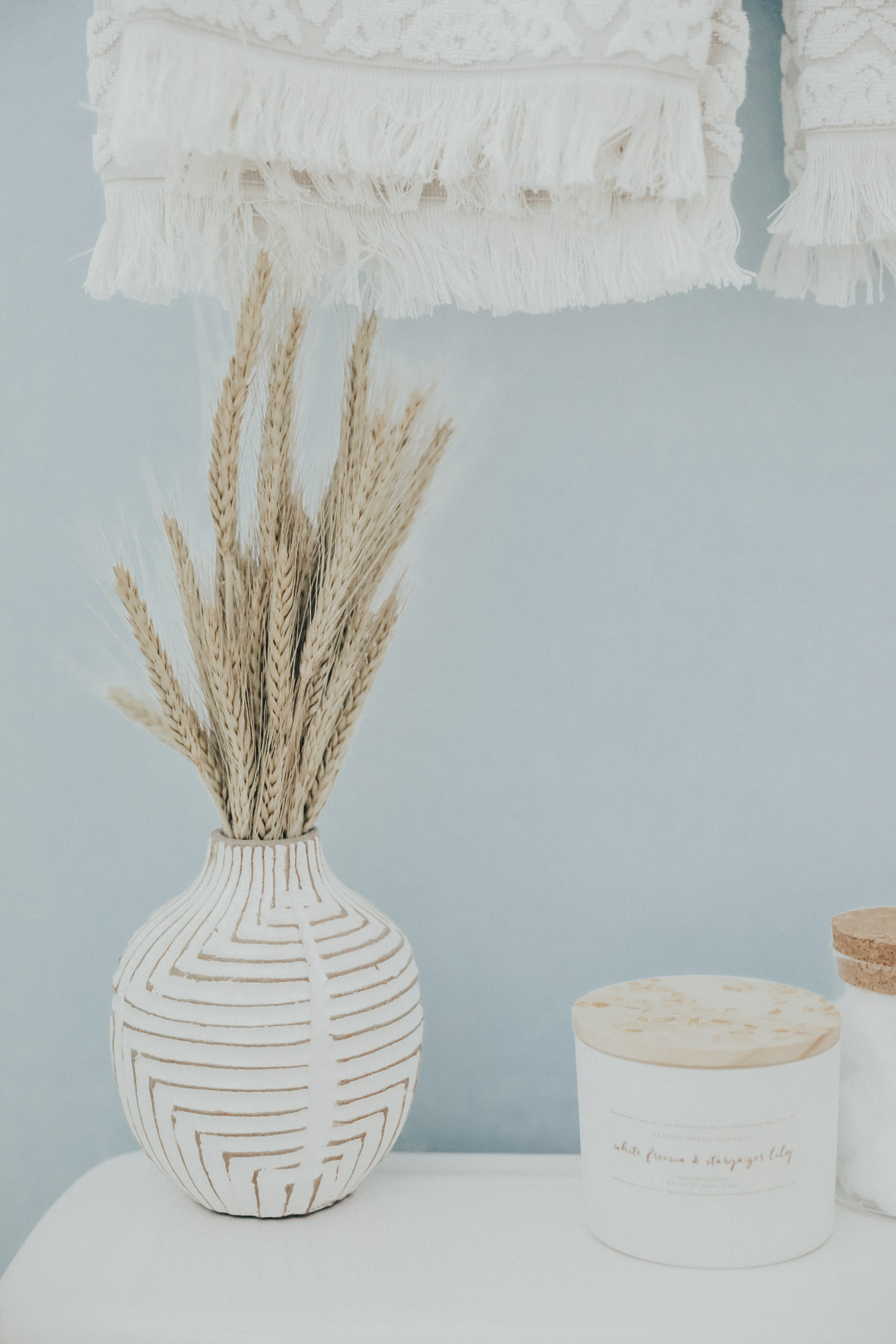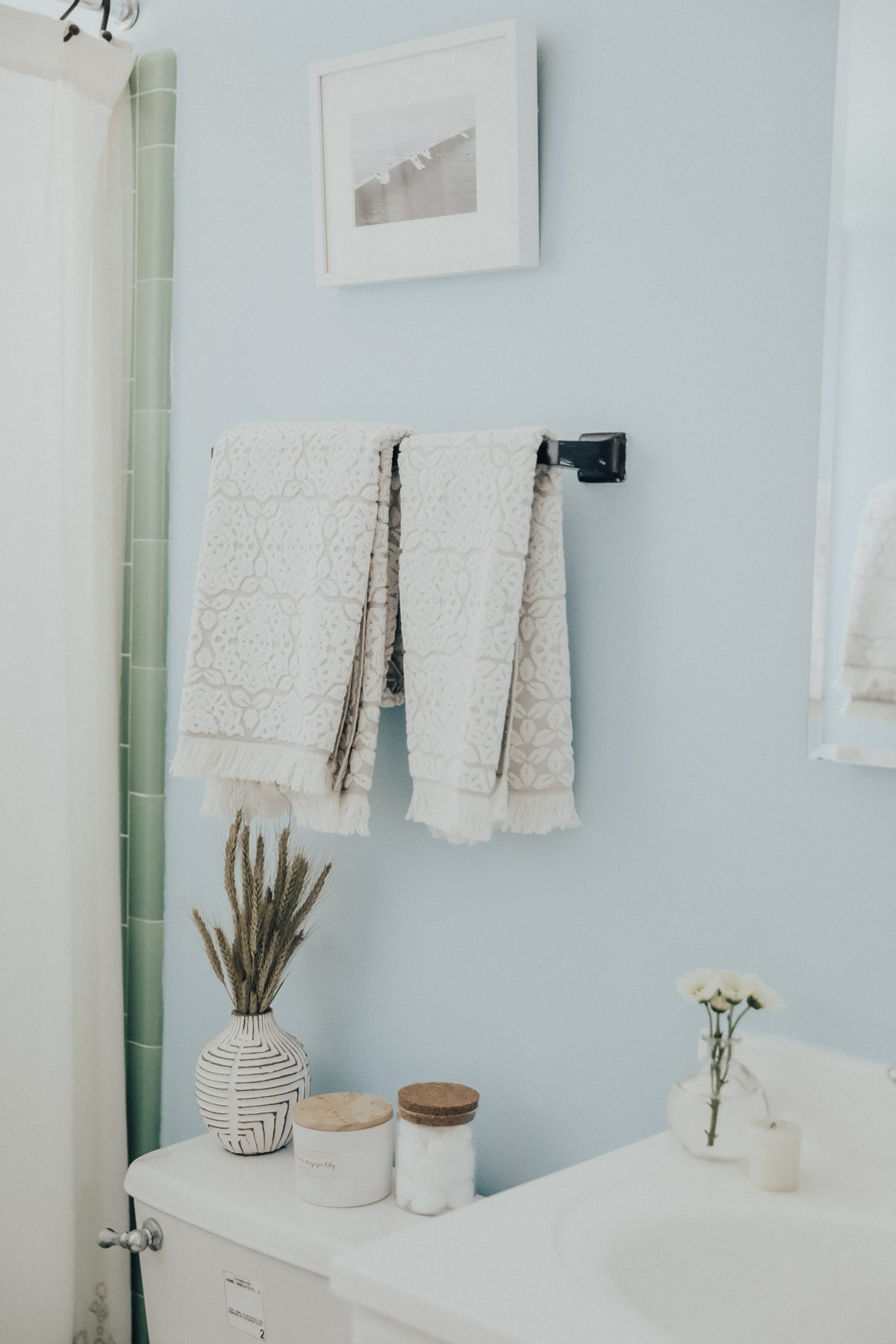 4. Finish with modern accessories.
To really uplift your bathroom, you'll need some modern accessories to complete the space. I always use a pretty soap dispenser instead of the bottle the soap comes in. It's a great way to tie in the style of the room. A candle, a small vase of flowers, and pretty containers for holding supplies are the perfect finishing touches.
I mean, check out that before & after!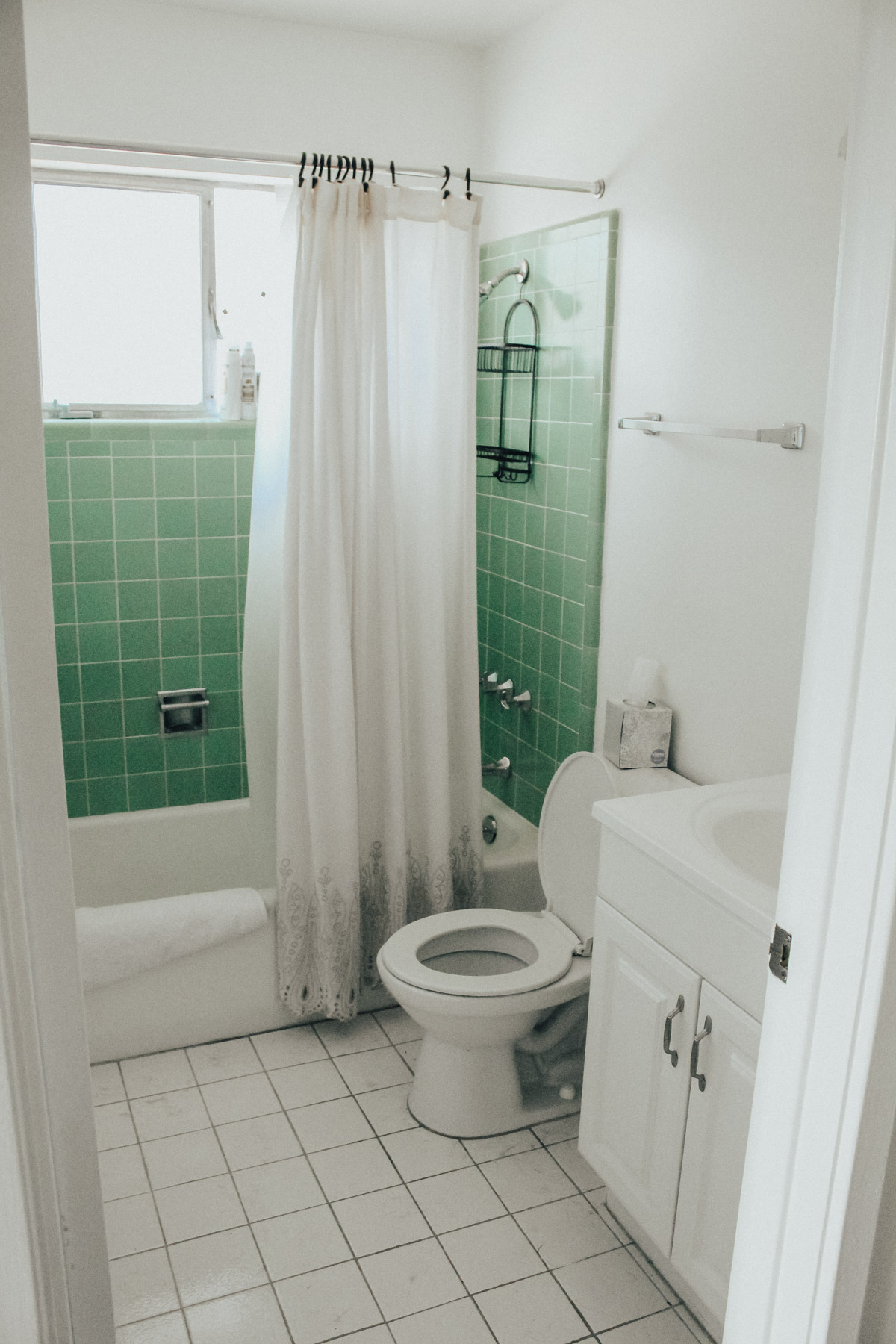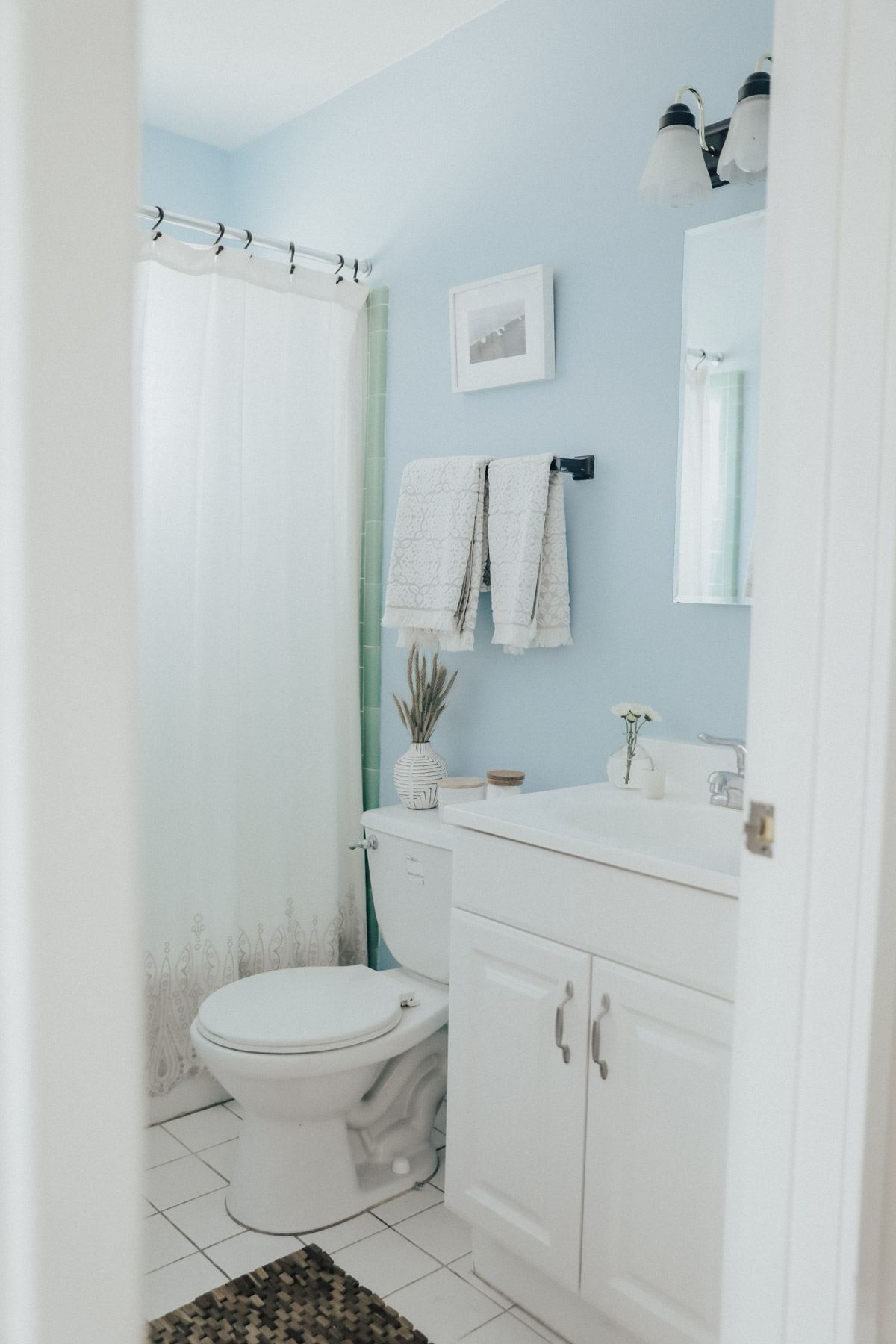 Thank you to HGTV HOME™ by Sherwin-Williams for sponsoring this post.

Shop The Post