Dating & Relationships
What to Wear on an Unconventional Date
posted on November 12, 2013 | by Amanda Holstein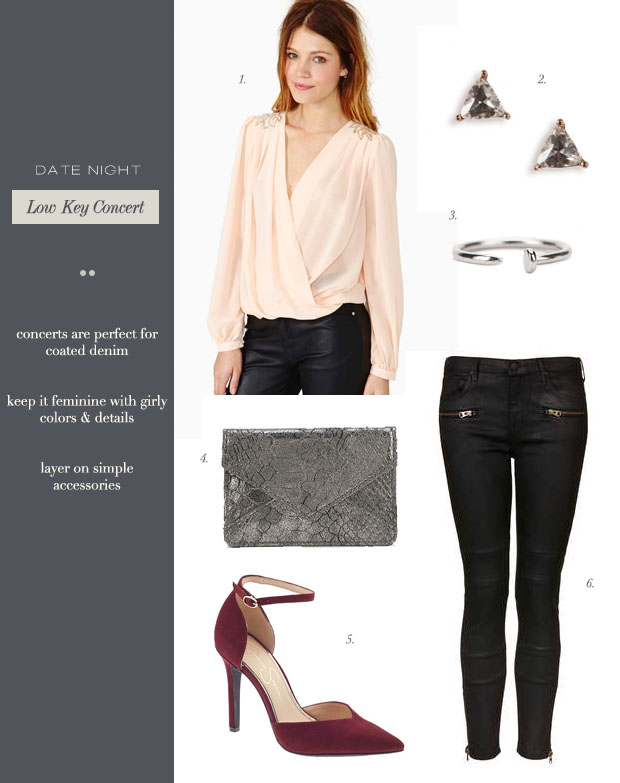 As I mentioned last week, dates are becoming less and less conventional. A simple dinner and a movie is being replaced by a comedy show or an adventurous hike. As stylish women, we have to keep up with this new trend by updating our dating wardrobe. In celebration of the Ford Fiesta Movement and this month's "entertainment" theme, I thought I'd choose two types of entertaining dates that you might encounter and help you decide what to wear to them. So let's get started!
Movie in the park
A movie in the park is a lovely twist on the classic dinner and a movie date. It's more personal, romantic, and you can snuggle up on a blanket instead of being separated by two uncomfortable seats. Since this is an outdoor date, you don't want to look too done up. I'd go for casual jeans, a cozy sweater, and booties. To dress it up a notch and keep the look a bit sexy, opt for a silk tank that shows some skin and keeps the look date appropriate.
Low Key Concert
Another fun and unique date idea is going to a local venue to listen to one of your favorite bands. Rather than a huge blowout concert, a more low key setting allows for time to talk and connect. Since this date is out on the town, I would go dressier than the last outfit. Coated denim is perfect for showing your edgier side. Add a feminine top and heels to keep the look flirty. I always suggest more simple accessories for dates as well so that you don't distract from what they should be focusing on – you.
// This post is sponsored by Ford Fiesta. All opinions are my own.