Editor's Picks
#MadewellAddict
posted on November 8, 2013 | by Amanda Holstein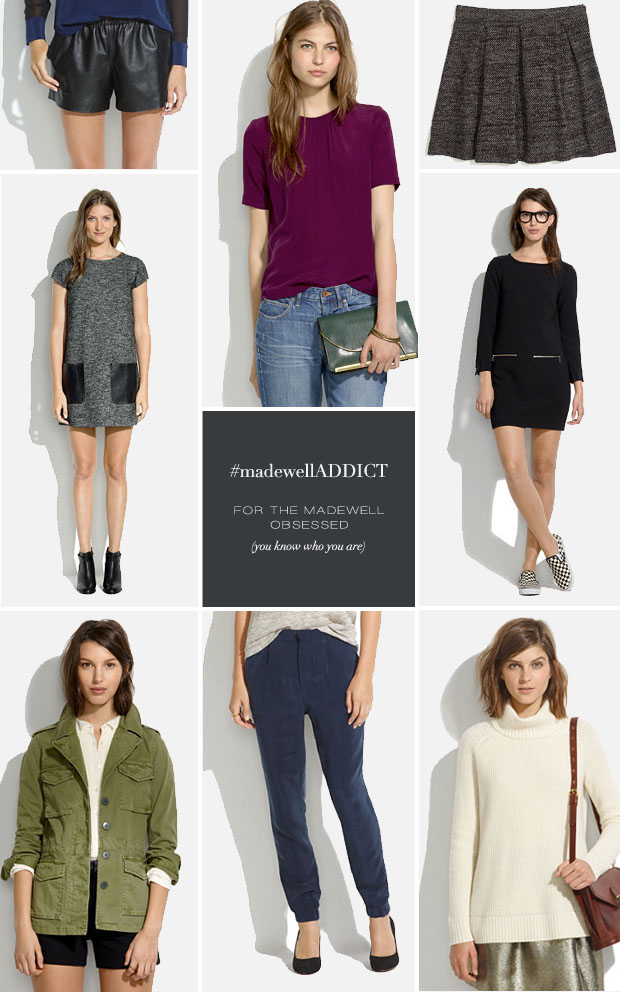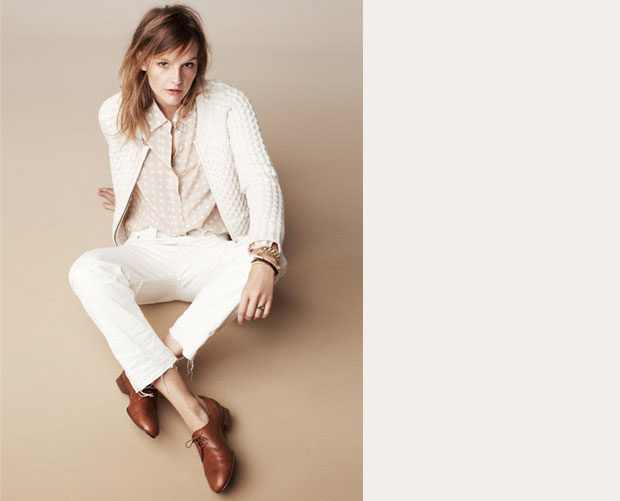 I mean…come on. This look is ridiculous. (Ridiculously amazing.) Madewell takes the simplest pieces and layers them in such a chic way that the results are always stunning. I can't get enough. Which is why we're back so soon with another edition of #madewelladdict. Make sure you've paid your bills and have some money in your bank account because it's time to start spending. This is where my financial advice goes out the window. Sorry, ladies, but Madewell is just too good. Here are my current Madewell picks that I can't wait to get my hands on!
Leather Shorts: $300 / buy here
I know, they're expensive. My advice? Wait till they go on sale! Doesn't usually take too long. And come on. They are the perfect leather shorts, aren't they? Pair with sheer tights and a thick sweater for a flirty yet chic winter look.
Shirred Top: $69.99 / buy here
What a color, am I right? The perfect warm purple hue for the fall & winter seasons. A great shape for work or play, this is the boxy top done right. It gives you sharp shoulders while still keeping a relaxed fit. Perfection.
Turnaround Skirt: $85 / buy here
A flirty skirt in a cold weather texture is just what you need this season. The dark gray makes it super versatile. Wear with a silk blouse or a cozy sweater. Even add printed tights for a playful look.
Leather-Pocket Mini Dress: $148 / buy here
If this dress sells out because of this post, I'll be super pissed. In fact, don't buy it, people. It's not that great anyway…
Zip Shift Dress: $155 / buy here
Exposed zippers are popping up everywhere this season. Add them to a super sleek shift dress and you've got my vote. This chic number is great for work, and you could even dress it up for a dinner date.
Outbound Jacket: $148 / buy here
This is one of those trends I've waited and waited to purchase until I found the perfect one. Of course Madewell got it right. Even though this trend is meant to have a bit of a masculine vibe, I love how Madewell's version is fitted just right. It will give you a feminine shape while maintaining that cool vibe.
Won Hundred Loa Pants: $214 / buy here
As you've probably noticed, I'm having a bit of a love affair with silk trousers. The texture on these is so unique and a nice twist on the trend. Gotta have 'em!
Simple Cashmere Turtleneck Sweater: $275 / buy here
So soft and the perfect cream color, this sweater will be your wardrobe staple for fall and winter. Add it to leather pants, boyfriend jeans, or a flirty mini skirt, it literally goes with everything!
What Madewell items are you crushing on? Check out last week's edition here.
And just a reminder, this post is not sponsored (unfortunately).