Decor & Styling
Apartment Refresh: Your Home Office
posted on January 29, 2015 | by Amanda Holstein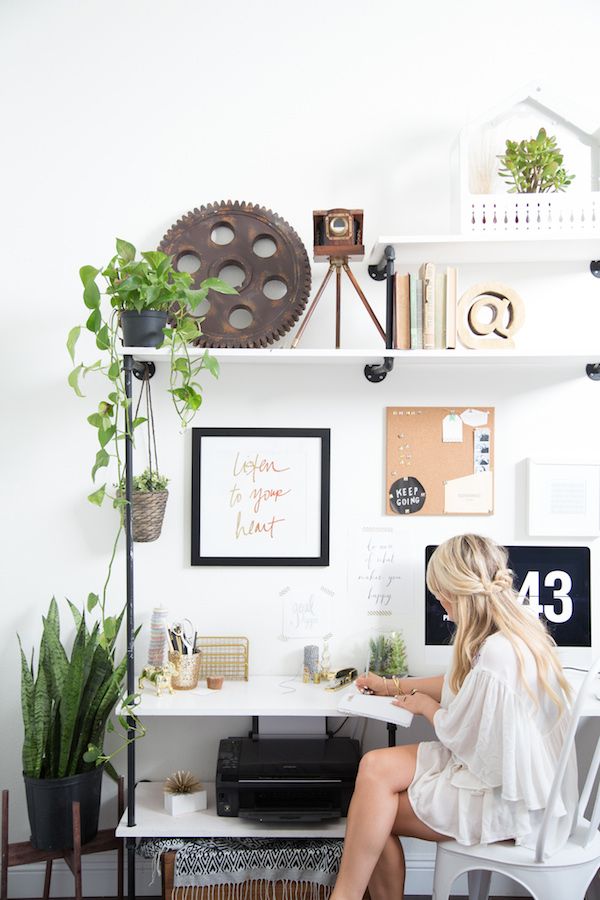 Now that more of my time has been spent working from home, I've been trying to put together the perfect space for a home office. And by space I mean the three feet of wall space in my living room with which I replaced my TV console. Yup, I said goodbye to the TV for now in hopes of being more productive (although Friends may or may not be playing on Netflix in the background as I write this…). So as I start to get some inspiration for my little makeshift "home office", I've rounded up a few goodies to create a stress-free and inspiring nook that will hopefully lead to many more blog posts.
In my last apartment, I went for a white and gold desk with bright, colorful accessories. This time around, I'm going for a more rustic look with a wood & metal desk (this one from Target is super affordable). I love having color around me to get me inspired (hence the bright green couch), so I'm seriously craving one of these filing cabinets. Add some soft pastels and a little plant to bring some life to the space. Take a look at some of the pieces I'm craving below.
Hover over the image and click to shop each product.

Or shop these items below:
Wood Pencil Holder with Planter – Few Bits
2015 Wall Calendar – Belinda Marshall
Hello Print – Monica Lee
Toucan Print Notebook – Micush
Filing Cabinet – The Container Store
Pretty Pens – Anthropologie