Hair
Makeup
How To: Romantic Hair & Makeup
posted on February 13, 2014 | by Amanda Holstein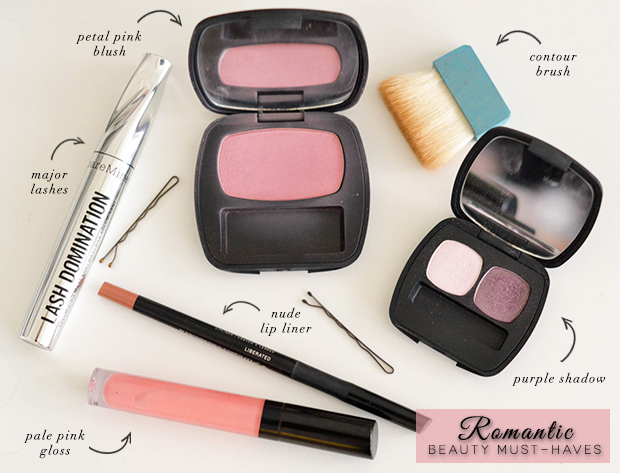 Creating a romantic look for Valentine's Day is a must, not just for your outfit but for your hair & makeup as well. Soft waves are my go-to romantic hairstyle. Pull a few pieces back for that bohemian vibe and keep the waves soft and polished. As for your makeup, choose colors like soft blush, petal pink, and purple rose. Keep the focus on the eyes and leave the rest of the look simple. Here's what you'll need to complete this Valentine's Day hair and makeup look, perfect any romantic occasion!
Hair
Step 1:
Use a 1.5″ curling iron to create big waves. I like to divide my hair into 2 sections and curl the bottom layer first, then the top. Make sure to curl the hair away from your face.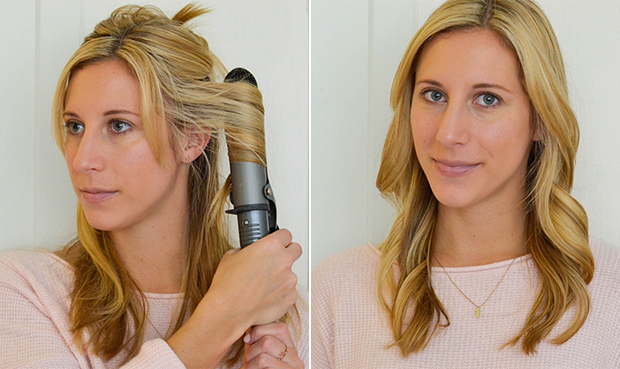 Step 2:
Next, take a 1-2 inch strand of hair from the front and twist it away from your face. Secure it above your ear with 2 bobby pins. Repeat on the other side and spray with hair spray.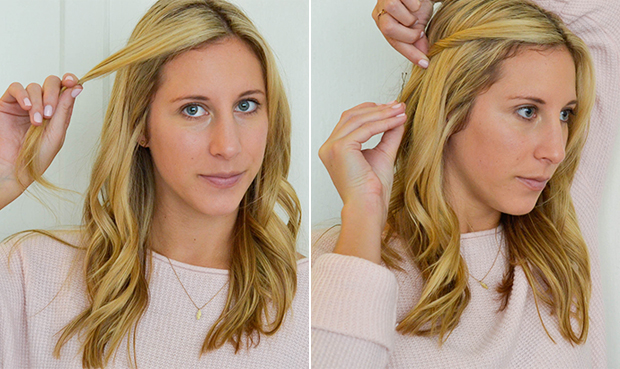 Step 3:
Use a light Argan Oil to tame any frizz. Also, lightly push the hair up towards your crown to give it some volume.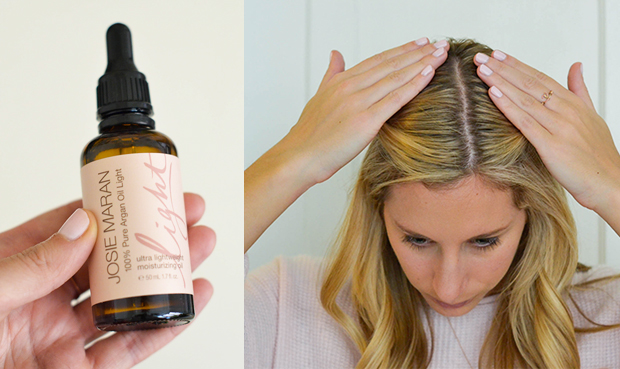 Makeup
Step 1:
After applying your foundation and concealer, use a fluffy brush to swipe a bit of bronzer over your entire face. Then choose a contour brush and add a matte bronzer to the hollows of your cheeks. This will help emphasize your cheekbones.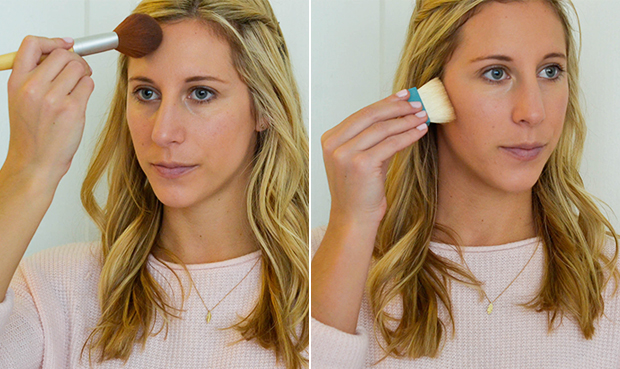 Step 2:
Next use a petal pink blush on the apples of your cheeks. Add a touch of highlighter to your cheekbones and blend.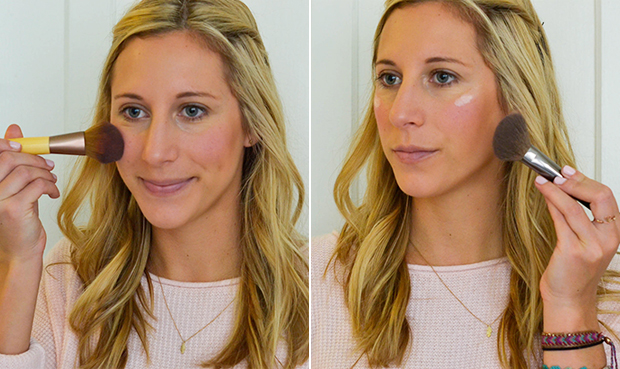 Step 3:
For the eyes, start with a soft blush color and dab it across your entire lid with a fluffy eye shadow brush.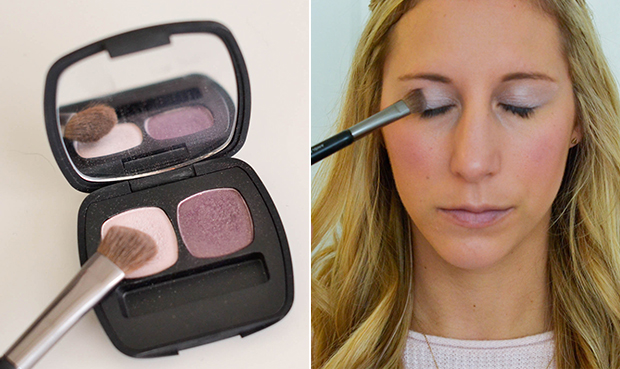 Step 4:
Use a tapered eye shadow brush to apply a darker shade of purple on the outer corners of your lid as well as along the lash line. Blend well.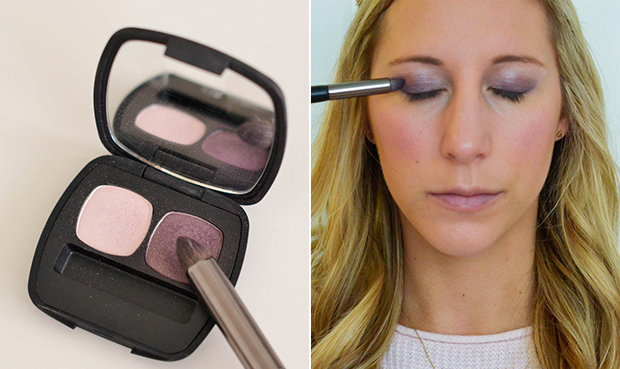 Step 5:
Use an angled brush to apply black eyeliner along your upper lash line. Gently add a touch to the outer corner of your bottom lash line as well. Blend with your finger. Then add a few coats of mascara.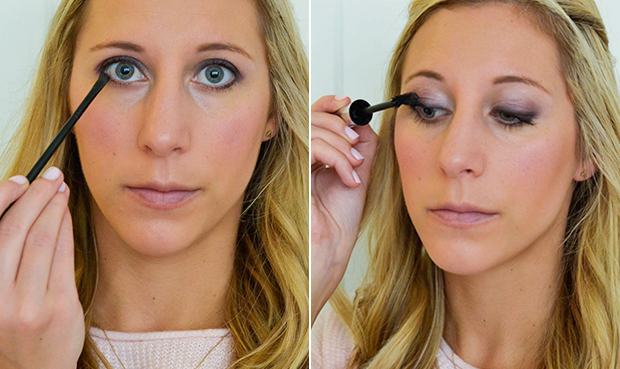 Step 6:
For your lips, start with a nude lip liner and fill in your entire lips. Then add a soft pink gloss. The subtle yet shiny color make them perfectly kissable!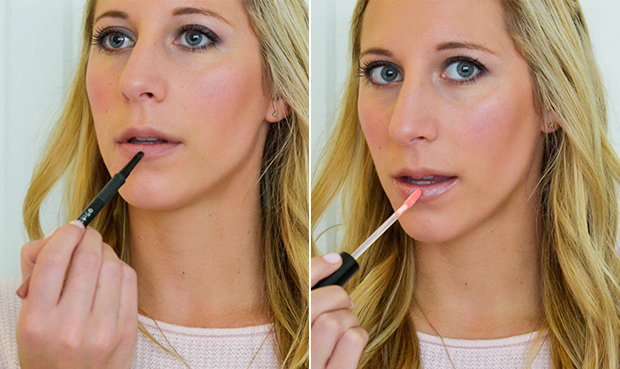 Here's the final look!