Decor & Styling
Simple Home Updates: Your Living Room
posted on February 27, 2013 | by Amanda Holstein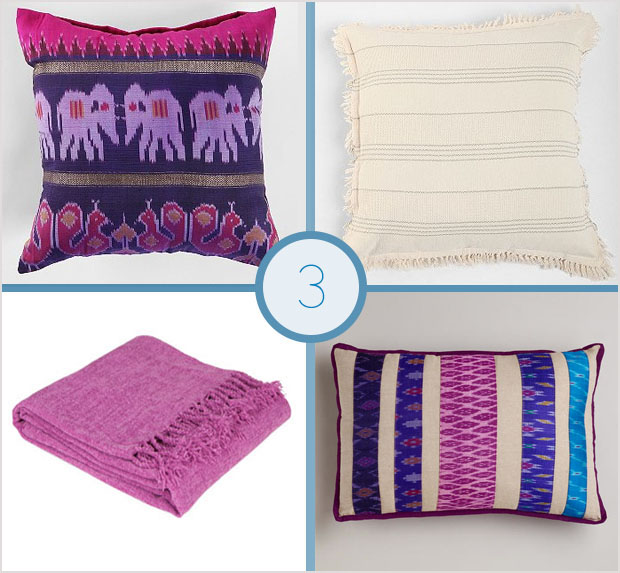 As you know from my post on updating your bedroom, the simplest way to give any room a quick refresh is by bringing in some new textiles. Whether it's a new comforter in your bedroom, or new pillows in your living room, swapping out your current pieces with fresh prints can make a huge difference. And it's much more affordable than updating your furniture. Invest in a neutral couch that you'll have for a long time and that can work with all kinds of prints. Then try to mix things up with these combinations of affordable pillows and throws to create a whole new vibe in your apartment.
1. Warm Florals
Perfect for getting out of the lull of winter and into the freshness of spring, warm colors with floral prints are a great way to brighten up your place. Choose one main pillow or print as your focal point, like this one from World Market. Then add another, more subtle print to compliment it, plus some filler pillows like the solid yellow one below. I love the pop of mint green this throw adds as well.
2. Luxe Neutrals
To create a luxurious vibe, add rich textures and colors to your living room. Velvet and faux fur are perfect for pillows and throws. Use prints with deep grays and blacks, or even purples, for a chic and elegant look. I love how an apartment can go from shabby chic & bohemian to luxe & sophisticated just by swapping out the pillows and throws.
3. Bold Brights
When you feel like getting a little crazy, try some fun, bright bohemian prints. I'm not normally one to choose bold pinks and purples for my home, but to change things up and play around with my style, I think these are a great choice.
What are some simple updates you add to your living room?