Styling Advice
Translating Fashion Week into English
posted on September 22, 2015 | by Amanda Holstein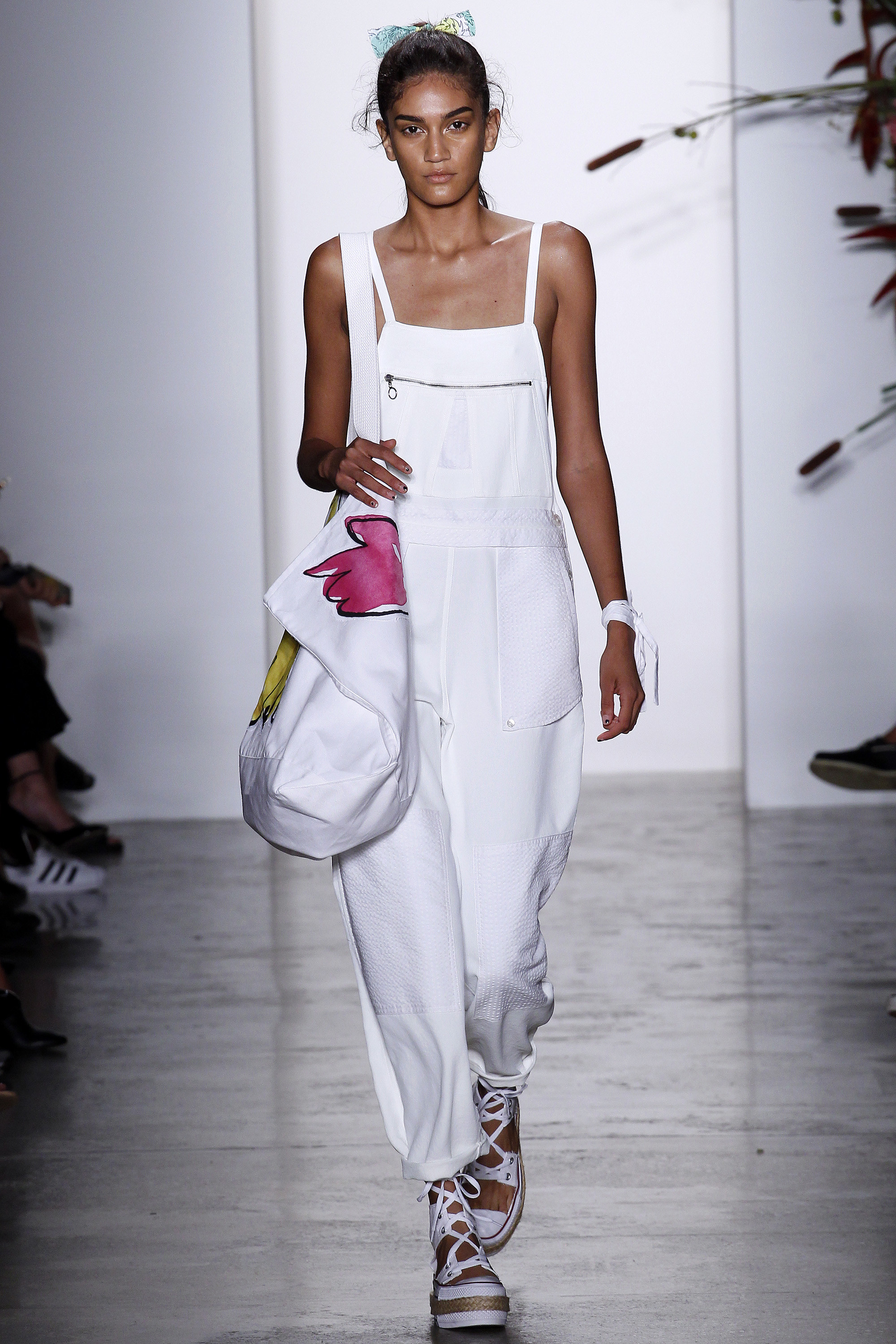 It's difficult for the everyday girl to relate to fashion week; it's like trying to understand a different language. You may think as a fashion blogger, I'd be really into fashion week; but to be honest, it can be hard for me to relate as well. I'm not what you'd call a high fashion girl. I just really like clothes and putting together outfits for everyday life.
So, when fashion week comes around and it feels like all you see is an explosion of crazy, unwearable outfits, it's normal to wonder, "What the hell am I looking at?". Everything from the runway to street style can feel so far from what we typically know to be fashion. So I thought I'd try and help translate fashion week into English for you (and for myself). As a Project Runway fanatic, I'd say I'm well equipped to do so ;). Here's what you need to know. First, let's clarify the most confusing part of fashion week:
September fashion week showcases spring trends for the coming year.
February fashion week showcases fall trends for the coming year.
I don't know about you, but that used to confuse the heck out of me. I figured fashion week September was all about fall — nope! Basically, they're always thinking ahead. So since this fashion week is focused on Spring 2016 trends, I've rounded up a few that 1) can easily be translated from the runway, and 2) can totally be worn now.
Wide Leg Pants
On the runway, this trend may look too bold or overwhelming, but when you translate it into the real world, it can be really simple and polished. Choose a color you're comfortable with (neutrals are always easy), and pair them with a top that has an easy silhouette (like a t-shirt or button down). It's a great look for work or a nice dinner. (runway | real way)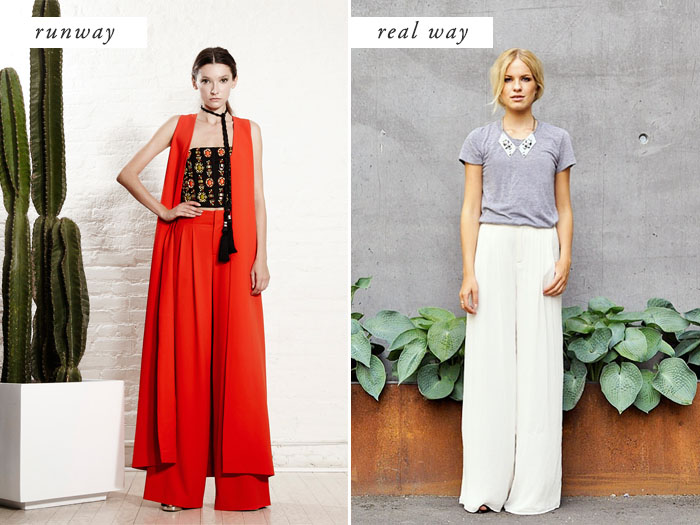 Shop it:

Tie-Dye Prints
I love a good, non-cheesy tie-dye print. Indigo is really popular right now and it's a great color for tie-dye prints since it's not so over-the-top. Try a tie-dye print dress for an easy, one piece look! (runway | real way)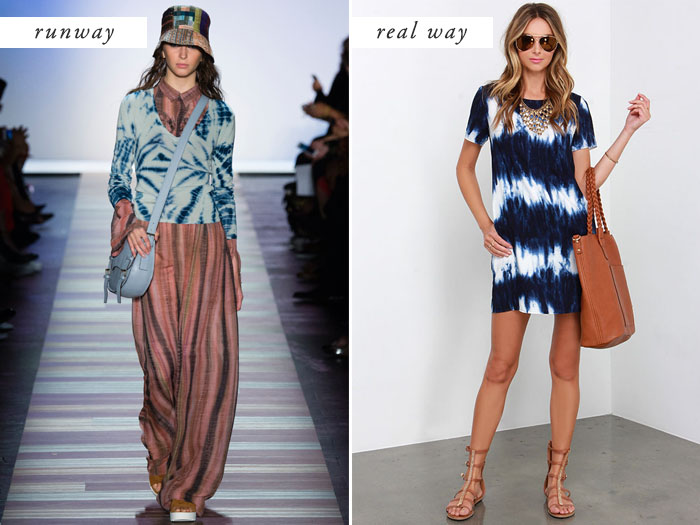 Shop it:

Overalls
I'm happy to say that overalls are still on trend, through fall and into spring. While I do love the silk ones from the runway, denim is an easier way to bring the trend into your current wardrobe. Pair with a simple t-shirt for a casual weekend look. (runway | real way)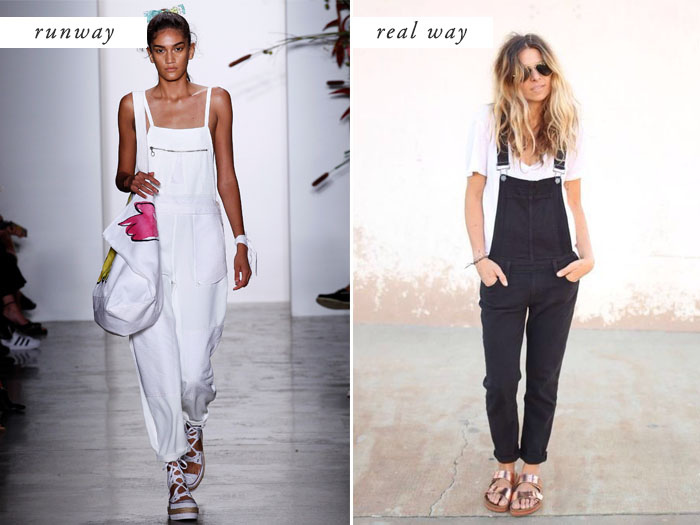 Shop it:

White Texture
Probably my favorite trend from the runways, white texture is an easy one to incorporate into your everyday wear. Try mixing ripped white denim with an ivory sweater or crochet top. Accessorize with rich browns to keep the look appropriate for fall, and try nude shades for spring. (runway | real way)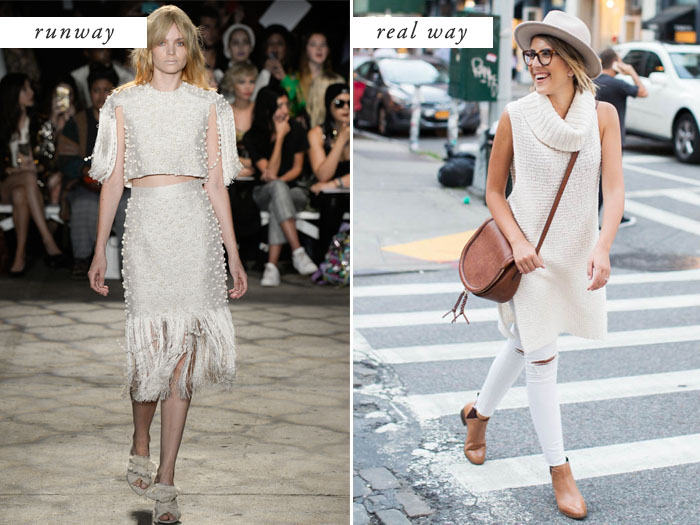 Shop it:

Off the Shoulder
The off the shoulder trend has made it to 2016 as well. Try it with more fitted tops, as shown on the runway, or go for something more breezy and pair the look with classic denim. (runway | real way)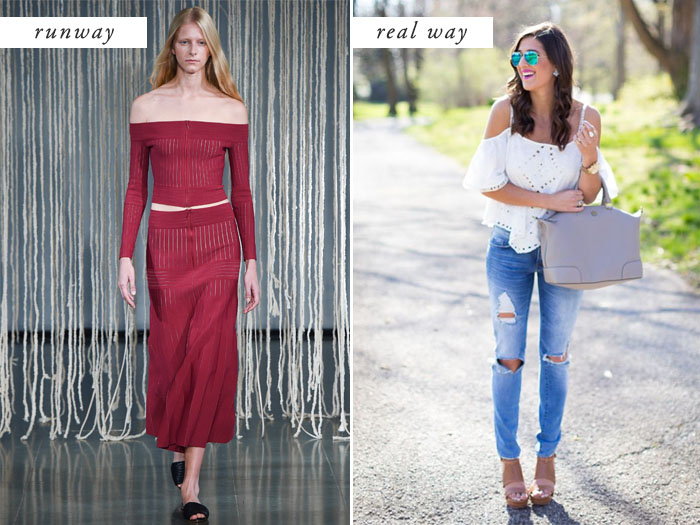 Shop it: