Editor's Picks
What to Pack for Memorial Day Weekend
posted on May 24, 2013 | by Amanda Holstein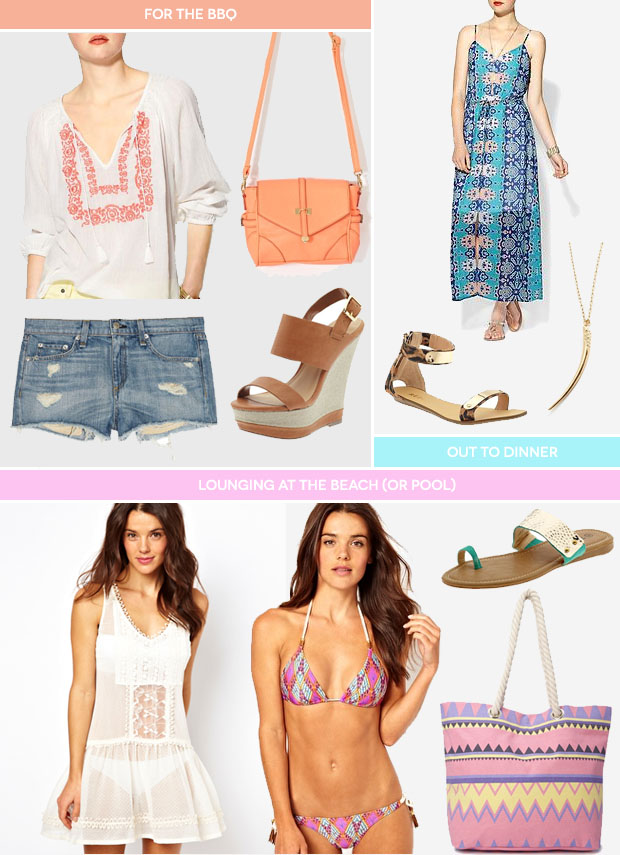 Ahhh the beloved 3-day weekend. Not only is it finally here, but it also means summer is within reach. Packing for a quick weekend getaway like Memorial Day weekend can be tricky. You pull out your sleek weekend bag and as you start pulling pieces from your closet, you've already packed it full and you haven't even gotten to your necessities yet. The trick is to bring versatile pieces, like denim shorts and a neutral sandal. Then add in that maxi dress you've been dying to wear plus a fun top for good measure. Oh, and don't forget your bathing suit. That falls under the necessity category :). Have fun!
Here's what I would bring:
At the BBQ:
Top: Joie
Shorts: Rag & Bone
Sandals: Steve Madden
Bag: NastyGal
Out to Dinner:
Dress: Piperlime
Sandals: Piperlime
Necklace: NastyGal
Lounging at the Beach:
Coverup: River Island via ASOS
Bathing Suite: ASOS
Sandals: GC Shoes
Beach Bag: Forever 21
What are you doing for Memorial Day Weekend?