Where to Find Affordable Artwork
posted on January 4, 2013 | by Amanda Holstein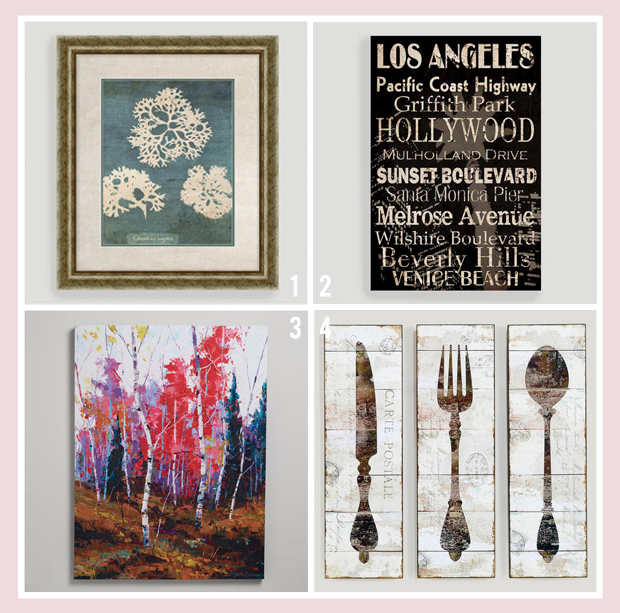 When you don't have the money to spend on original artwork, it can be hard to find affordable pieces that suite your style and won't break the bank. I never seem to like what I find at the basic home stores, like Bed Bath & Beyond or even Target, and I always feel like I've seen every piece before. The clichè "painting" of the forest or that black & white photo of the daisies, it just screams unoriginal and cheap. So stop settling for these pieces just because they're easily accessible, you know they're not your style. Try some of my favorite affordable artwork havens below:
Carolyn Cochrane – Etsy
Oh Etsy, always a great source for finding original pieces. But it can be overwhelming. Check out one of my favorite shops, Carolyn Cochrane, below. She's a stunning photographer and her aesthetic totally fits the style of my home (or what I strive for it to be!). Plus, most of her prints range from an affordable $15 to $55.
20 x 200
An easy to navigate site with an always unique collection of prints, 20×200 is a great go-to for those quirky pieces you need to fill in the gaps and add some personality to your home. The site allows you to search by price range, always an important feature, and is extremely well curated. The pieces I chose below are all $60.
River Luna – Etsy
I stumbled upon this Etsy store recently and immediately added it to my favorites. It's rare to find a talented yet affordable water colorist who does modern, bohemian inspired pieces. I love River Luna's unique style and intricate work! Check out some of my favorite pieces below, all under $40.
World Market
Shockingly, this home decor chain actually has some great little finds if you dig around enough. While it's no surprise World Market has great textiles and furniture, they have a pretty expansive collection of artwork as well. Some of the pieces may have that same unoriginality that you find in a Target, but there are some unique pieces worthy of hanging in your home as well. Here are some of my favs: