Ask Amanda
Editor's Picks
Ask Amanda: Dresses for Vegas that work for everyday life?
posted on March 18, 2013 | by Amanda Holstein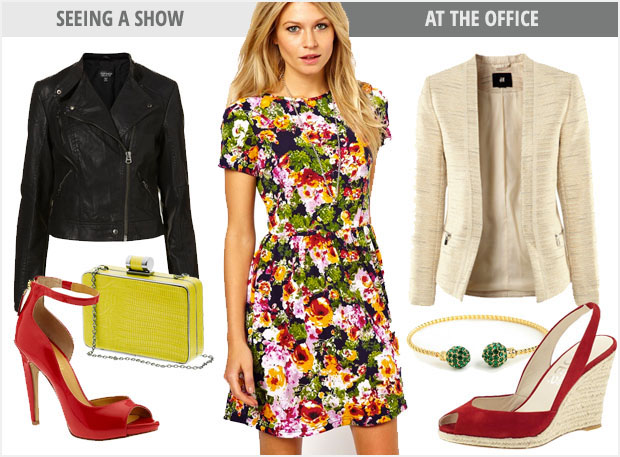 Question:
In April I'll be going to Vegas for a bachelorette party. Needless to say, my closet full of cardigans doesn't really scream Vegas. I'd like to buy a few new dresses (day and night) that are fun enough for the trip but can also translate into my life in the midwest. Any suggestions? – Alex
Answer:
First of all, I love this question. So many of us love fashion, love having a good time in Vegas, but may not be too keen on wearing a tight body-con dress half way up our hoo-has. And since that is the Vegas uniform, we face quite the dilemma. You don't want to waste your money on a dress you'll never wear again. So I've found a few dresses that work for both a bachelorette weekend in Vegas and occasions in your everyday life. Here's how to style these three gems for all sorts of situations.
This dress is perfectly versatile. It can work poolside, shopping around Vegas during the day, and you could even dress it up for dinner. I also love the casual shape because you can throw a cardigan over it, a pair of booties, and it's great for a weekend brunch back home.
The Dress: NastyGal Spring Fever Dress – $48
Poolside in Vegas: ASOS Bikini, UO Hat, Sam Edelman Sandals
Casual Weekend Wear: TopShop Cardigan, UO Necklace, Steve Madden Booties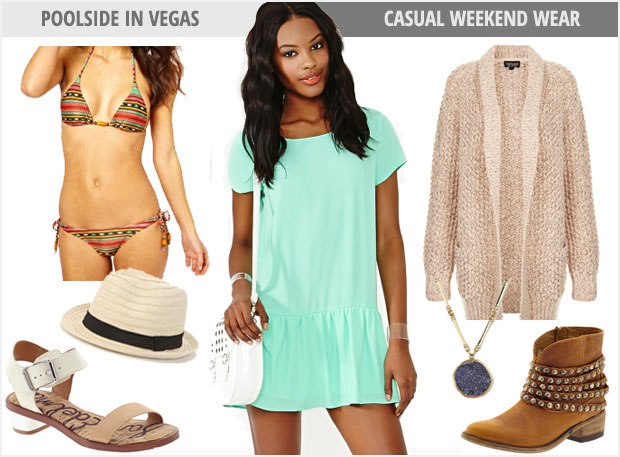 Now, for those dresses you'll wear clubbing? They don't have to be tight to be sexy. I love this off-the-shoulder frock and with your fresh Vegas tan, the white will really pop. Wear it with big earrings and a colorful pair of pumps for the clubs. When you're home, just throw a casual jacket over it and it's great for a dinner date with a friend or your man.
The Dress: NastyGal Slice of Heaven Dress – $48
Clubbing in Vegas: BareMinerals Eye Shadow, TopShop Earrings, BCBG Heels
Dinner Date: H&M Jacket, Sabine Necklace, Ivanka Trump Heels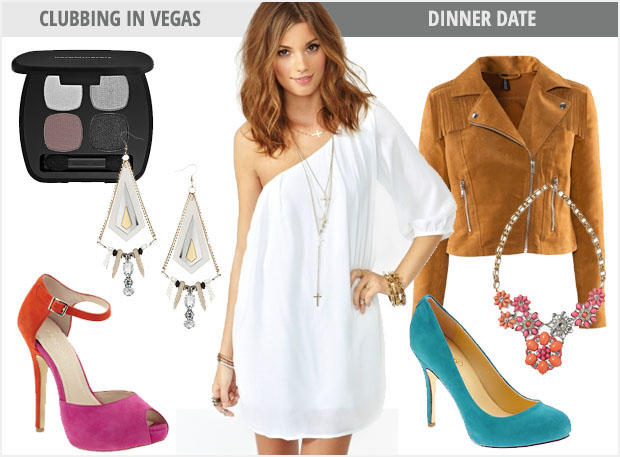 This floral number is a spring must-have. You'll wear it to so many different occasions, like the office with a blazer, summer music festivals, or even just shopping with friends. For Vegas, just add a fitted leather moto-jacket to dress it up for night and a sexy pair of pumps.
The Dress: ASOS Skater Dress $42.39
Seeing a Show: TopShop Jacket, Tinley Road Clutch, Nine West Heels
At the Office: H&M Blazer, BaubleBar Bracelet, Michael Kors Wedges