Amanda's Life
Fashion Week for Normal People
posted on September 12, 2012 | by Amanda Holstein

Oh Fashion Week – how I love and hate you all at the same time. As inspiring and exciting as you are, you also make me want to sleep for 5 days straight and retreat to the woods for a week with no phone, computer, or any other connection to civilization.
While some of the shows are invigorating and relight my passion for fashion when it seems to be waning, I'm just not a high fashion girl. I can't wear a $1,400 bag or strut around in Prada heels everyday. It's just not realistic for me, my lifestyle, or my budget.
Which is why I'm participating in the Old Navy Fit for Fall Fashion Show that will conclude New York Fashion Week! Yes, that's right, Old Navy. How much more relatable can you get? Having the ability to actually purchase the clothes you see on the runway will be a new experience for me (as well actually walking the runway – oh boy).
So if you'll be in New York this Friday, September 14th, definitely come by! The show is open to the public and will be featuring their Rockstar Skinny Jeans, which are crazy affordable! Plus, Jenny McCarthy will be hosting the show and I hear the night may end with a performance by the one and only….The Backstreet Boys!!! I might die.
I hope you can make it!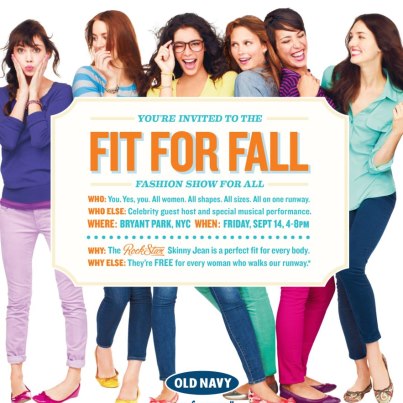 This post is sponsored by Old Navy.
Shop online or In Stores and find your perfect-fitting pair of The Rockstar skinny jeans at Old Navy.