Editor's Picks
#madewelladdict
posted on October 24, 2013 | by Amanda Holstein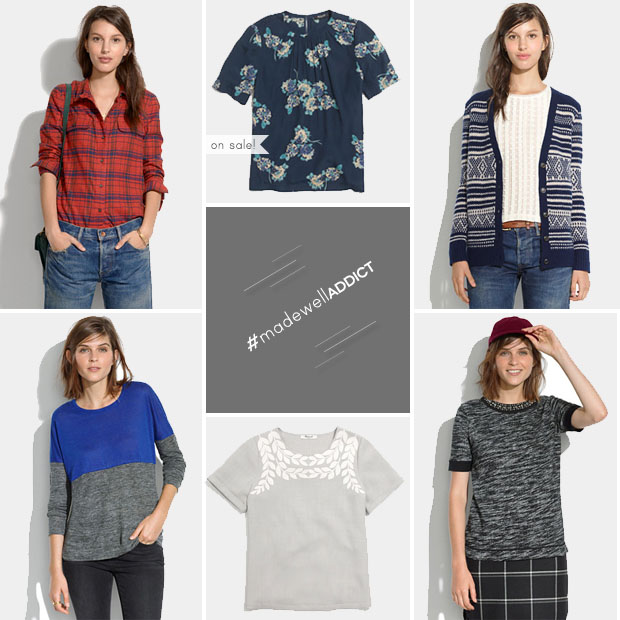 As you may have notice, I have somewhat of an obsession with Madewell. Okay, that's an understatement. It's taking over my wardrobe, and I'm totally okay with it. Just about every time one of my coworkers asks where I got that top or those jeans or those booties (or that necklace…or that dress…okay, I'll stop), the answer seems to be Madewell. So I thought, why not round up my top Madewell picks of the moment to show you all just how versatile, stylish, and well-made (wink, wink) the brand truly is. And since I seem to browse their site on the regular, I figured why not make this a series? So introducing…#madewelladdict, the first of many posts highlighitng some of my top Madewell picks of the moment. Enjoy!
Flannel Tomboy Work Shirt: $74 / buy here
The perfect twist on a classic plaid button-down, this shirt lets you rock the plaid trend without blending in. I love the faded red color and the relaxed fit.
Shirred Top in Hydrangea: $108 now $84.99 / buy here
Silk tees are a must for fall. I love this unique floral print because it can transition from any season flawlessly. Plus, any piece that finds a way to be both feminine and tom-boyish is a yes in my book.
Stitch Stripe Cardigan: $128 / buy here
I'm a majorly picky about my prints, which is one of the biggest reasons I fell in love with Madewell. They just get it right. This cardigan is the perfect mix of wintery fair isle and bohemian. I WANT.
The Colorblock Cafe Tee: $49.50 / buy here
Another important thing this brand always seems to get right? The fit. They can take a class tee and it will fall perfectly on anyone. Tight enough in the arms to slim you but loose enough in the mid section to hide that winter belly. Simplicity in its best form.
Ivy Tee: $98 / buy here
Taking something simple yet making it unique: there's another point for Madewell. This is truly a simple top but it has just enough flair to turn a classic pair of jeans into a really cool outfit.
Sparkletrim Sweatshirt Tee: $68 / buy here
It's easy to want to combine every trend of the moment and throw it into one piece. Some brands have trouble with this, but not Madewell (obviously). This tee is a great example of just that.
Some other items on my list include this amazing Leather-pocket Dress as well as this pretty ivory one.
So, what do you think? Have I turned you into a Madewell addict yet? Get shoppin'!
*I wish I could say I was paid to write this post. Butttt I wasn't. I'm truly just obsessed with Madewell.