Hair
Help Me Choose My Next Haircut & Color
posted on September 23, 2013 | by Amanda Holstein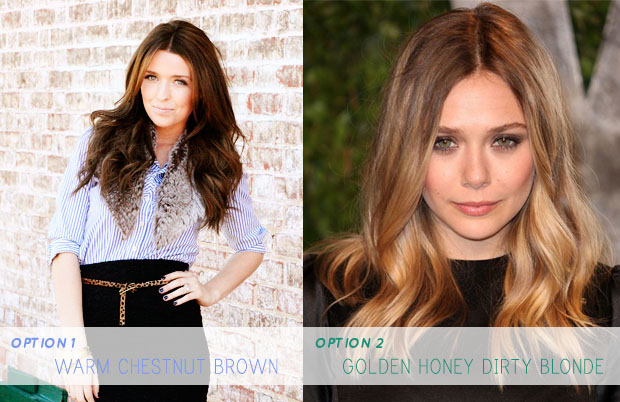 Tomorrow I have an appointment to get my hair cut and colored and I need your help! Since I've had this blog, you've seen my hair super short, I've attempted the Alexa Chung, I've tried going slightly darker than my natural color and slightly lighter, and I've had longer blonde waves. When you have that in-between mousy brown hair like I do, it's easy to want to change it up often, whether it's brightening it up by going blonde or keeping the color rich as a brunette. My hair also grows pretty fast so cutting it super short has never been too scary for me – it always grows back!
Now this time around, I'm not going for a massive change like I've done in the past, but I still need your help. I keep track of all potential haircuts and color options on my Pinterest board, and I've narrowed it down to the following:
Color
For color, one option is going slightly darker for Fall and warming it up with this rich chestnut brown. I've tried going brunette in the past but have never quite gotten the exact color I've wanted. This warmer color is one I've always wanted to rock. Or should I keep up with the lighter hues I have at the moment? I do love the color of my hair right now and think blonder shades brighten up my skin. I think the way Elizabeth Olsen's hair is slightly darker towards the roots is a gorgeous look as well – not exactly ombre – more natural.
Cut
I've had my hair shoulder length for sometime now and it's just hit the point where I'd consider it long. So the question is, do I keep the length but add in some fun choppy layers? Or should I trim it up just below the shoulders and try something different like blunt ends?
So what do you think?? Help me decide in your comments below!