Hair
Makeup
Skincare
How To Get Ready in 5 Minutes
posted on April 20, 2015 | by Amanda Holstein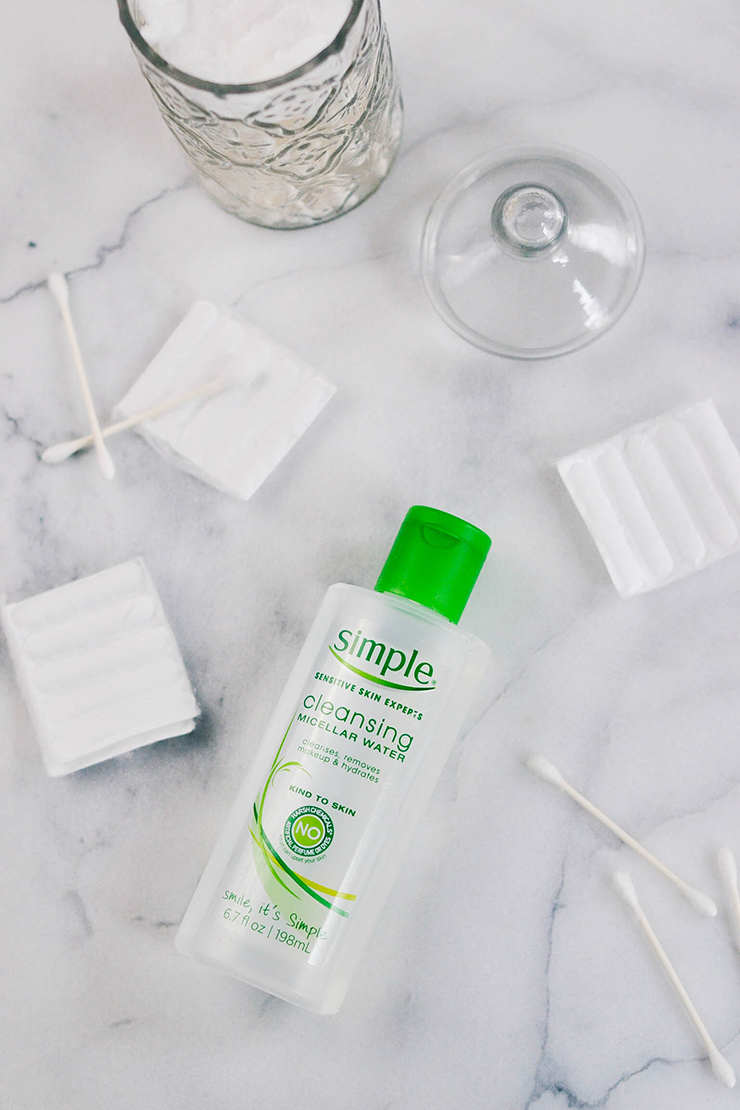 Mornings are hard. Especially when you still have the sleeping habits of a sixteen-year-old like I do. I could fall asleep at 10:00pm and still not wake up until 11:00am the next day. And when I do set an alarm, the amount of time I waste snoozing is a joke. I'm not proud of it, but hey, I love sleep. Because I am so not a morning person, having to get anywhere on time before 9:00am is seriously difficult for me. So I've had to master the art of getting ready quickly, and I'm here to share my knowledge with you lovely ladies. Ready?
Wash Your Face: 30 seconds
Washing your face and applying your moisturizer can definitely take longer than thirty seconds. However, I've found a secret all-in-one weapon that will save you so much time. It's the new Micellar Cleansing Water from Simple Skincare. First of all, if you haven't heard of Simple Skincare, it's one of my favorite drugstore skincare brands. Their products are seriously affordable, effective, and gentle enough for my dry and sensitive skin.
And their Micellar Cleansing Water? Let me just show you how easy this stuff is. Just squirt some on a cotton pad, wipe your face, and you're done. No rinsing and no moisturizer needed. And that's coming from someone who's face gets tight & dry after just getting it wet. I don't know how it does it, but it leaves my skin clean and hydrated in seconds. 
Apply Makeup: 2 minutes
We all have a few different ways we apply our makeup, depending on the occasion. Well add this to your repertoire: the two minute makeup routine for those days when you're in a rush. Just follow along…
1. Concealer & Foundation
Start by swiping on your concealer under your eyes, on the bridge of your nose, and anywhere else necessary. Without blending, swipe your foundation (I use bareMinerals Complexion Rescue) onto your cheeks, forehead, and chin. Then take your brush and blend everything together in one go. Much quicker than applying everything separately, right?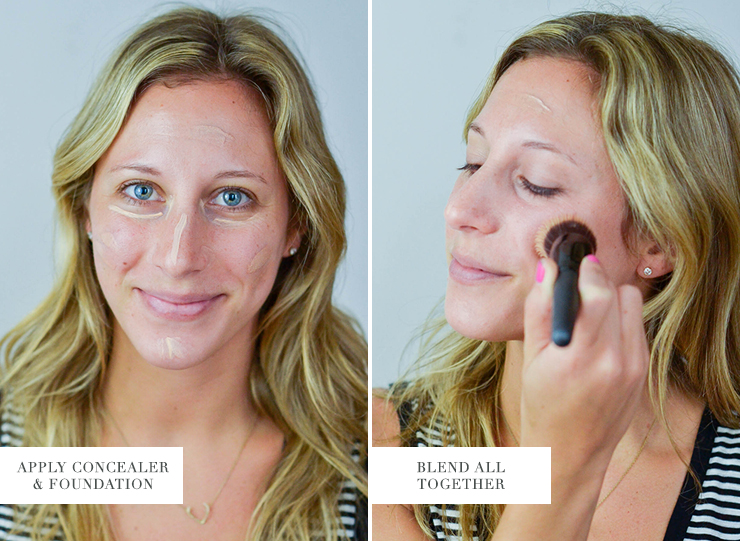 2. Bronzer & Blush
Next, quickly apply bronzer below your cheekbones and along your temples.
Then add a touch of blush to the apples of your cheeks.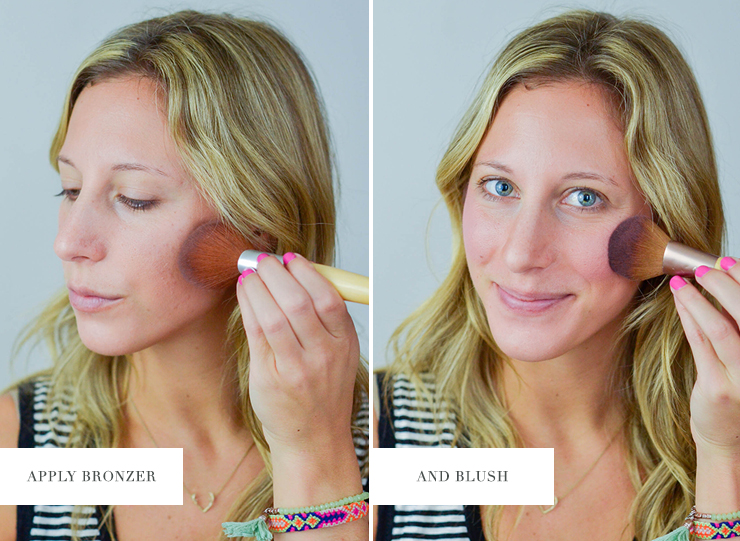 3. Eyebrows & Eyes
Fill in those brows with your product of choice (I'm a fan of Benefit's Brow Pencil). Use a creamy pencil to apply a quick swipe of liner to your top lashline. Finish with your favorite mascara (mine's bareMinerals Lash Domination) and you're done!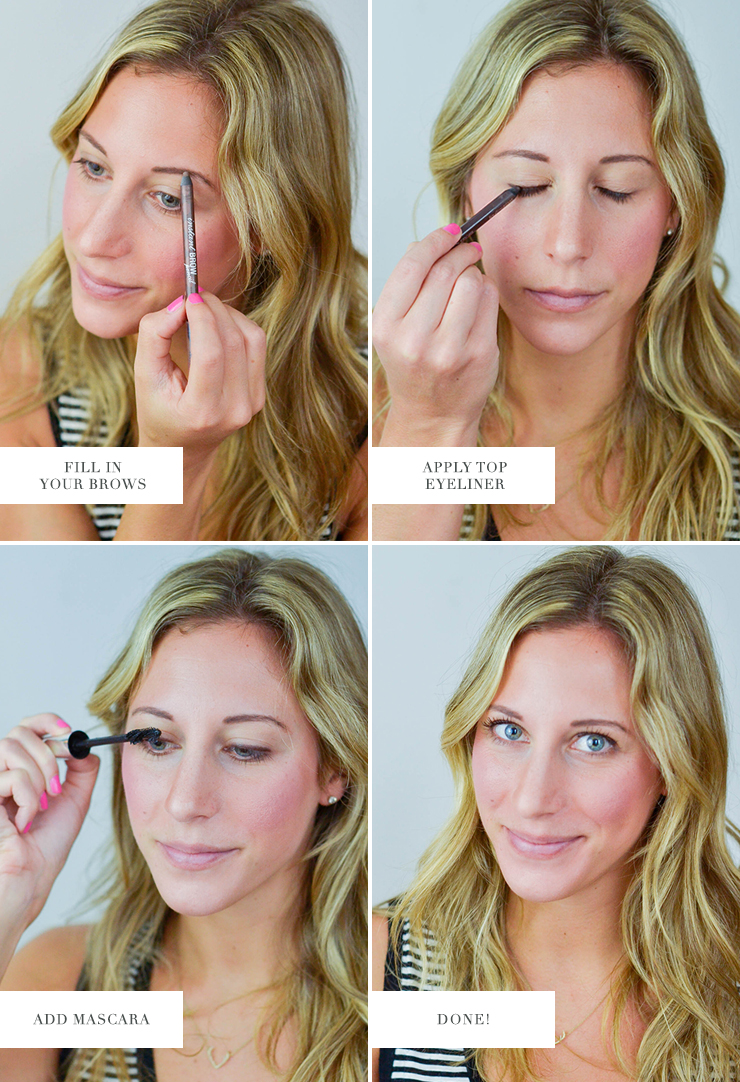 Do Your Hair: 1:30 minutes
It's important to have a go-to hairstyle for those days when you just don't have enough time. My trick? I always brush my hair morning and night to prevent frizz and breakage. Also, sleep with it down or in a loose braid to prevent crazy kinks. In the morning, just straighten out those random kinks around your face. Then add a dab of de-frizz creme that actually works (try my favorite Frizz-Ease Secret Weapon Finishing Creme!). I'm also a fan of the "no part" look when I'm in a hurry and the front pieces just aren't behaving. Simply tousle your hair over to one side and you're good to go!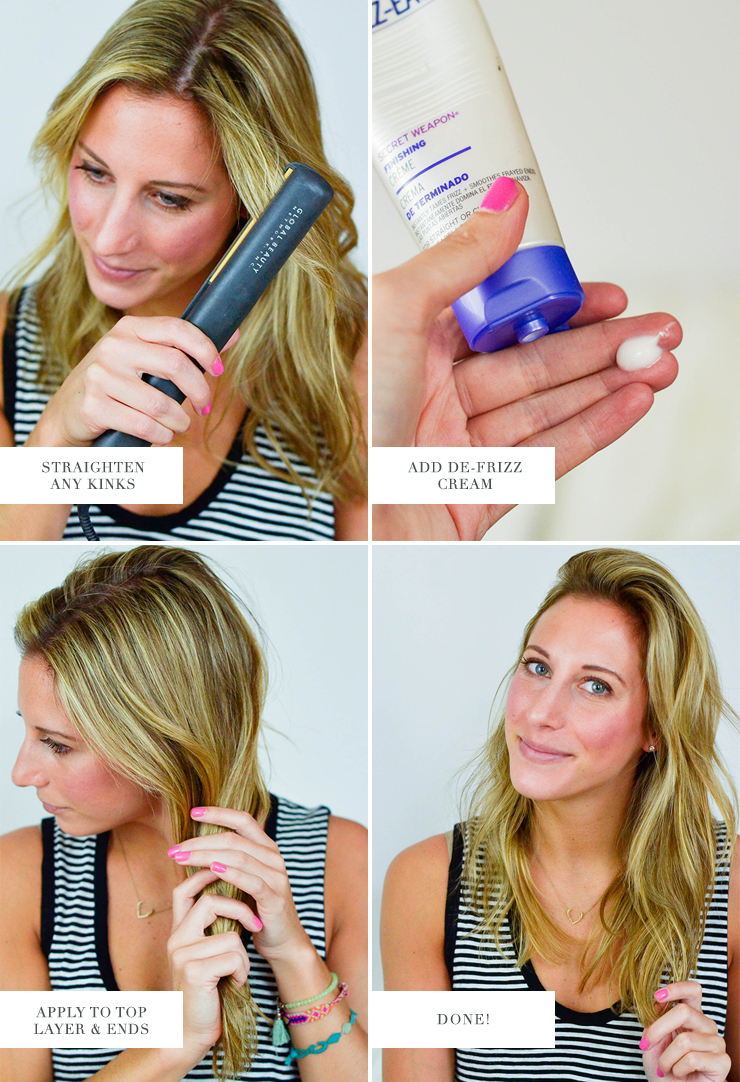 Get Dressed: 1 minute
The key to picking out your outfit quickly? Have your own "uniform" that you can always rely on. Maybe you love skinny jeans, a classic white blouse, and pumps. Or maybe you're like me an opt for boyfriend jeans, stripes, a chunky cardigan and booties (of course). Find out what's easiest for you to throw on and feel good in, and make that your go-to look for days when you're in a hurry.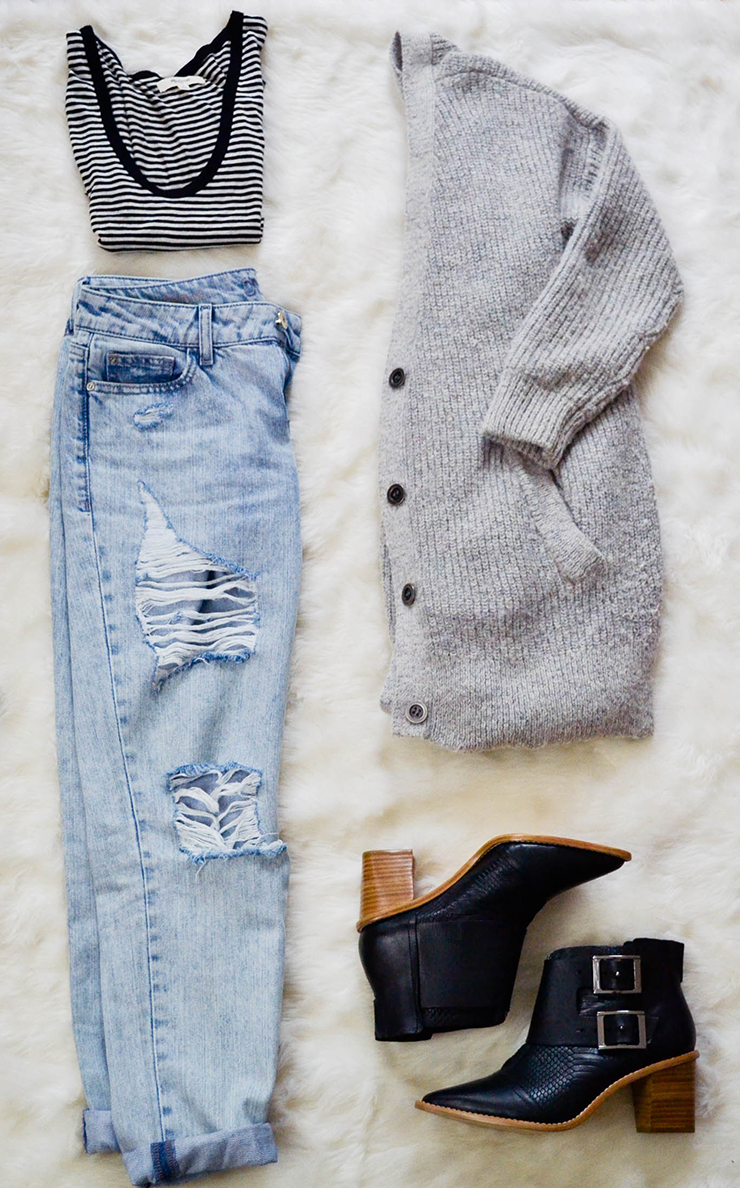 //
Compensation for this post was provided by Simple Skincare via AOL Media.  The opinions expressed herein are those of the author and are not indicative of the opinions or positions of Simple Skincare or AOL.