Decor & Styling
DIY
How to Revamp Your Room on a Budget
posted on October 24, 2019 | by Hannah DiBella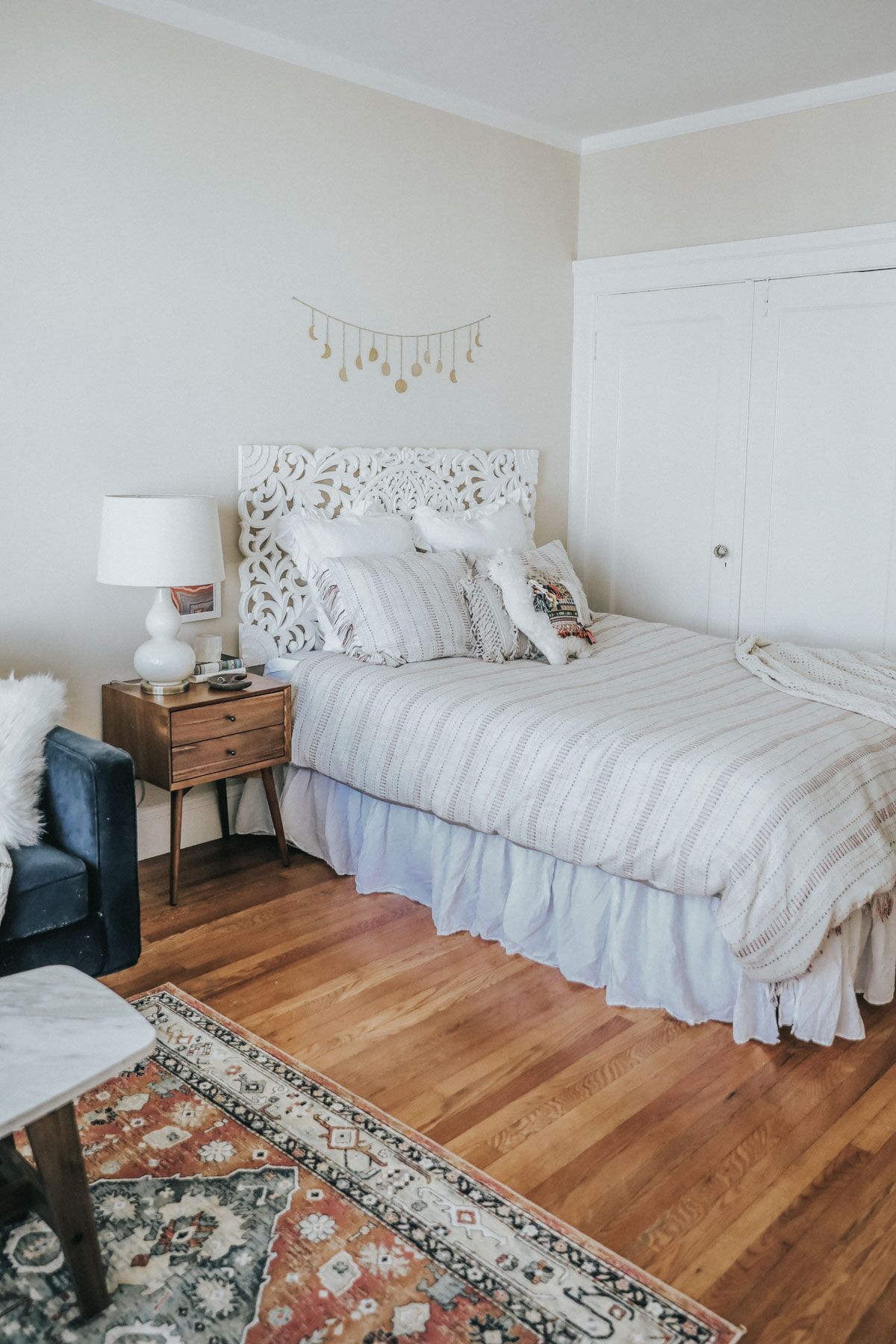 If you're anything like me, your room is your little sanctuary. It's the spot that you're able to express your style within and make special. I moved into my first apartment about two months ago and have already switched up the decor three different times. You may be thinking to yourself, "Alright, that's pretty overboard." Which it is, BUT, it also means I have become a pro at doing it cheaply. So, here are a few tips for you on how to revamp your room on a budget.
Reuse
You might see this tip and think, well…isn't the whole point of redecorating getting new things? Valid argument, however, you'd be surprised how far reusing old decor gets you. Not only does it save loads of money, but it holds sentimental value as well! The items you re-use don't have to be yours either. Ask family members if they have anything lying around the house that they don't use and make it into something yours. Maybe something that's been in the family for years that fits your style or all it needs in new paint to do the trick. Or maybe a token from your childhood that you could modernize in your own way (like a "vintage" headboard or dream catcher).
Utilize Pinterest
If you're a crafty person and aren't already using Pinterest, well, you better start. When I struggle to find ways to cheaply make something, Pinterest ALWAYS pulls through (especially this DIY board). I start by creating a new board and finding pins that fit an overall aesthetic that I'm trying to achieve. After I collect copious amounts of pictures of people's rooms within my board, I start looking for decorations I am able to make myself.
Something I LOVE about Pinterest is that within a pin, people occasionally link step-by-step instructions on how to make things. I tried to achieve a very simplistic, boho theme in my room this year but struggled to find ANYTHING decently priced. Sorry, but I will not be spending almost 50 dollars on macrame. Instead, I took to Pinterest. I found a pin that showed me exactly how to knot and weave rope into a pretty little wall decor! And the best part is that I paid a total of $15 dollars for it and still have supplies left over. Great, right? You can do this with a ton of different decoration ideas and save so much money while doing it!
Thrift Shop
If you have read my previous post about thrifting, you probably could have guessed that I was going to suggest this at some point. Not only is thrifting a great way to save money on clothes, but it is an even better way to save money on home/room decor. Most thrift shops have sections filled with home goods such as chairs, couches, paintings, tables – you name it and they most likely have it.
Thrifting allows you to take something that may be a little run down or out of style, and make it into something completely new and updated. With a lot of items, all it needs is a little paint, new upholstery and love to spruce it up. Thrift stores are also notorious for having little vintage nik-naks that can be used for decor. One of my favorite things to get are small, woven baskets and use them as desk organizers. They not only do the job of keeping everything in one place, but look SO much cuter than a cheap-y plastic bin. Another way to use these baskets are nailing them onto walls as decor. These baskets cost me about 10 dollars max and they are so versatile, making for a great item to have in your room!
Overall, it is hard not to immediately go onto Urban Outfitters, shop the home department, and spend way too much money. I get it! I still have to hold myself back if I'm being completely honest. But, I have also learned how to use their items to get inspiration, make something, and cut the price in half! Reusing, using Pinterest, and thrifting for home decor is something that will make you get creative and really make your space unique. I mean, what is better than having something that nobody else does AND saving money!?
For all you impulsive decorators out there, what is your favorite way to re-decorate on a budget? How do you get ideas for new decor?