Outfits
Mastering Festival Style
posted on April 10, 2015 | by Amanda Holstein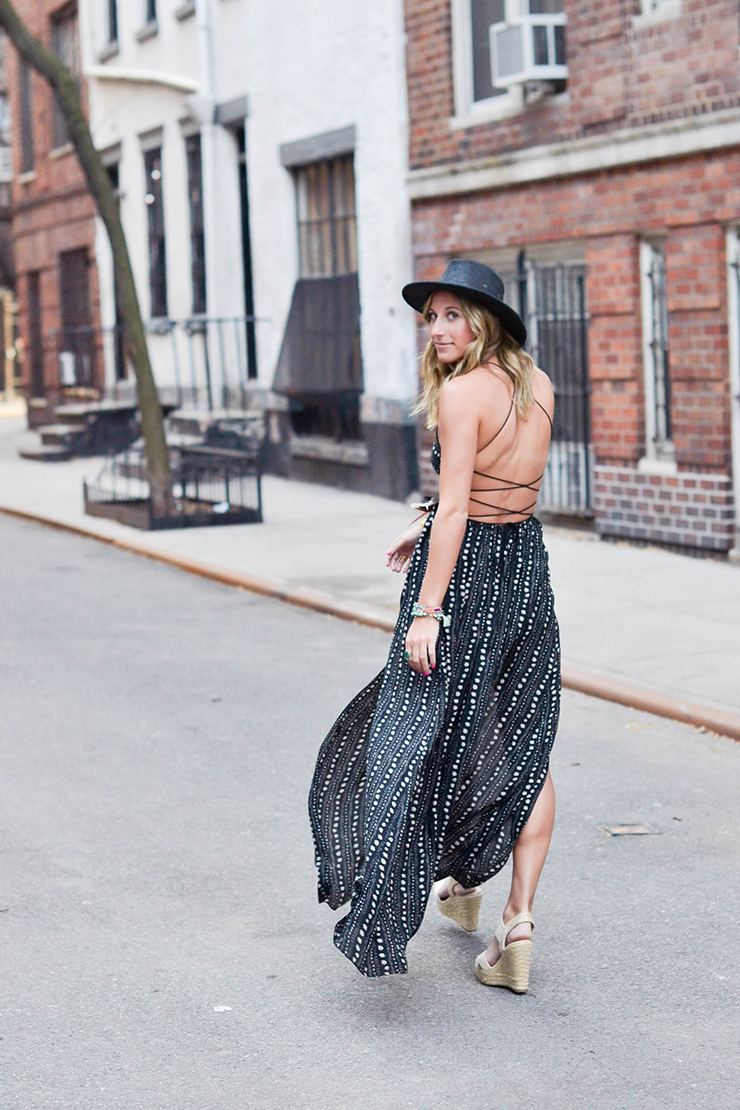 With today being the first day of Coachella, I'd say festival season has officially began. So of course that means it's time to talk festival fashion. I have some rules when it comes to festival style. While I'm a huge fan of that bohemian, hippie-inspired look, it's easy to take it too far. The last thing you want is to look like you're wearing a Halloween costume. It's also important to be comfortable and to dress appropriately for the weather. While Coachella can get super hot, I usually attend the San Francisco music festivals (like Outside Lands, Bottlerock, etc.), which can get on the cooler side at night. No matter which music festivals you're attending this season, make sure you check out these tips before you put together your look!
Think 70s-inspired with a modern twist
When you're choosing your 70s inspired look, be sure not to take it too literally. If you go for high-waisted shorts, make sure they're long enough and come in a modern print. If you're opting for a maxi dress like this one (I'm obsessed!), again make sure the print is modern and the silhouette feels current as well. Bohemian prints are a perfect nod to the 70s.
Opt for Comfortable Shoes
While strappy heels are certainly a spring staple, I highly recommend choosing comfortable shoes you can wear all day on the grass. Sneakers and slides are a great option for a more laid back look. Or if you want a little height, wedges are the perfect choice — they're comfortable and they hold up on grass. Thanks to DSW, I got to try out these Steve Madden wedges. They're the perfect neutral for spring & summer, plus they're a steal right now on DSW's website. They also have tons of other affordable options from brands you love, so before you go directly to your favorite brands, make sure you check out DSW first. I'm a sucker for a good steal!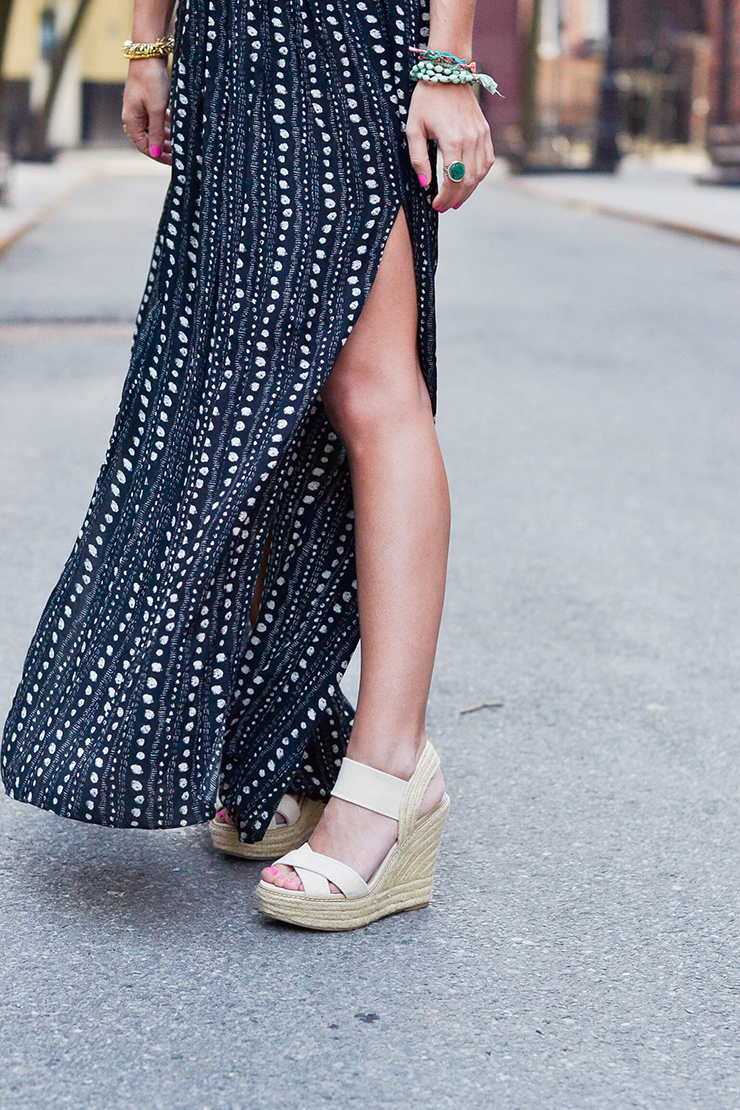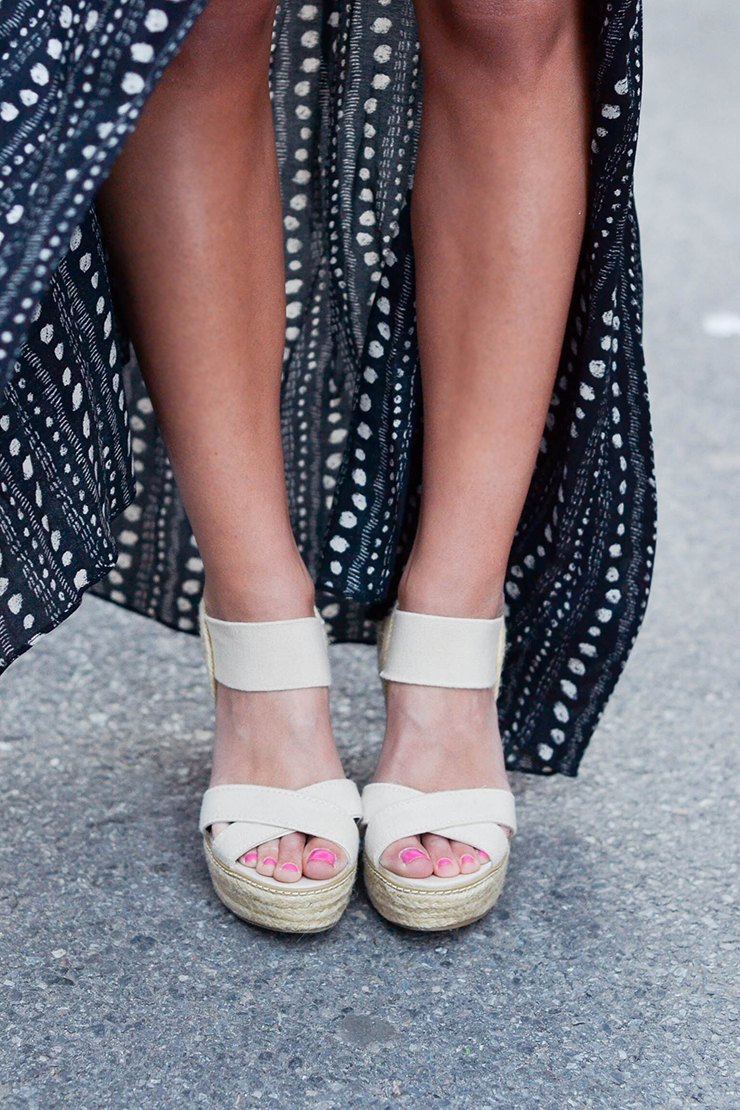 Stack on the jewelry
No festival outfit is complete without tons of bohemian-inspired jewelry. Stack on the rings, colorful bracelets, and pendant necklaces. Just be sure you're picky with what you choose. Don't just stack 'em on for the sake of it. For example, I went with golds and turquoises to keep the look consistent.
Bring an outer layer
I always recommend bringing an outer layer with you. Even if you don't get cold enough to wear it, you can always lay it on the grass to sit on. Go for a denim jacket or a slouchy cardigan like this one.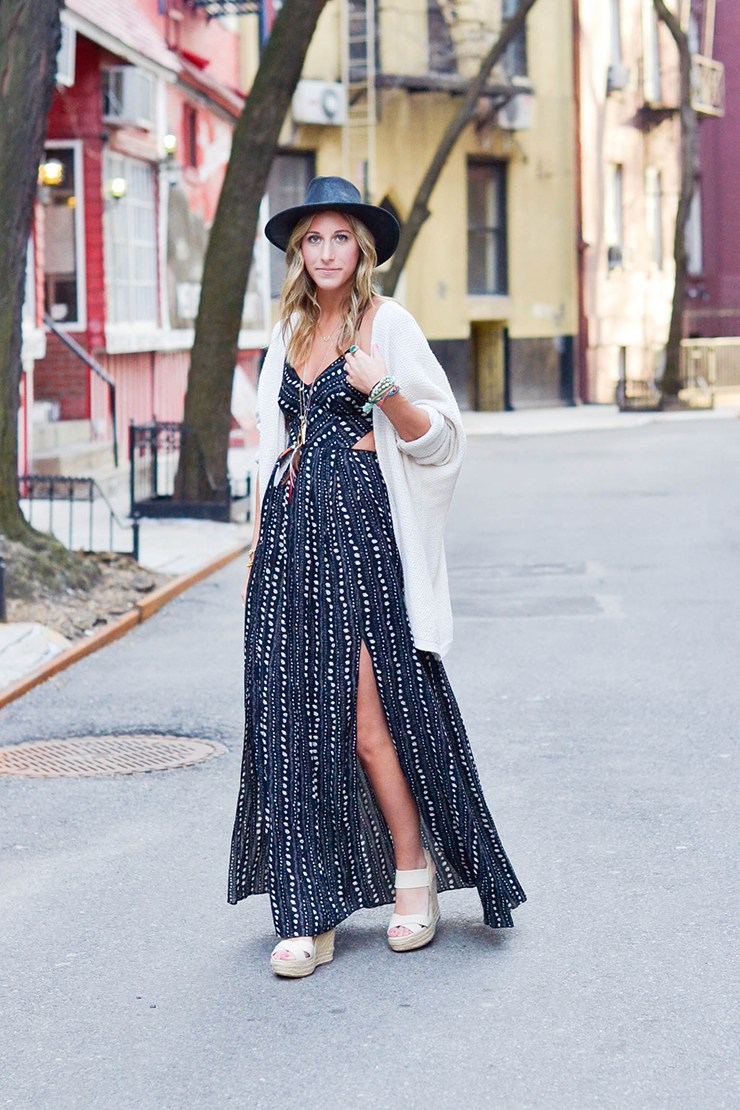 Shop the look:
Steve Madden Wedges via DSW
Urban Outfitters Dress
Free People Hat
Urban Outfitters Necklace
Free People Necklace
Free People Bracelet (1), (2)
Free People Ring
// This post was sponsored by DSW through their partnership with POPSUGAR Select.
While I was compensated to write a post about DSW, all opinions are my own.