Outfits
Travel
My Go-To Travel Outfit
posted on April 13, 2017 | by Amanda Holstein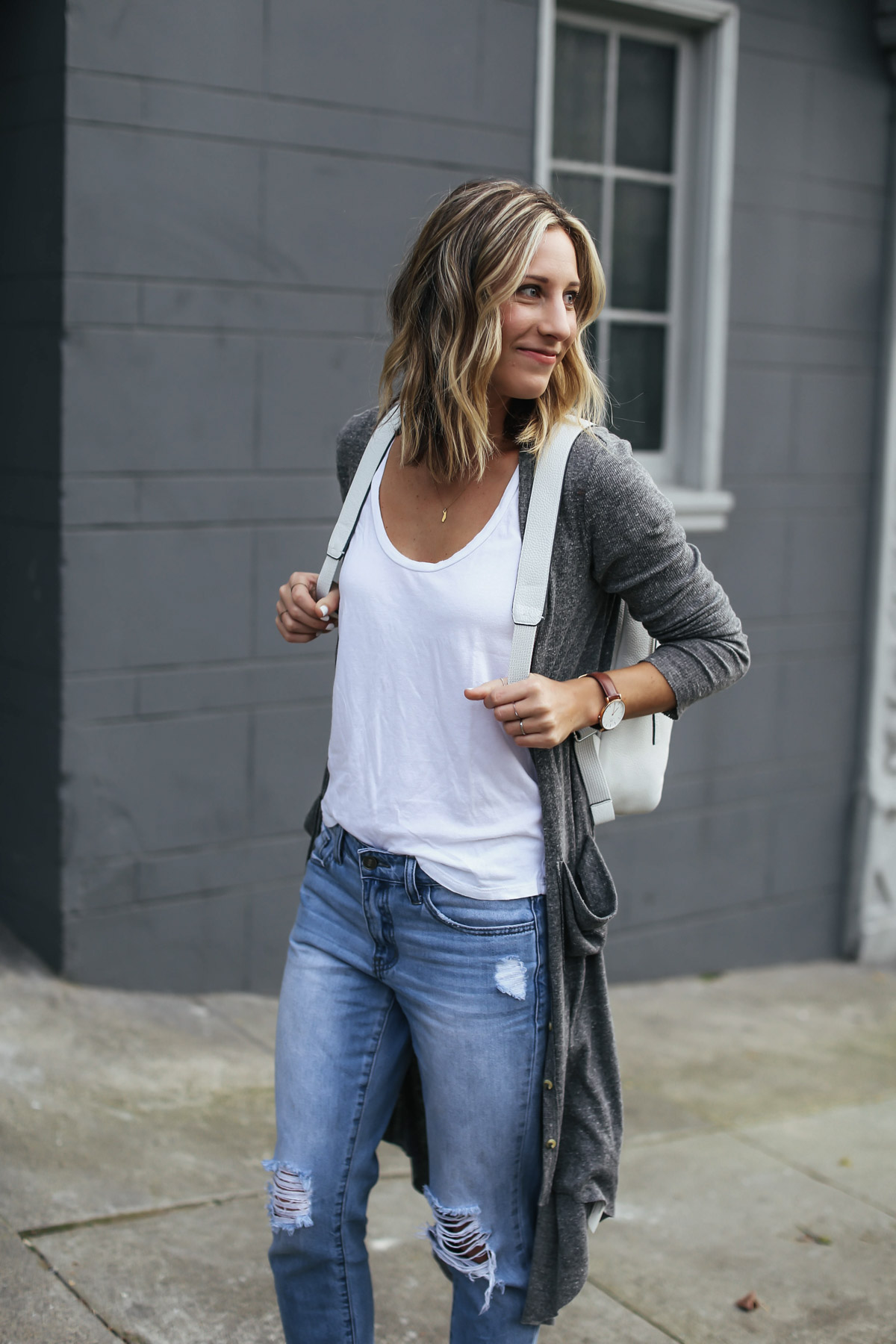 Thank you Zappos for sponsoring this post!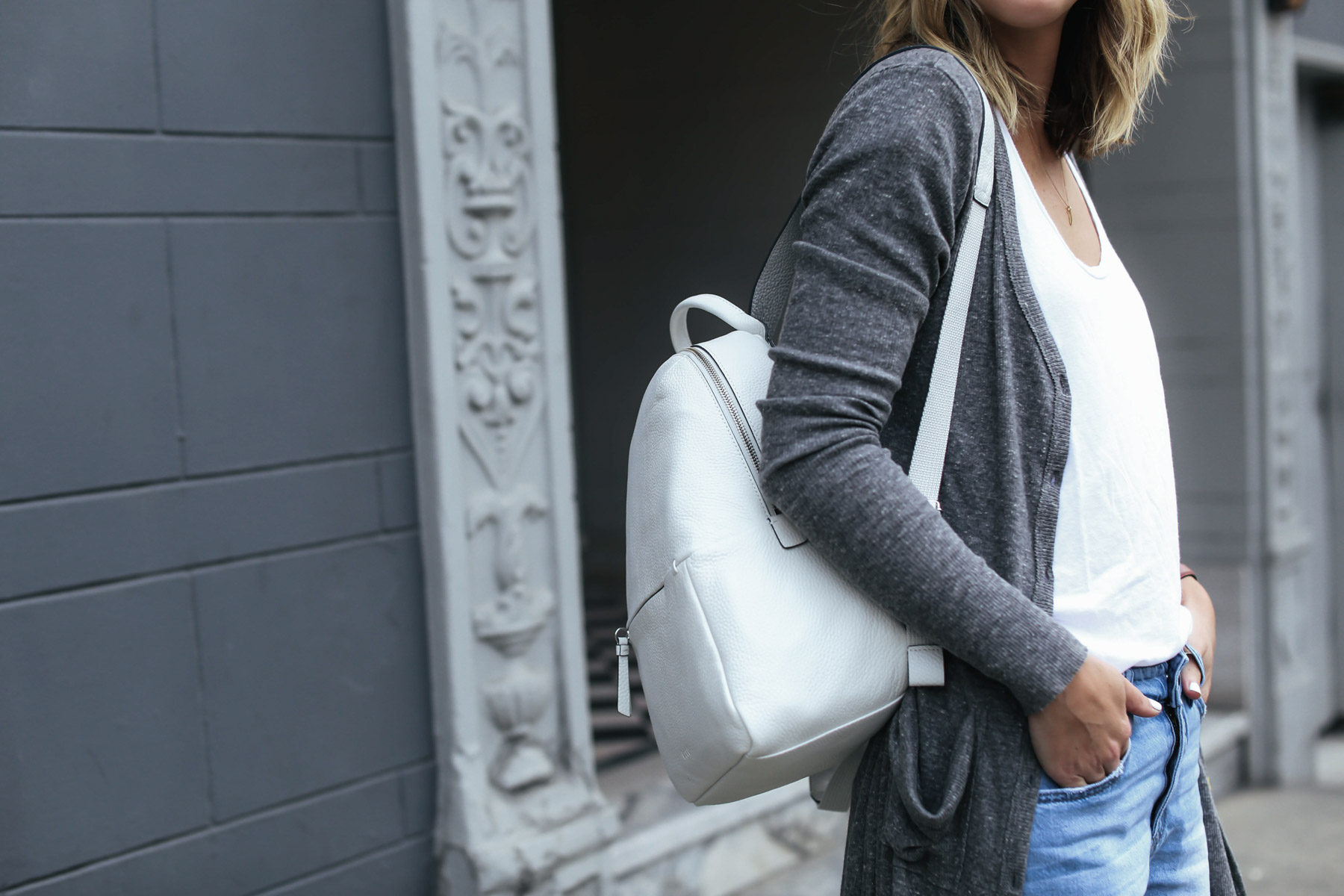 Remember when wearing plaid pajama pants and slippers on the plane was totally acceptable? Well, it's not anymore. I'm all for being comfortable, but there's no need for looking like you just rolled out of bed. Whether you're hopping on a plane, going on a road trip, or running around exploring a new city, my go-to travel outfit is functional for all situations (and stylish!).
1. Comfortable Shoes
Wearing shoes you can walk around in for hours is so important when you travel! Whether you're walking around a new city or running to catch a plane, you need a pair of shoes that are functional. But since functional is never enough, try these incredibly cute leather sneakers! I love the minimalist style of these ECCO sneakers. The combination of that mahogany leather and sleek white laces make them my perfect sneaker! Plus, they are insanely comfortable. Like most of my shoes, I ordered them from Zappos.com — seriously couldn't live without their free 2-day shipping. Plus, their customer service is AMAZING.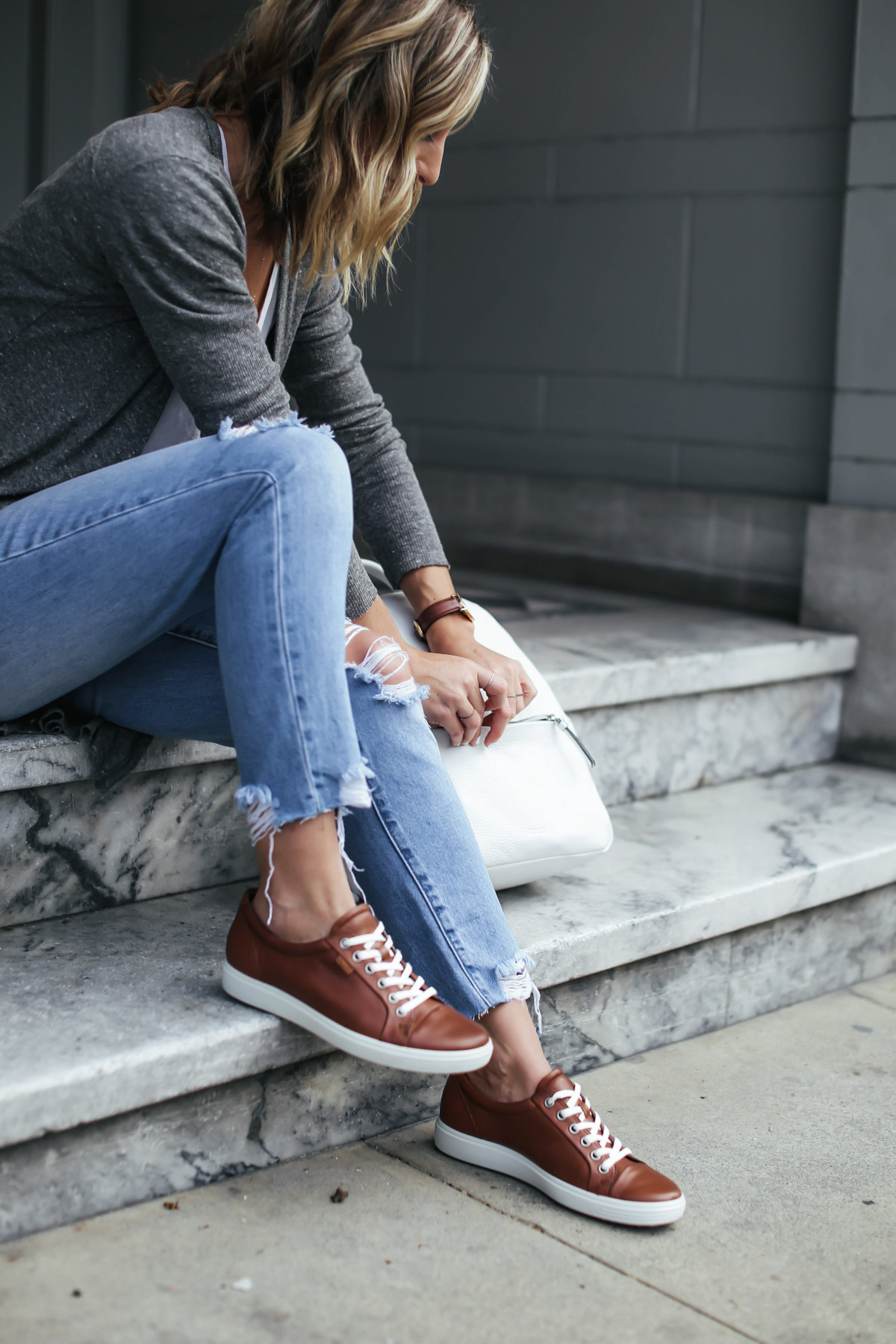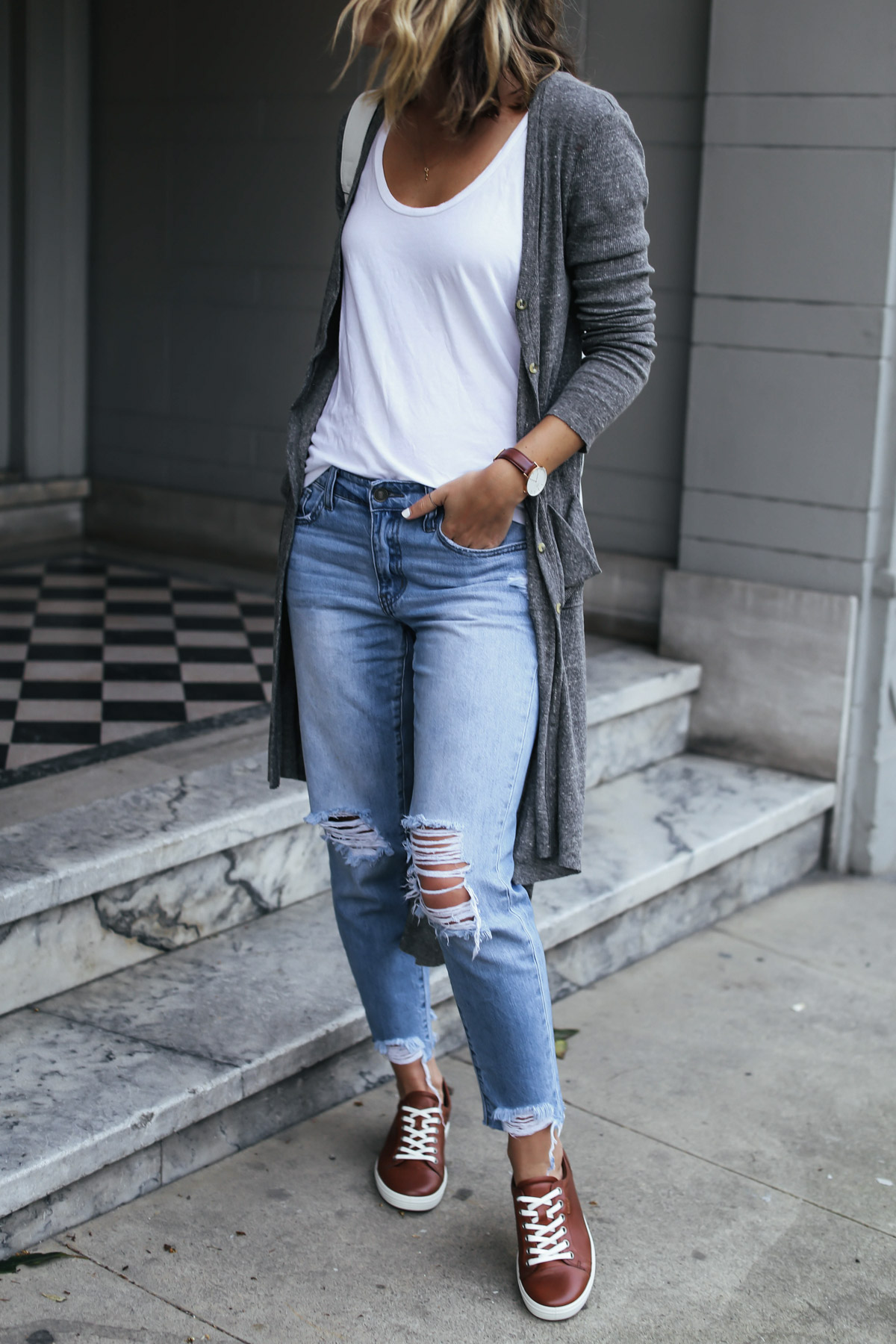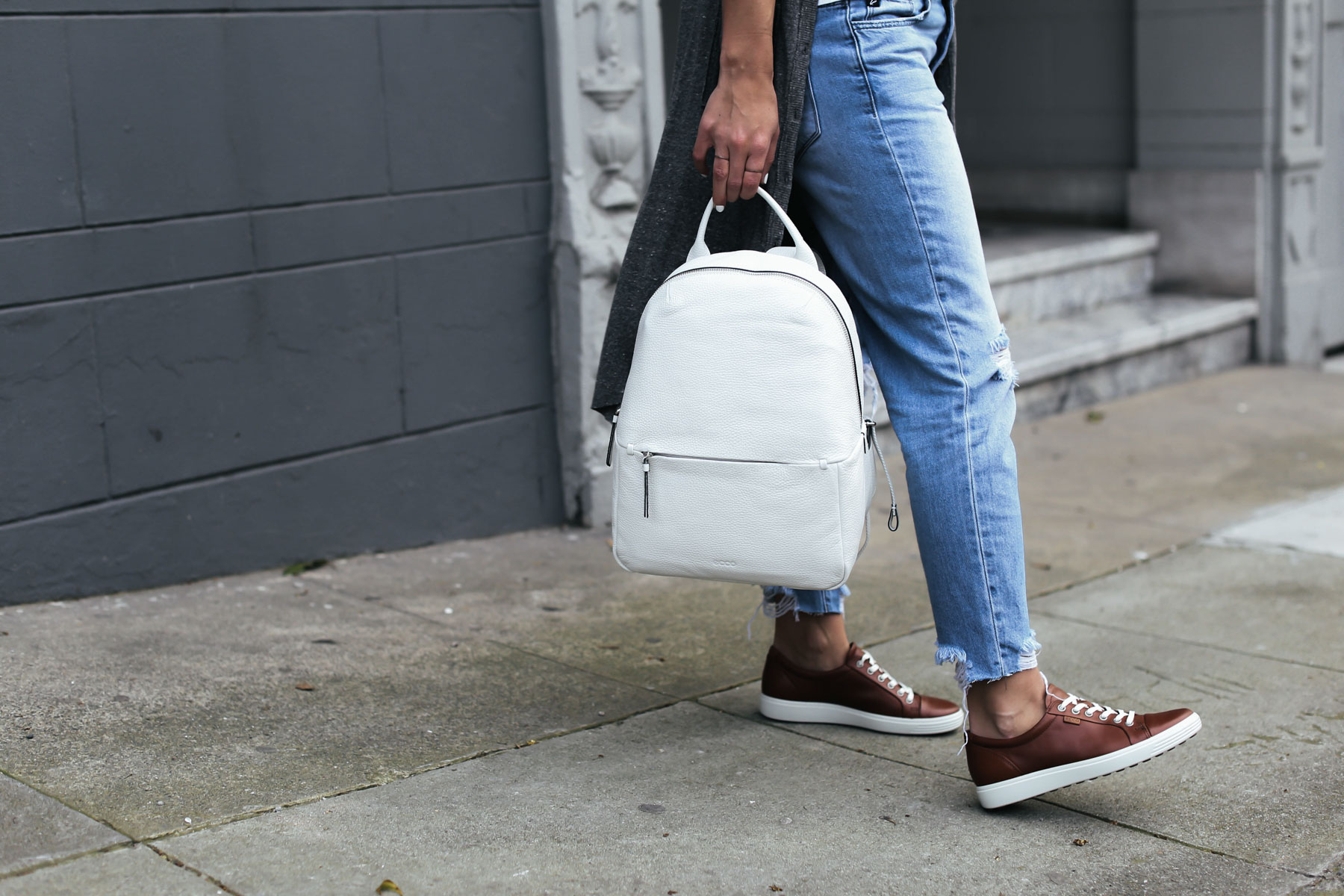 2. Loose-fitting Jeans
I don't know about you, but I can't travel in skinny jeans. Even my most comfortable pair feels too tight when I'm sitting on a plane for hours. I always opt for a looser fitting pair and some distressed detail for a casual vibe. I love the ripped hem on these babies! Jeans will help you feel more put together, and they work for any occasion. So if you show up to your destination and need to go straight to dinner, you can easily change your top & shoes and be ready to go. Just make sure they're super comfortable since that's most important when you travel!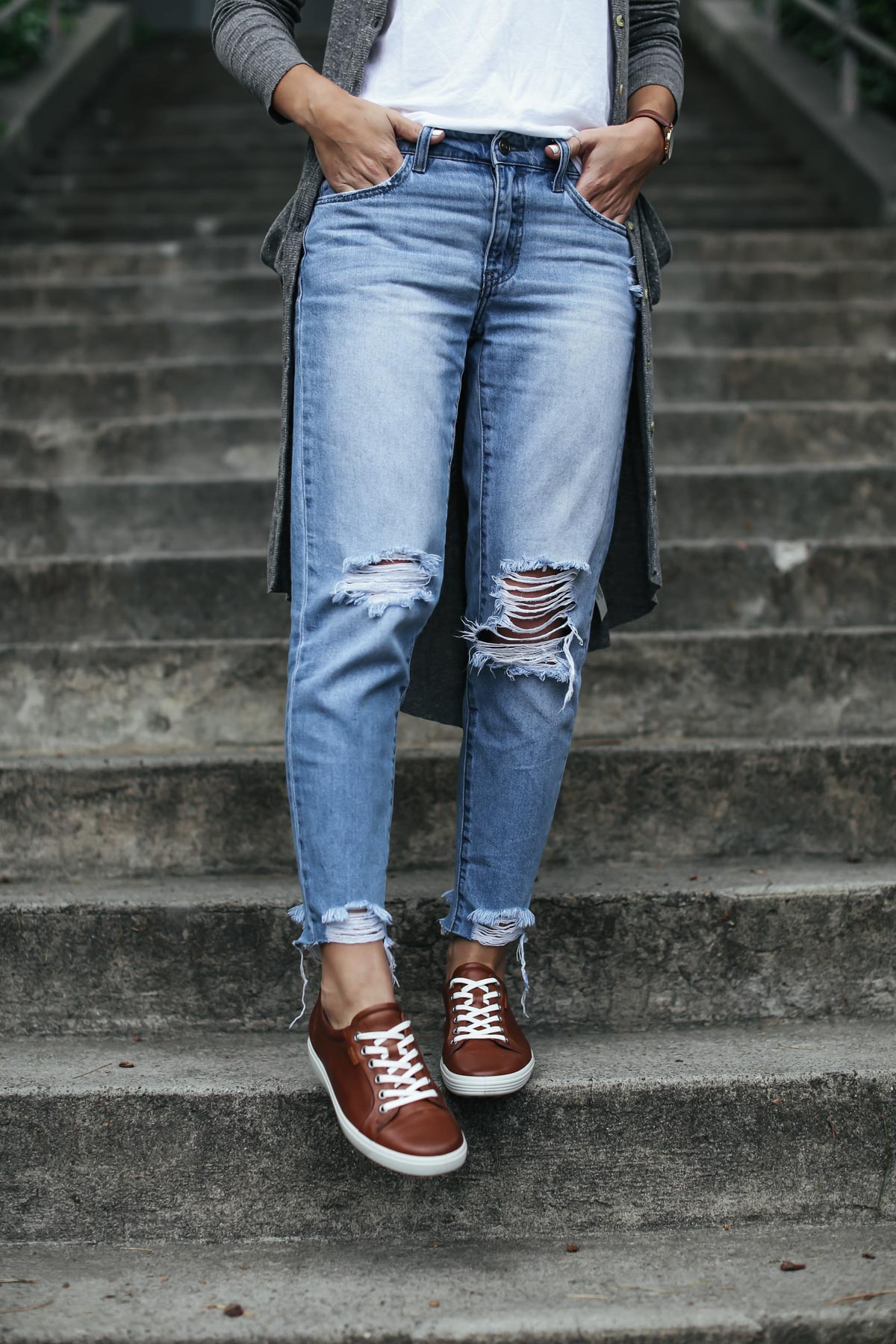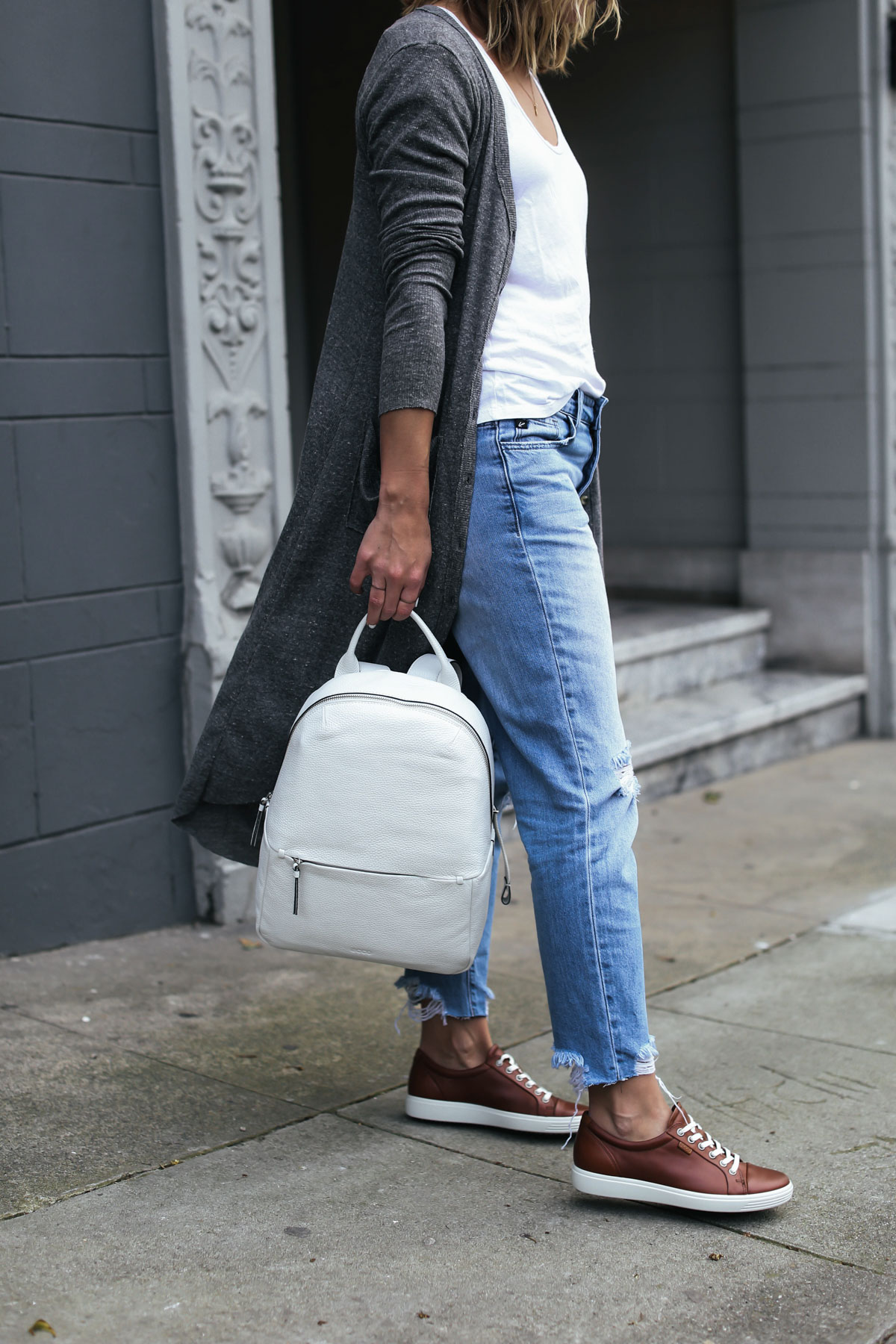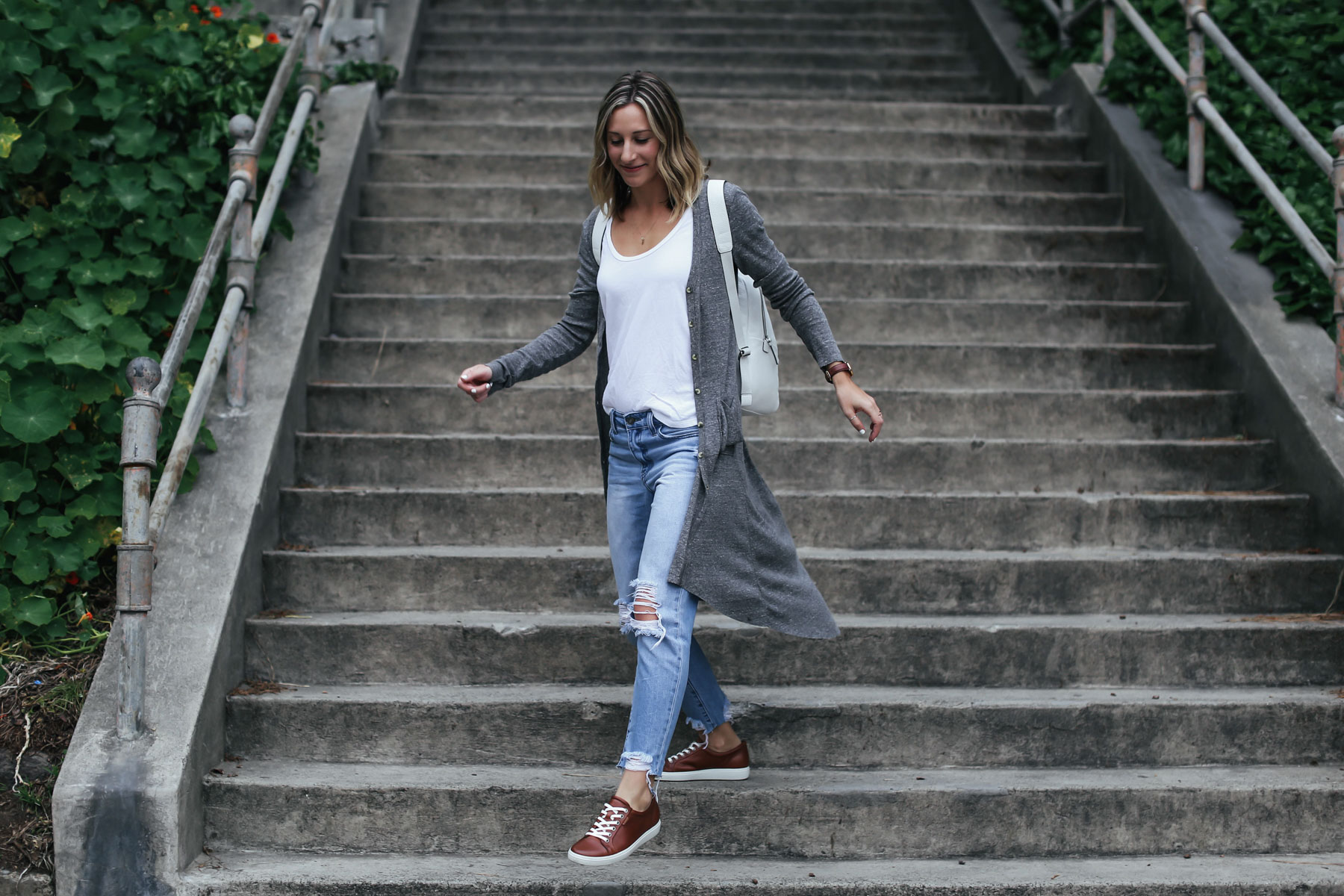 3. Layers
Layers are key when you travel! Planes always get cold and chances are the weather at your destination is different from where you started. I always go with a super soft tee and layer a cardigan over it (love the extra long length on this one!). I like to choose a tee and cardigan that I can also re-wear throughout my travels. So opt for simple, neutral pieces that you can easily mix and match with the rest of your wardrobe.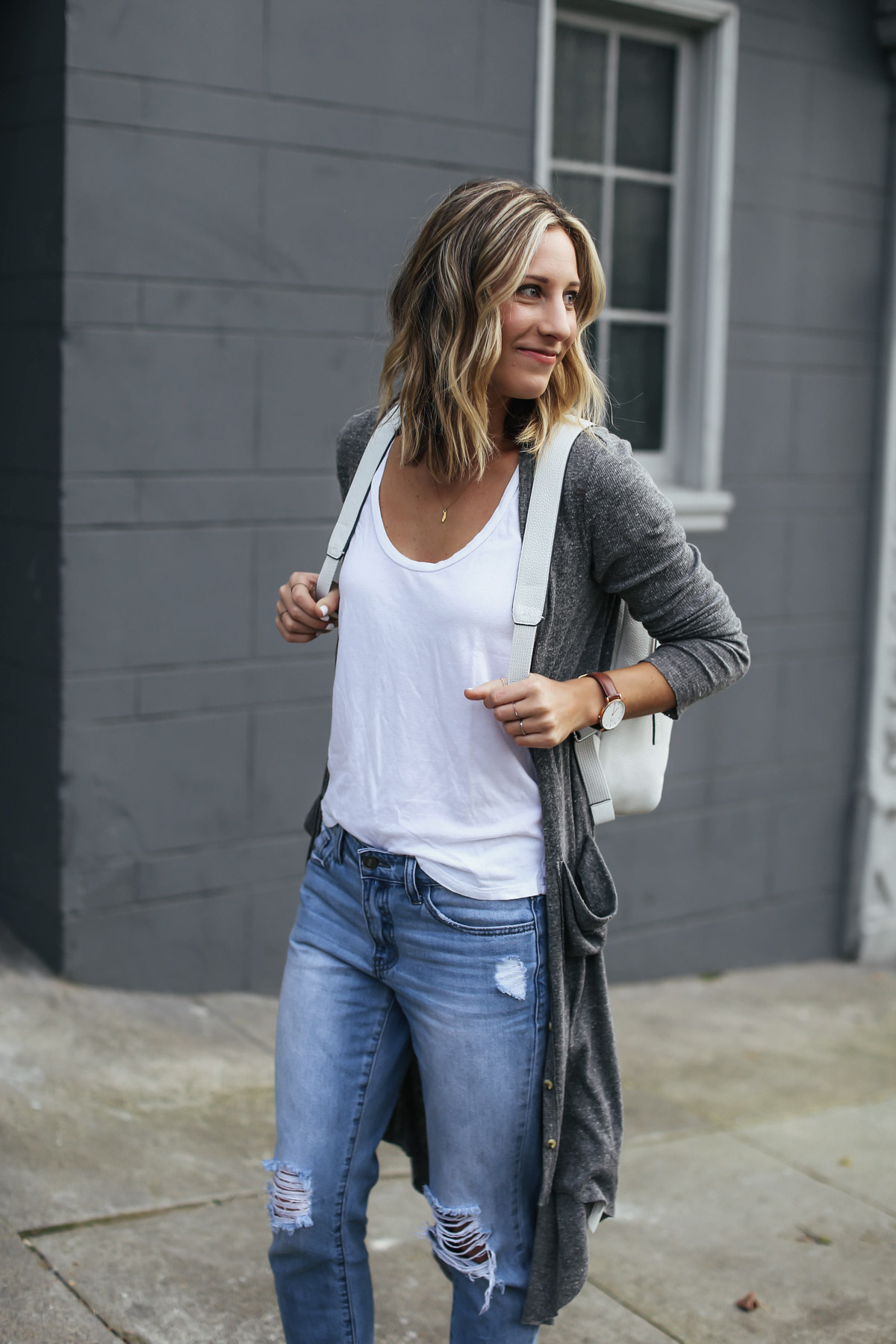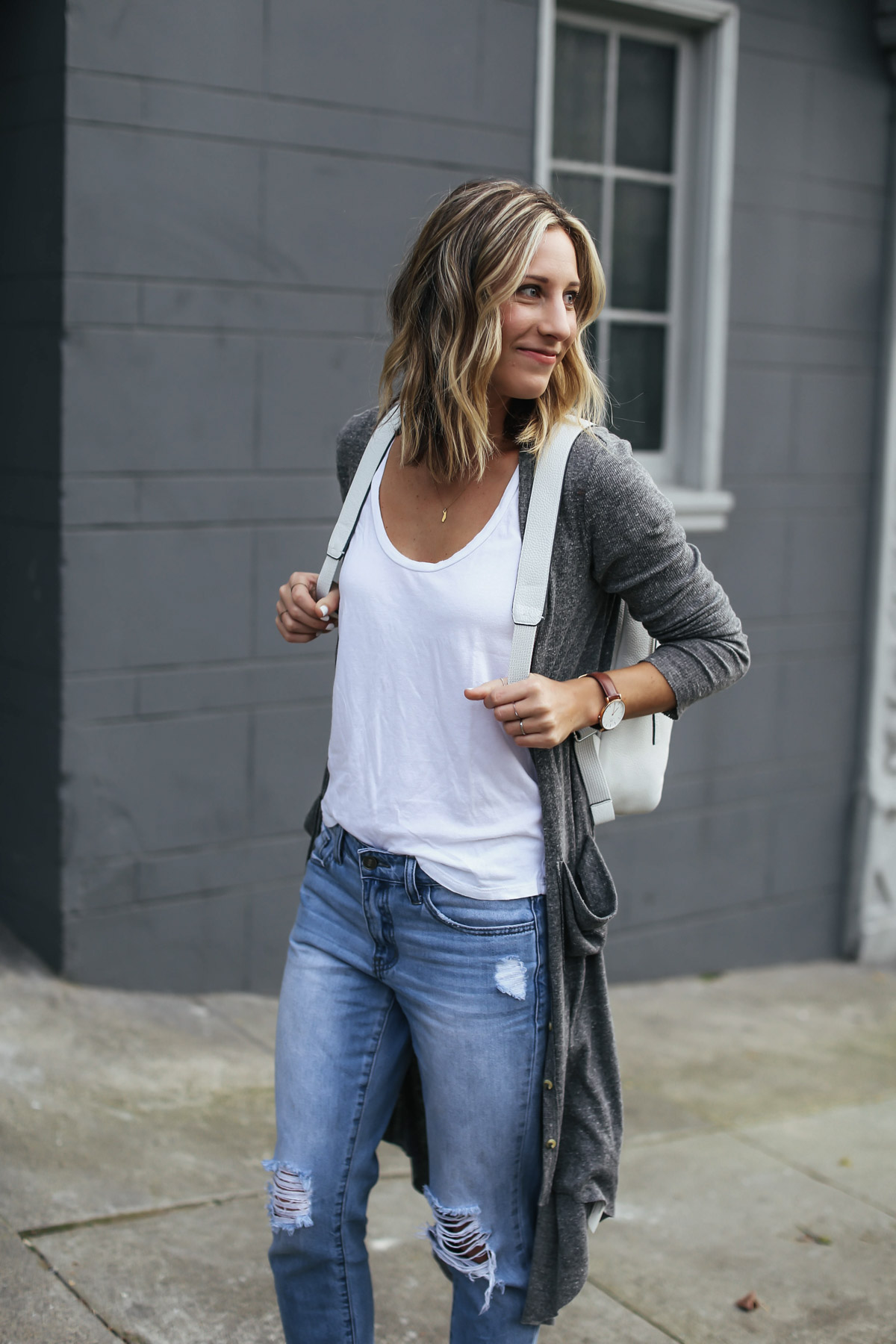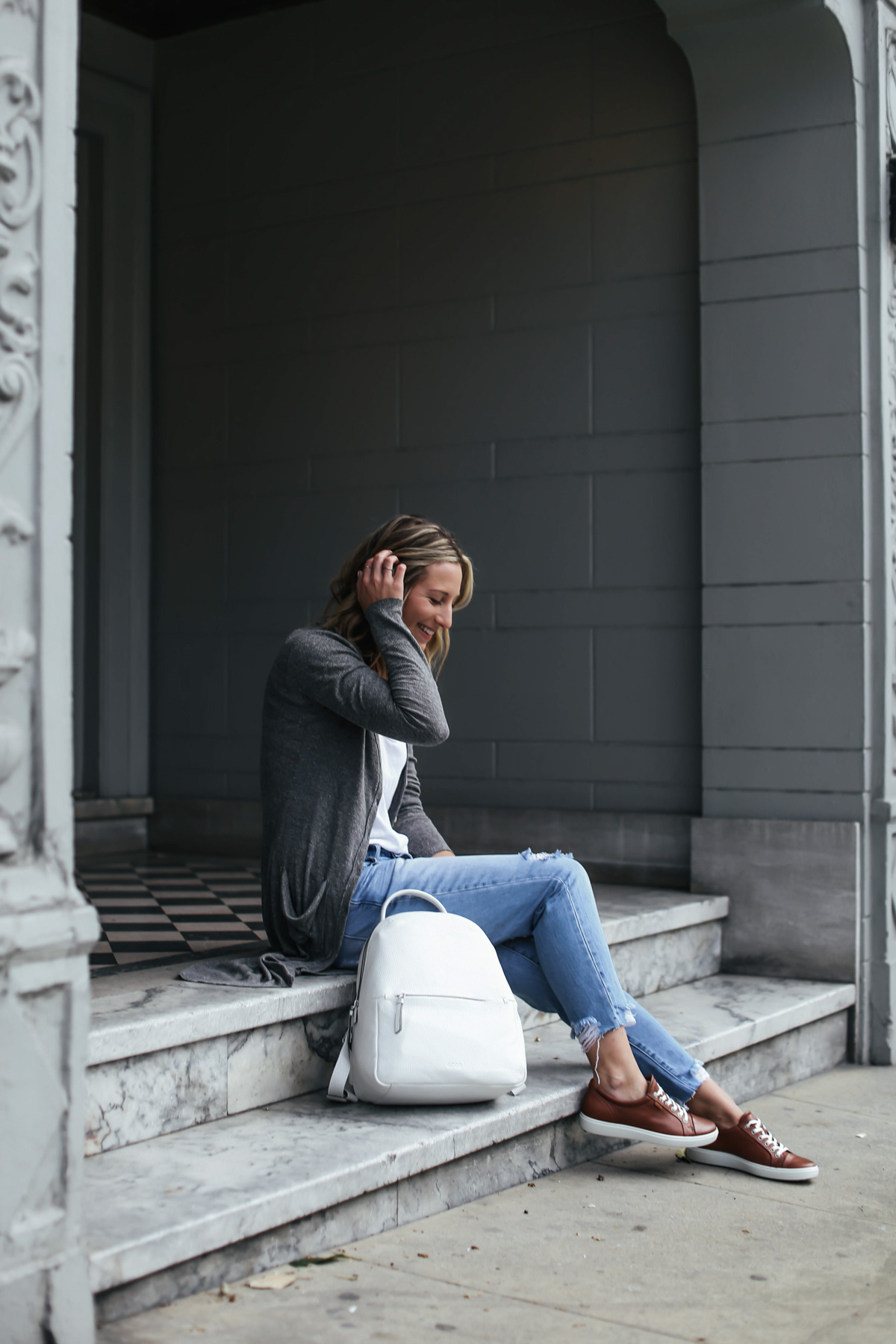 4. Travel Bag
I've always carried tote bags with me when I travel. On a recent trip to Spain, I swapped my usual tote for a backpack and I don't know if I can ever go back! Between my laptop, a book, a notebook, and snacks, my travel bag always gets so heavy. Carrying everything in backpack form is so much more comfortable! Plus, it's easier to carry when walking around a city and exploring new places. But, of course, I don't' want to just carry around any old backpack. So I got this gorgeous white leather one from ECCO and it's my new favorite piece! It goes with everything, fits my laptop, and makes me feel more put together. I also snagged this baby on Zappos.com!