Career Advice
On Making The Jump to Freelance
posted on July 29, 2013 | by Amanda Holstein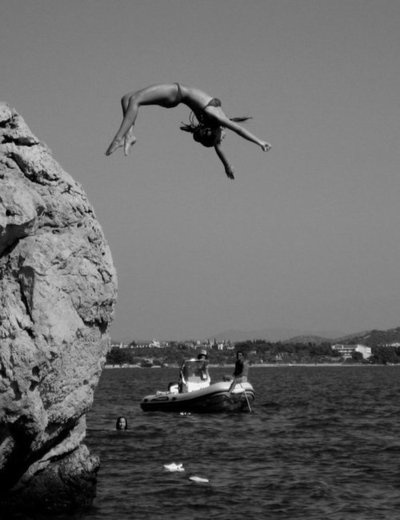 Today's post is written by the lovely Jessica Remitz of I love, I need. Jessica took a huge risk in her career that is seriously inspiring. Check out her story below and read her full bio at the end of this post.
//
I did something scary this spring. Not scary in the bungee jumping-cliff diving-tattoo getting-zip lining sense, all things I've done or dream of doing, but actually scary. At least for me, a person who has been working in one way or another since I was thirteen and who's often chastised for being too type-A for my own good.
I quit my full time advertising job with insurance, a (semi) matching 401k and commuter benefits to become a freelance writer and, essentially, wing it. From now until … well, that remains to be seen.
Even though it's only been a few months and my breath catches in my throat every time I think too hard about what I've done, freelance life has been just what I needed, and here's why: as someone who's always thinking about the "next step," I've had to focus on the here, the now and what I really want from my professional life.
My mind has always been on the future: sign up for classes, find my dream job, move to New York City, find an apartment, find ANY job, save for this, do that and on, and on. It isn't a bad way to be (and certainly helped me make the jump to freelancing), but it can make you forget about a little something called living
We're only twenty-something here, with so few opportunities to do what we care about. This can be particularly hard see on a Tuesday night when you just need to write a rent check and find something for dinner, but I felt like I owed it to myself to follow my dreams of writing and editing and turn those passions into my next step.
If you're feeling, or have ever felt the same way, here are a few things I've learned along the way that will hopefully make you think about your next step:
Be realistic—I knew I wanted to leave my job about six months before I actually did. I had hoped a few things would change, and when they didn't I made a new plan. I worked, saved as much as I could and reached out to people in the freelance/editorial community before taking the leap. Giving myself a reasonable amount of time to make the changes I wanted helped me to stay positive even when I felt bad about my situation.
 Think about YOU—it was so easy for me to get tripped up about what my coworkers are doing, how much my friends were making and what I thought I should do next. Guess what? None of these things made me happy. I'd always seen my self in a more creative role (one I still don't have defined), but kept accepting positions that weren't the right fit. I certainly didn't hate life as a planner, ad trafficker, or account manager, but I knew it wasn't what I cared about. To find something I'm good at and actually care about doing has given me the drive to keep networking, writing and e-mailing folks every day.
Say "no"—I don't regret anything I've done professionally, but I do wish I was better about saying no to things that didn't feel like the right fit or that I did because I felt like I had to. This is something we all need to be stronger about business-wise, and I hope to remember it as I consider future assignments and projects.
Grow what you love—I left my job with the hopes of building a portfolio of work I'm proud of, finding a role that fits my skills and passions and give my little blog http://iloveineedblog.com/ the time and effort it deserves with my wonderful sister. Who's to say if any of these things will make me particularly rich or successful, but I'm putting my nose to the grindstone and hoping to turn out a few things that'll stick with me once I've moved on to my next big thing. I can only hope that everyone gets the chance to grow something they care about.
What do you dream of doing? Has anyone else left their job or done something scary this year?
About Jessica:
Jessica Remitz is a twenty-something writer, editor and content producer. She co-writes a blog http://iloveineedblog.com/ with her sister and is currently contracting with Food Network and freelancing for various lifestyle, health and pet websites. Check out her personal website for more clips http://jessicaremitz.com/ and please don't hesitate to contact her with suggestions on how to make either of her websites a little more flashy.