Decor & Styling
Small Spaces: How to Create a Home Office in a Tiny Apartment
posted on June 3, 2015 | by Amanda Holstein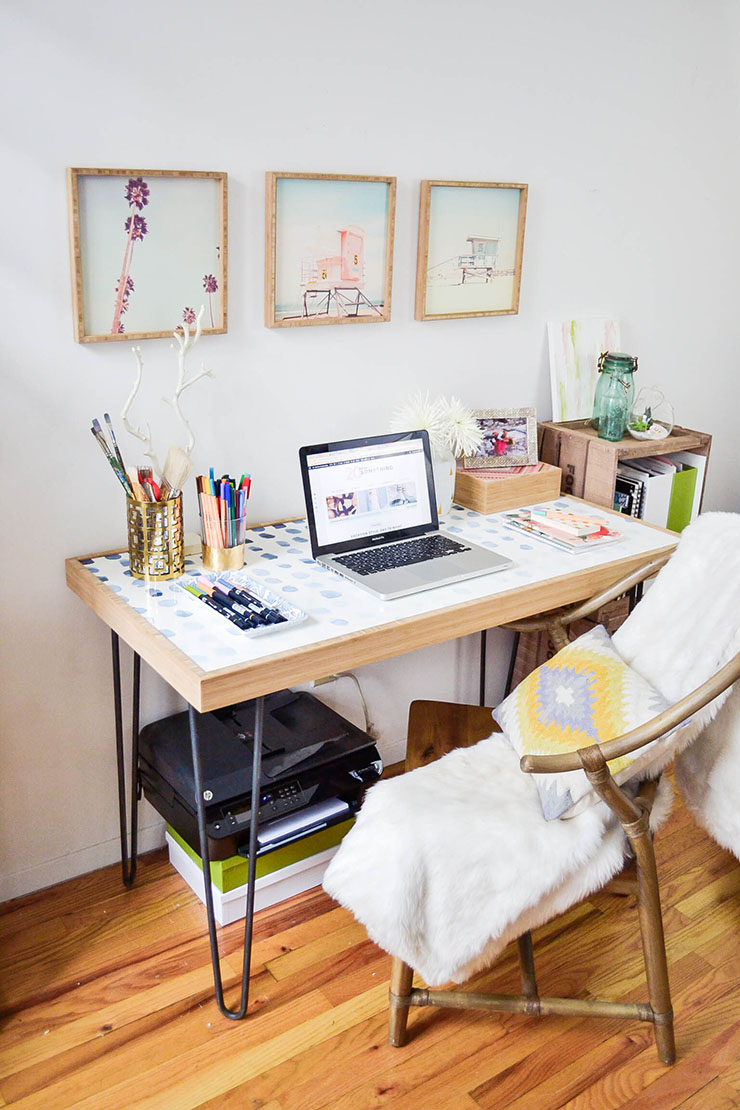 After sharing more photos of my apartment, I think you can finally get a sense of the small space I'm working with. Luckily, my living room is a bit more spacious than I thought. It can easily fit a couch, coffee table, two bookshelves, and one more piece of furniture. At first, this was the TV console, which I also used as storage. But as I started working from home more and more, I realized my couch was not a sufficient work space. So my only option was to replace my TV console with a mini home office.
Creating a home office in a room that doubles as my relaxation zone was not an easy task. At first I created this little workspace, but over time it felt cluttered and I ended up avoiding it and continuing to work on my couch. I needed to create a more calming space with softer colors and less chaos. So I started with a new desk.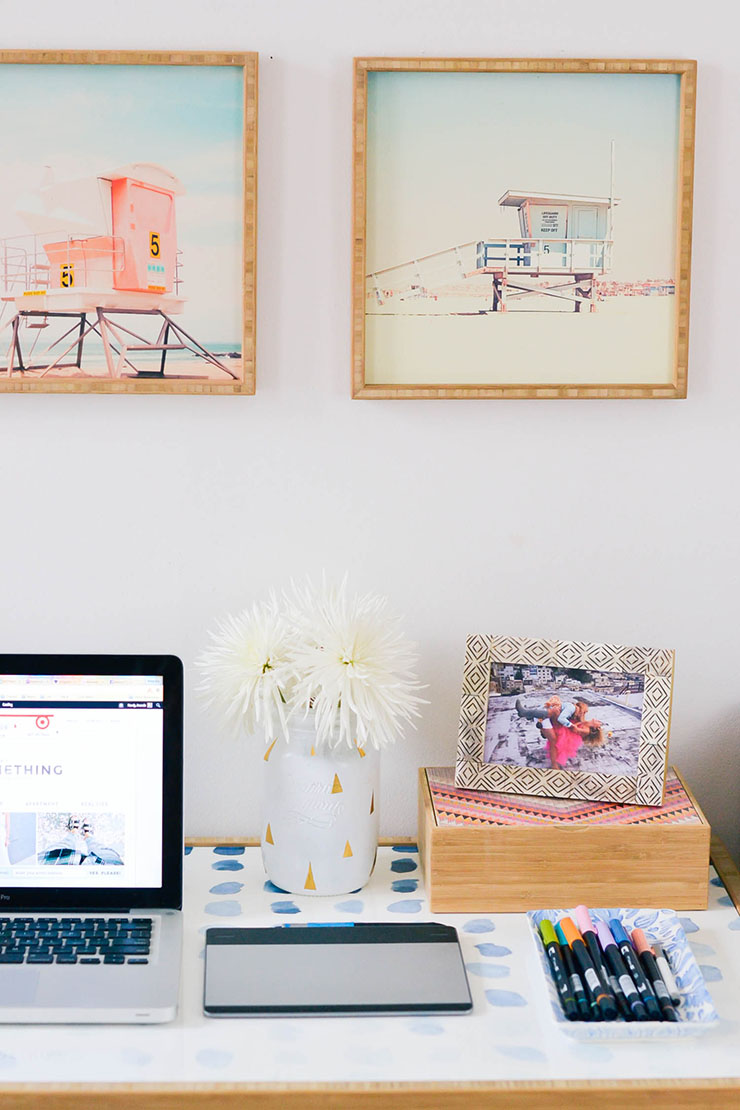 The desk itself needed to be simple enough not to distract from the rest of the room, but unique enough to create a space with its own distinct style. I turned to my latest obsession DENY Designs to find the perfect piece. If you love prints and color as much as I do, then you need to check out DENY. They have literally thousands of designs from 170+ artists, and any design can be used on any of their products. The items are then made to order so you seriously get something unique and personal to you. I can't get enough! I chose this desk because its simple design keeps it versatile and it has that beachy vibe that I just love. Check out more of my top picks here!
Once I picked out the perfect desk, I had to find a way to create some sort of separation in the room. First, I decided to have my desk face the wall to block out any distractions. And instead of just staring at a blank wall, I hung these gorgeous prints, also from DENY, to keep my inspired (find them here, here and here). Hanging artwork above your desk is also a great way to create a unique vibe for that part of the room.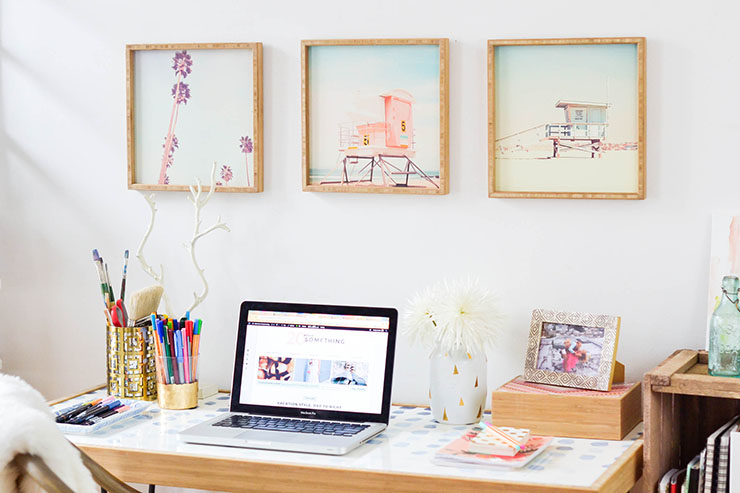 Next I created a little shelving system using some crates I got at the Brooklyn Flea Market. I love how versatile these babies are. Use them as baskets or stack them vertically like this. I organized my files and other supplies in the crates and set them up close to the desk to further differentiate the area from the rest of the room.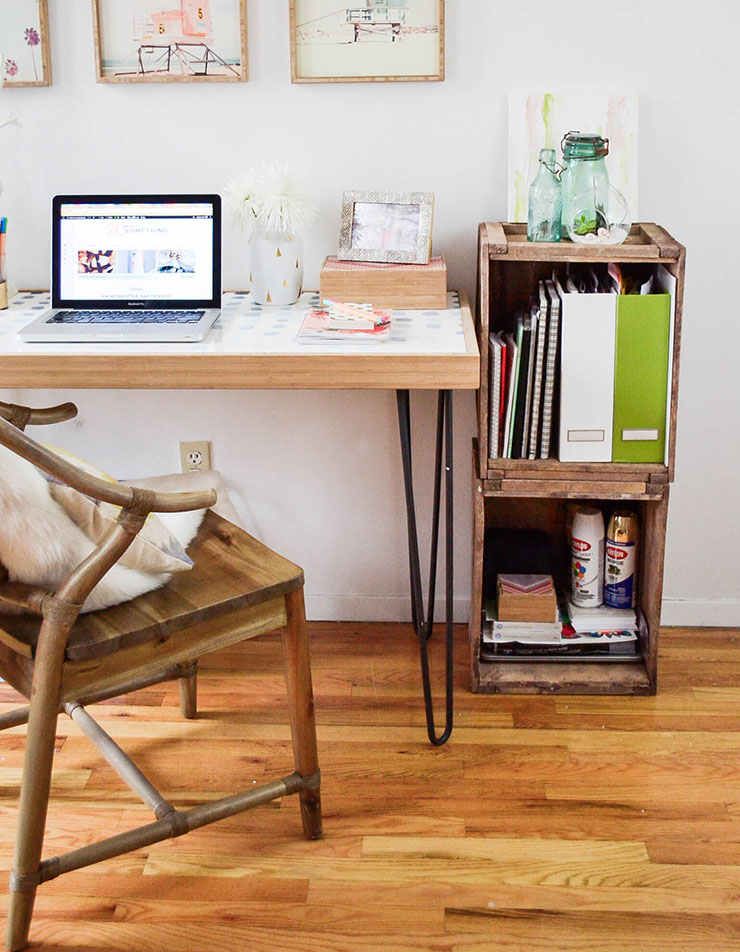 Once I had the larger items in place, I finished the look with some accessories. Boxes are my favorite way to keep things organized and DENY has gorgeous wooden boxes you can customize with any of their designs. These caught my eye as soon as I saw the artwork.
I love how in the end I created a workspace with a similar beach vibe to the rest of my apartment, yet still different enough to feel like its own distinct space. I decluttered the space and brought in softer colors to create a calming and inspiring workspace.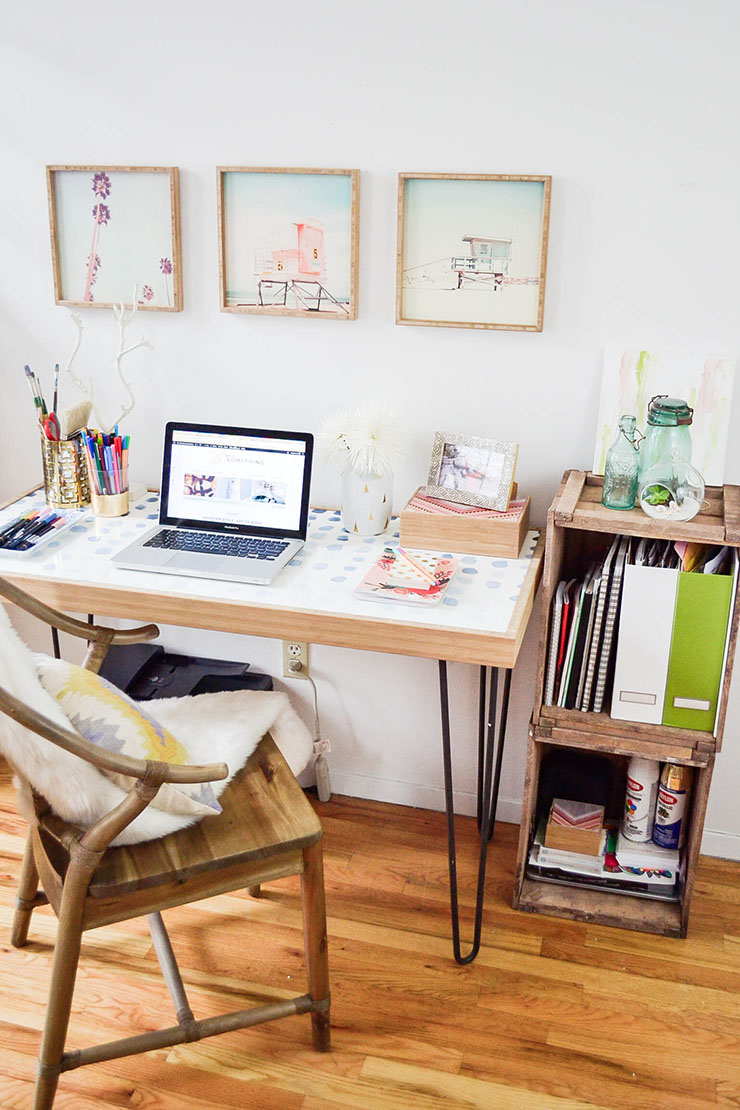 Enjoy 25% your purchase at DENY Designs with code advice25!
Code valid through June 10th.
//
Thank you DENY Designs for helping to sponsor this post!
As always, all opinions are my own :).