Cleaning & Organizing
9 Products to Help You Get Organized
posted on April 10, 2013 | by Amanda Holstein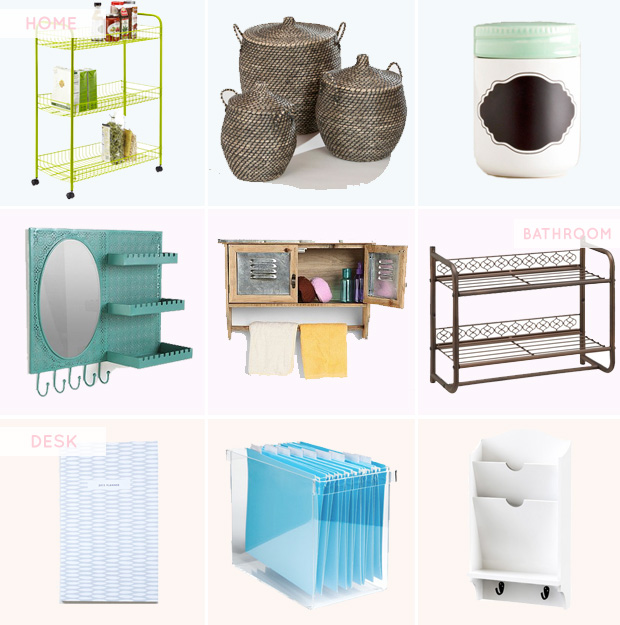 Although most of us attempt to get ourselves organized at the beginning of the year, I've always been more of a spring cleaning kind of gal. Maybe the warm weather gets me more motivated or maybe I'm just a procrastinator, but either way, spring is when things really kick into gear for me. In fact, I've been trying to find a 2013 planner for weeks now, but each place I try seems to think I'm crazy for trying to purchase a yearly planner in April. It's never too late to get organized, right? Well on my mission to organize my life, I've come across a few products that can certainly help with the process. So get rid of those ugly plastic drawers you bought at Target back in college, and replace them with some stylish and affordable options below:
For the home:
Container Store Rolling Cart – $26.99
World Market Storage Baskets – $29.99-$59.99
World Market Ceramic Chalk Spice Jar – $4.99
For the bathroom:
Urban Outfitters Over-the-Door Vanity Station – $89.00
Urban Outfitters Towel Shelf – $69.00
Target Shelf with Towel Rack – $34.99
For the desk:
Etsy Weekly Planner from Dozi Shop – $19.00
Container Store Acrylic Desktop File – $24.99
Target Wall Organizer – $29.99
How do you get organized for Spring Cleaning?